Adam Kinzinger Slams GOP for Focusing on Disney Amid 'Genocide' in Ukraine
Representative Adam Kinzinger slammed the Republican Party for focusing on the recent Disney controversies rather than addressing their members who have "shown Putin sympathy" amid the war in Ukraine, accusing the GOP of distracting voters by riling them up for the midterm elections.
"The world order is being challenged for the first time since World War II and [the Republican Party is] sitting around today thinking about how we can win our next election, what the newest outrage is, what's the next thing we can do to get people angry and upset and get their money from them for our re-election," Kinzinger said in a video shared to social media on Tuesday.
"There is a genocide going on in Ukraine and the outrage is over what's happening at Walt Disney," he said, referring to the recent battle between Disney and Florida Republicans over the state's anti-LGBTQ law. "You guys deserve way better. I mean, I'm glad I'm leaving here in a year because I'm just being surrounded by a bunch of children, so let's grow up."
Republicans have rallied around Florida Governor Ron DeSantis this week after he signed the "Parental Rights in Education" bill, also dubbed the "Don't Say Gay" bill by its opponents, into law on Monday.
Representatives such as Jim Banks, Lauren Boebert and Matt Gaetz have gone after Disney for speaking out about the law, which would prevent classroom discussion of gender identity and sexual orientation among America's youngest students.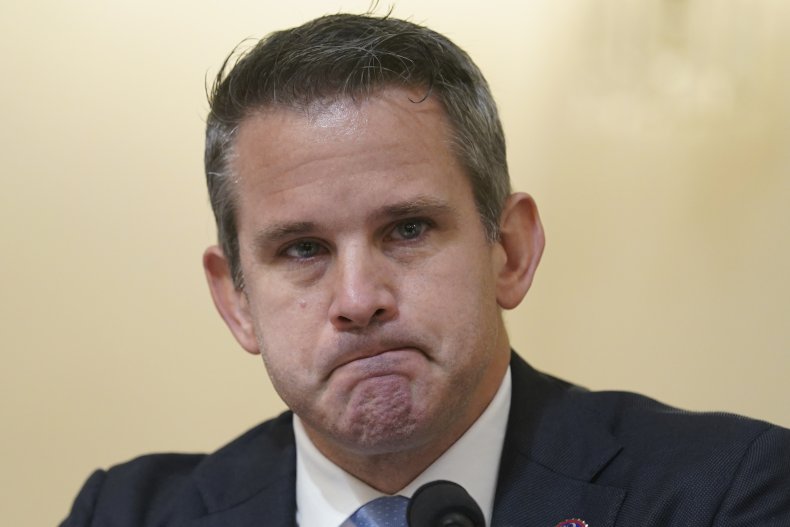 Kinzinger has been outspoken in his criticisms against his own party since he refused to challenge the results of the 2020 presidential election and voted in favor for the second impeachment of former President Donald Trump over the January 6 Capitol riot.
In recent weeks, the congressman from Illinois has ripped fellow Republicans for criticizing Ukraine amid the ongoing war and for supporting Russia's stance on the invasion instead.
"I'm looking at Minority Leader Kevin McCarthy who hasn't really said a word about his members that have showed Putin sympathy," Kinzinger said on Tuesday. "I never could have imagined my party would not just even have somebody that would show Putin sympathy, but would not vomit them out if rose their ugly head."
A number of GOP members have toed former President Donald Trump's line by either staying silent on the atrocities committed in Ukraine or outright condemning Ukraine for the growing casualties.
Since Trump praised Putin as a "genius" for the Russian's military orders leading up to the invasion of Ukraine, some members of the Republican Party have also insinuated Ukraine was invaded because it "kept poking the bear, which is Russia" while others have referred to Ukrainian President Volodymyr Zelensky as a "thug."
Kinzinger has also spoken out against Fox News anchor Tucker Carlson, demanding that Carlson answer for what he views as the TV host's "support" for Russia's invasion.
"We are being governed by a bunch of children, by a bunch of people that are not serious about running the United States of America and truly don't understand the threat that's out there from Vladimir Putin, from China and from some of these actors in the world that want to destroy our place here," Kinzinger said in the video.
"I hope my party can finally remember where our foundations are and actually say we're not going to be Putin-sympathetic anymore," he added. "Wishful thinking."
Newsweek reached out to McCarthy's office for comment but did not hear back before publication.