Ahmed Arbery's Mother, Facing Backlash For Meeting Trump, Says She Wanted Him To Hear Her Voice
On Tuesday, Wanda Cooper-Jones, the mother of Ahmed Arbery—the 25-year-old jogger gunned down by two white residents of Glynn County, Georgia—spoke privately with President Donald Trump.
"I was very very emotional throughout the whole conference," Cooper-Jones said during an appearance on Fox News. "[Trump] was very compassionate. He shows major concerns for all families, not just one family but for all families. I can say that President Trump was very receiving. He listened and he addressed each and every family accordingly."
Cooper-Jones was one of several families that met with Trump today to discuss the loss of their family members to violence which has sparked racial justice protests across the nation.
Responding to criticisms for her meeting with Trump, Cooper-Jones said, "I wanted him to hear my voice."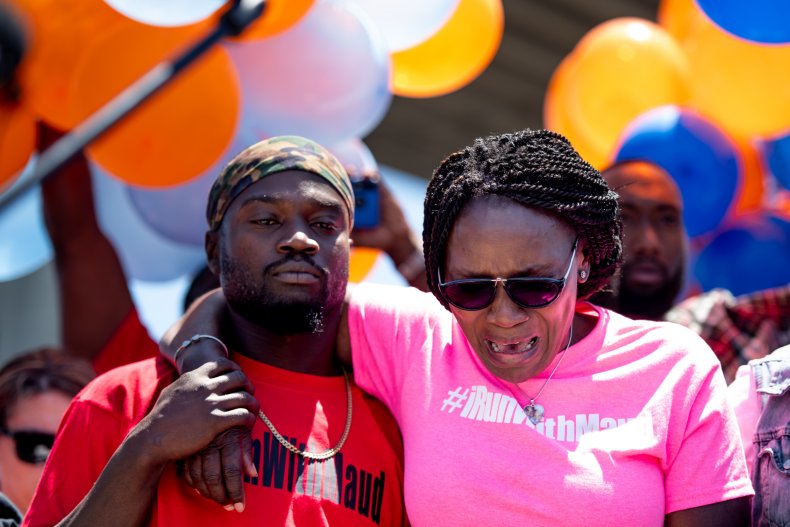 "He did assure each family member that we would and should expect change," Cooper-Jones said of Trump, speaking with reporters after her meeting with him.
However, when asked about Trump's executive order on policing, she said, "I don't think that's enough, but I do think that is a start." She added, "I didn't think that order addresses anything that concerns Ahmaud's case at all."
That's because Ahmaud's case involves two non-police officials who shot her son while he was jogging. On May 6, Gregory McMichaels, a 64-year-old former law enforcement official, and his 34-year-old son, Travis McMichaels, were arrested in connection with Arbery's February 23 murder. Both men were charged with murder and aggravated assault.
Although police didn't shoot Ahmaud, prosecutors were criticized for not pursuing the case due to their connections to the senior McMichaels.
On Tuesday, the Georgia chapter of the National Association for the Advancement of Colored People (NAACP) wrote in a tweet that "These Executive Orders of the Trump Administration would not have not saved the lives of #AhmaudArbery or #RayshardBrookslives."
Rayshard Brooks was a 27-year-old black man who died after being shot twice in the back by Atlanta police during an encounter with two white officers outside a Wendy's restaurant on the night of June 12.
Trump's executive order aims to establish a system for public filing of excessive force complaints against officers, a ban of police chokeholds (except in life-threatening situations) and additional training for police, especially those who interact with homeless people and those in mental health crises.
Trump's daughter, Ivanka, tweeted about Cooper-Jones's meeting with Trump, writing, "Mrs. Cooper-Jones, the tragic loss and injustice that you have suffered should be experienced by no parent."
"My father was honored to meet you today and deeply moved by your story," Ivanka continued. "We are with you and will continue to hold your family and Ahmaud in our hearts. God Bless."
Philonise Floyd, the brother of George Floyd—a black Minneapolis resident who died after a white police officer knelt on his neck for nearly nine minutes—chose not to meet with President Trump. Benjamin Crump, an attorney for Floyd's family, said the decedent's relatives didn't "want to talk politics. They just want justice for their family."