Leading Democrats, Bernie Sanders Turns on Al Franken in 'Watershed Moment' in Sexual Harassment Scandal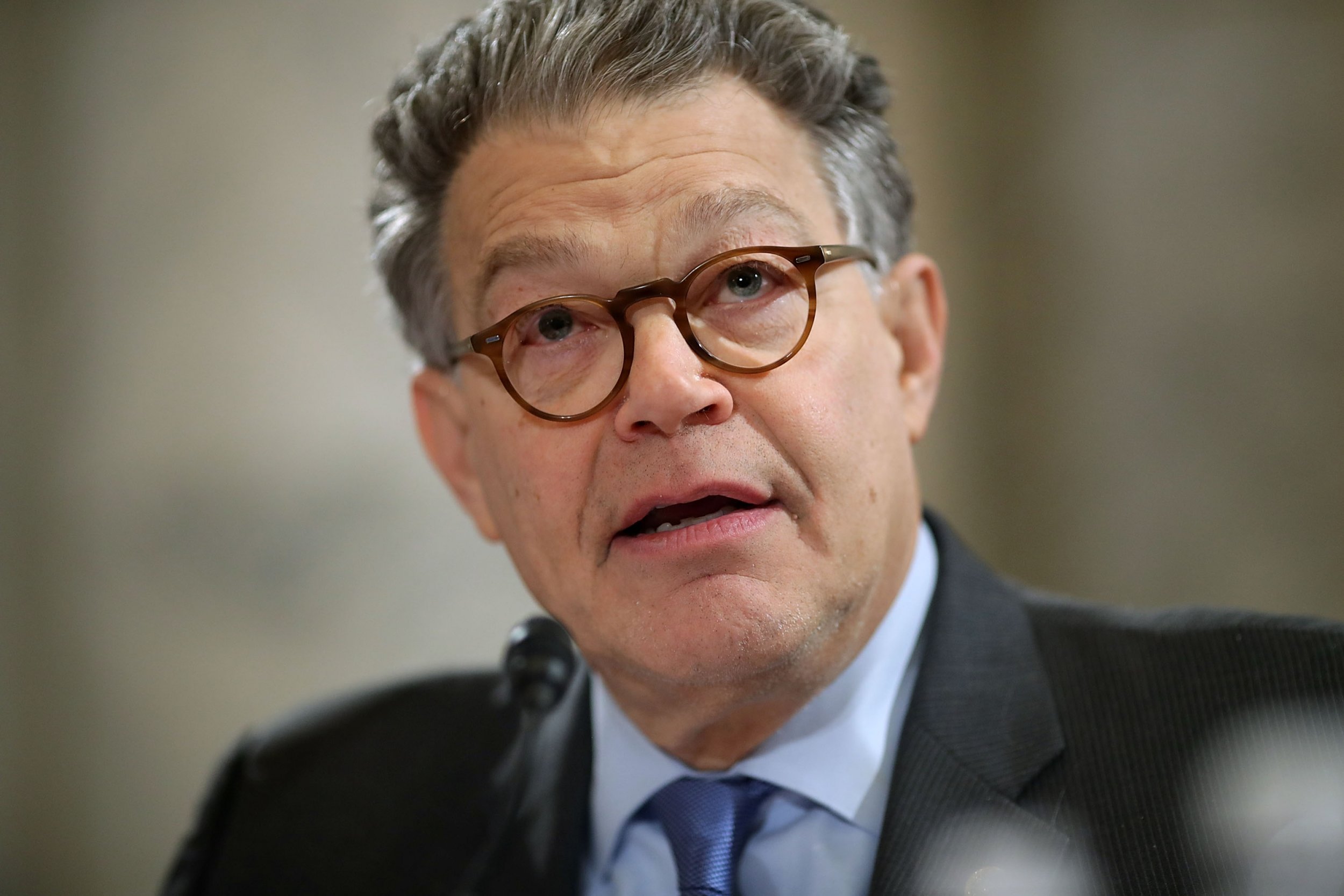 Al Franken's political opponents— including President Donald Trump —were quick to criticize the Minnesota senator after radio anchor and model Leeann Tweeden accused him of forcefully kissing her and shared a photo of him grabbing her breasts while she was asleep.
But some of the most senior figures in the Democratic Party are now calling for an investigation into their colleague, who was recently even being considered as a potential presidential candidate for the party in 2020.
Chuck Schumer, the Senate Minority Leader, said in a statement: "Sexual harassment is never acceptable and must not be tolerated." Schumer also called for an Ethics Committee investigation into the "troubling incident."
That call was echoed by House Minority Leader Nancy Pelosi, who told Fox News that any "credible allegation" should be investigated. "We are at a watershed moment and now is the time for Congress to overhaul how it deals with the issue of sexual harassment," she said.
Bernie Sanders, who is an independent senator but who ran for the Democratic presidential nomination in 2016, issued a statement saying that sexual harassment is "completely unacceptable" and agreeing with calls for an investigation.
Read more: Al Franken has made jokes about rape and other sexual misconduct
Tweeden published details of the incident on Wednesday, which she said took place during a tour to Afghanistan to entertain U.S. troops stationed there in December 2006.
She recounted how Franken—a former comedian who was elected to the Senate in 2009—had written a comedy skit for the two of them, which involved a kiss scene. Tweeden said that Franken insisted that they rehearse the scene and that, during the rehearsal: "We did the line leading up to the kiss and then he came at me, put his hand on the back of my head, mashed his lips against mine and aggressively stuck his tongue in my mouth."
Tweeden also shared an image that showed her sleeping on the flight back from Kabul to Los Angeles. Franken, who is looking at the camera in the picture, places his hands on Tweeden's breasts.
Franken issued a lengthy apology for the incident. Regarding the picture, he said: "I look at it now and I feel disgusted with myself." Regarding the alleged kiss, Franken said that "while I don't remember the rehearsal for the skit as Leeann does, I understand why we need to listen to and believe women's experiences."
He also said that he was asking for an ethics investigation to be started and would "gladly cooperate."
Franken is a major fundraiser for the Democratic Party, and the allegations led to Republicans calling for Democrats who had been supported by funds raised by Franken to return the money.
Claire McCaskill, Democratic senator in Missouri, said that she had donated $30,000 worth of contributions to her campaign from Franken to local food banks.
The allegations against Franken are the latest in a slew of sexual harassment and assault claims that have rocked U.S. politics and wider society.
Roy Moore, the Republican candidate for the Alabama Senate seat, has been the subject of allegations from multiple women of sexual harassment, assault and unwanted advances. Several of the women were underage at the time of the alleged incidents.
Moore has refused to drop out of the Senate race and tweeted a critique of Senate Majority Leader Mitch McConnell after the allegations against Franken surfaced.