Alec Baldwin Reprises Donald Trump Spoof, Robert De Niro and More Speak at New York City Protest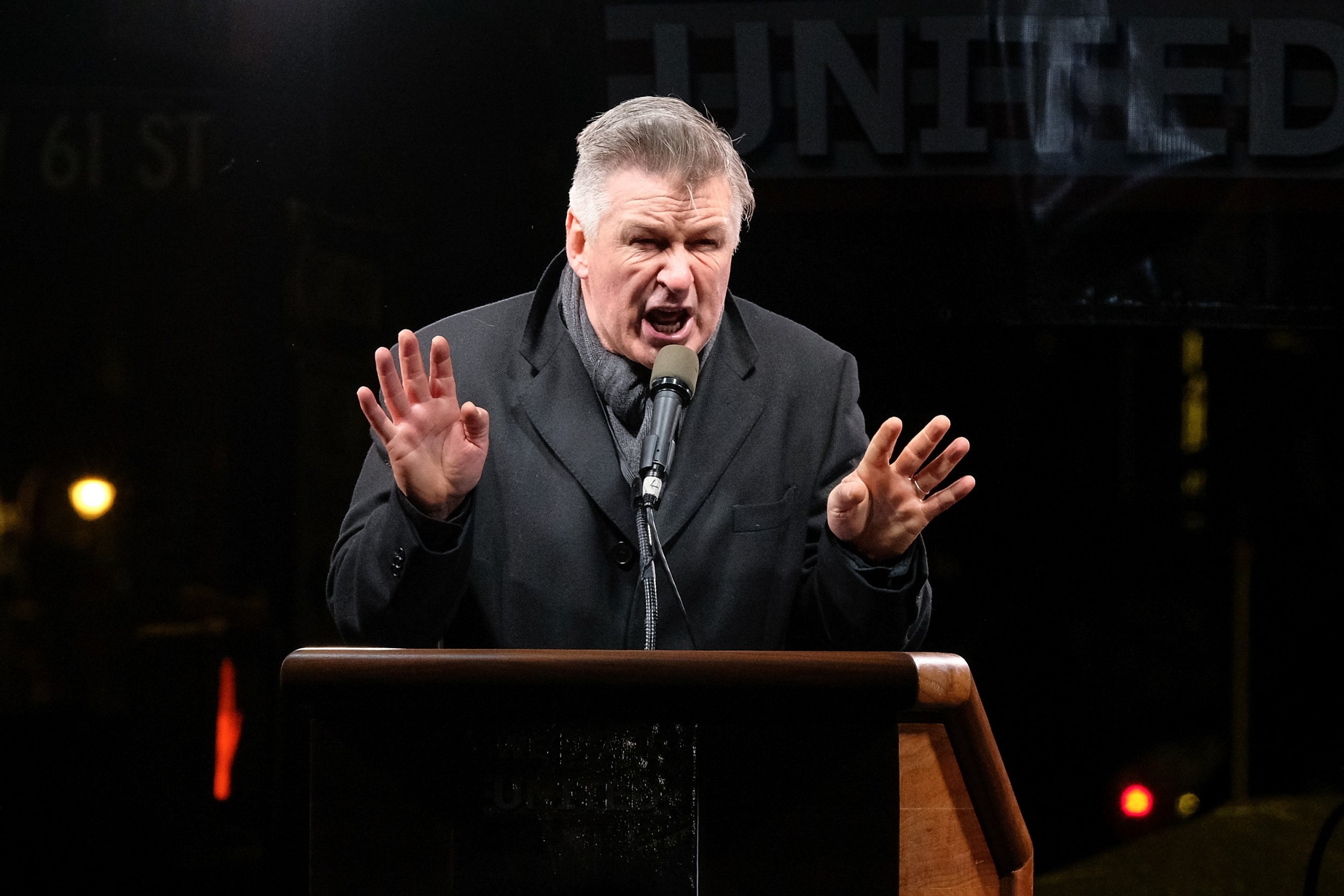 U.S. President-elect Donald Trump has struggled to land big name performers for his inauguration Friday. But there was no shortage of A-listers at an anti-Trump protest in New York on the eve of the ceremony.
Robert De Niro, Alec Baldwin—who has famously spoofed Trump on Saturday Night Live—Mark Ruffalo, Sally Field, Michael Moore, Shailene Woodley, Al Sharpton, Julianne Moore and Marisa Tomei were among the Hollywood stars present at Thursday's rally nearby Trump Tower, according to The Hollywood Reporter.
Baldwin risked more Twitter abuse from Trump by reprising his impersonation of the president-elect.
"I have to pee," said Baldwin as Trump. "But I'm holding it in. I'm going to a function at the Russian consulate tonight. When I get there I'm going to have a really, really long pee."
Baldwin's gag is a reference to the purported leaked dossier that made headlines last week and alleged Russian officials had evidence of Trump performing "perverted sex acts" in a Russian hotel.
Related: Alec Baldwin Responds to Trump's Criticism of 'SNL' Portrayal
The allegations were comedic fodder for SNL's cold open featuring Baldwin's Trump last Saturday, but the real-life Trump was not impressed. He responded that SNL is the "worst of NBC," his former employer as host of The Apprentice, and the sketches about him are "always a complete hit job."
Baldwin galvanized the crowd, saying: "The Trump administration thinks you're going to lay down. The one thing they don't realize is New Yorkers never lay down."
De Niro skewered Trump in his own speech, telling the gathering that he was pleased to be there "with all of you and all of my overrated friends," alluding to the president-elect's Twitter criticism of Meryl Streep after her impassioned speech at the Golden Globes earlier in January.
The legendary actor entertained the crowd with some mean Trump-style tweets. "De Niro's career is a disaster," he joked. "He was passed over for Godfather 4 and Magnificent Seven. Pathetic."
De Niro read out another faux Trump tweet: "An extremely credible source told me Nobu uses raw fish in their sushi. And the portions are so small. Sad."
"That one really hurt," said the actor, who co-owns Nobu restaurants in the U.S. and internationally with chef Nobu Matsuhisa.
Singer Cher introduced herself as an "elitist libtard," and described Trump as an "unbelievable narcissist."
"The only thing that will save us is you," the "Believe" singer told the crowd. "When I was young Vietnam was happening and nothing happened to stop it until we got into the streets. I know you can stop this, because the power of the people is bigger than those assholes in Washington."
Documentary filmmaker Michael Moore told the crowd that "as bad as we think it's going to be, it's going to be worse," speaking about Trump's presidency.
"Keep this in mind in your moments of despair: You are not alone, we are the majority," Moore said.