Alec Baldwin Vows to 'Find' Man Who Tweeted About 'Rust' Shooting
Alec Baldwin snapped back at a Twitter user who made a joke about the shooting on the set of Rust, and vowed to find the man.
"I'll find you Mike," Baldwin wrote in his now deleted tweet. The written confrontation came after the Twitter user @mwreyes replied to Baldwin with a joke about the death of cinematographer Halyna Hutchins.
Despite the fact that Baldwin took his comment down, the tweet was widely shared and distributed across social media.
The incident occurred on Wednesday when Baldwin tweeted out criticism of former President Donald Trump. "Trump tried to choke a Secret Service agent. I mean...what more do you need?" Baldwin tweeted. This was a reference to recent testimony given by Cassidy Hutchinson, a top aide to Trump's ex-Chief of Staff Mark Meadows, to the House Select Committee investigating the January 6 attack on the U.S. Capitol.
@mwreyes, who goes by the screen name Mike Williams, fired back at Baldwin with a morbid comment.
"Better than shooting you[r] cinematographer," Williams wrote.
Spotting the comment, Baldwin came back at him: "When I am eventually not charged with any crime, I'll come find you so you can apologize." Baldwin added: "I'll find you Mike."
The tweet was taken down by Baldwin but Williams' reply is still up. "This is the best day ever. Come and get me. I'm waiting Alex," he wrote, seemingly unperturbed by Baldwin's message. He continued to reply to comments in the same thread from Baldwin's original message.
Newsweek reached out to Alec Baldwin for further comment.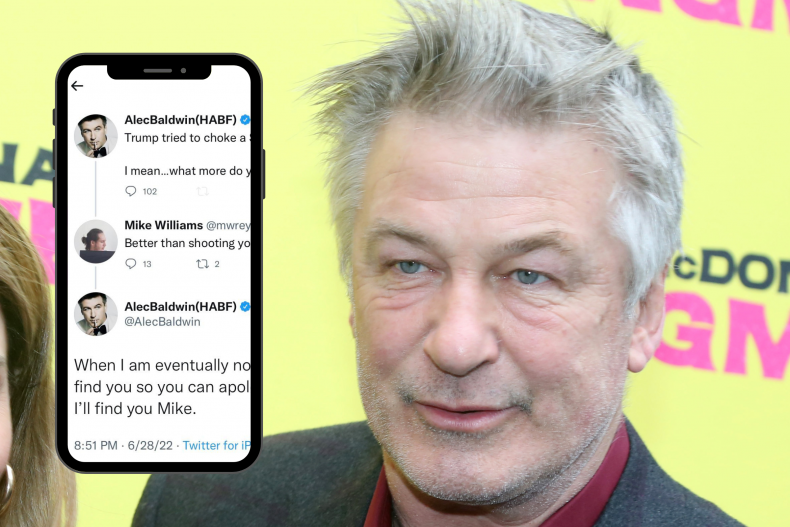 The original message from Baldwin directed at @mwreyes was later shared on Reddit, where the conversation, and the jokes, continued. Some people in the thread expressed sympathy for Baldwin too, commenting that it was a "measured response" by the actor.
The incident in question occurred at the Bonanza Creek Ranch in New Mexico on October 21, 2021 on the set of the Western movie Rust. A prop firearm held by Baldwin discharged, killing the cinematographer Hutchins and wounding director Joel Souza.
Hutchins' family has filed a wrongful death lawsuit against the production team behind Rust which names, among others, producer Baldwin and prop master Sarah Zachry.
In April, the Santa Fe County Sherif's Office released a statement obtained by Newsweek, suggesting that Baldwin could still be investigated.
"Various components of the investigation remain outstanding, including FBI firearm and ballistic forensics along with DNA and latent fingerprint analysis, Office of the New Mexico Medical Examiner findings report and the analysis of Mr. Alec Baldwin's phone data extracted by Suffolk County Sheriff's investigators," Santa Fe County Sheriff Adan Mendoza said.
"Once these investigative components are provided to the sheriff's office, we will be able to complete the investigation to forward it to the Santa Fe district attorney for review," he added.
Since the incident, Baldwin has returned to work on a different project, and recently courted controversy by interviewing the filmmaker Woody Allen.