Alex Jones Says Left Will Stage 'Mass Shootings' Ahead of Midterms
Far-right Infowars host Alex Jones predicted that the left will stage "mass shootings, bombings, poisonings" ahead of the midterm elections, which he says they will blame on the GOP to bring about a "full dictatorship" in America.
Jones's claims, made on Monday on his Infowars stream, come only weeks after the conspiracy theorist lost a defamation trial against the parents of a Sandy Hook school shooting's victim.
For years, Jones repeated claimed on his channel that the school shooting—where 20 children aged between six and seven and six educators lost their lives in 2012—never actually happened, claiming that the victims and their grieving loved ones where "crisis actors" involved in a staged incident aimed at forcing gun control on Americans.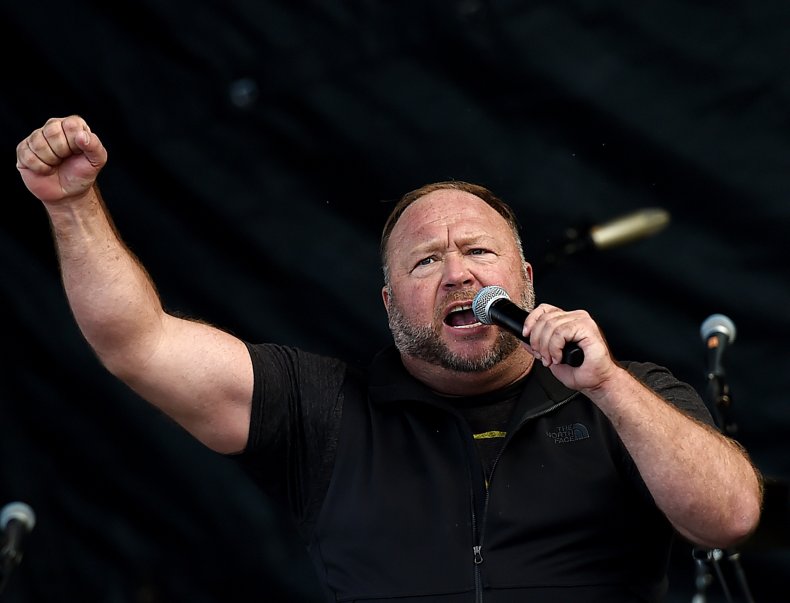 The parents of six-year-old Sandy Hook victim Jesse Lewis, Neil Heslin and Scarlett Lewis, sued Jones and his media company over his repeated claim that the deadly mass shooting was a hoax, saying Jones's lies had made their lives a "living hell" and exposed them to street harassment and online abuse from fringe conservatives.
In early August, during a trial brought about by the couple's lawsuit, a 12-person jury ordered Jones to pay $4.1 millions in compensatory damages to Heslin and Lewis on top of $45.2 million in punitive damages—a victory despite the fact that the two were looking for at least $150 millions.
But for the first time in years, Jones admitted that the Sandy Hook school shooting was "100 percent real."
The conspiracy theorist was also forced to apologize for his other unsubstantiated claims—including the so-called "Pizzagate" conspiracy theory that claimed a Washington, DC pizzeria was a front for a child-sex abuse ring.
But the defamation trial doesn't appear to have softened Jones's claims on other topics, as he made another series of controversial comments on the coming midterms.
"In the next 71 days, we're going to see some very violent fireworks," Jones said on his Infowars stream, claiming the left will trigger a "civil war."
"I would predict racially-motivated mass shootings, bombings, poisonings—attacks on power supplies being blamed on the right wing. They intend to bring in a full dictatorship in the next 71 days."
Jones called this "such a dangerous time" and warned left globalists that they will be the "fall guys"
Newsweek has contacted Jones for comment.
The Infowar host and his company are now facing a second defamation trial in Connecticut expected to begin in September, which will decide on additional damages Jones, who's already been found guilty, will pay to the families of children killed in the Sandy Hook massacre.