Alex Murdaugh's Law Partner Shines Light on 'Emotional' Reputation in Court
Ronnie Crosby, the longtime friend of disgraced attorney and legal dynasty heir Alex Murdaugh, said in court Tuesday that his law partner had a habit of getting emotional during trials.
Crosby's testimony comes after Murdaugh himself took the stand in marathon cross-examination sessions on Thursday and Friday, during which the disbarred 54-year-old attorney became extremely emotional at times, frequently sobbing as he attempted to answer questions. The questioning also led to the bombshell admission from Murdaugh that he had lied to investigators previously and had been near the dog kennel where he is accused of killing his wife and son on the night of the crime.
In a clip posted to Twitter following his Tuesday testimony, Crosby explained that Murdaugh could often become overtly emotional while arguing cases in court during his legal career, echoing his tear-soaked demeanor last week.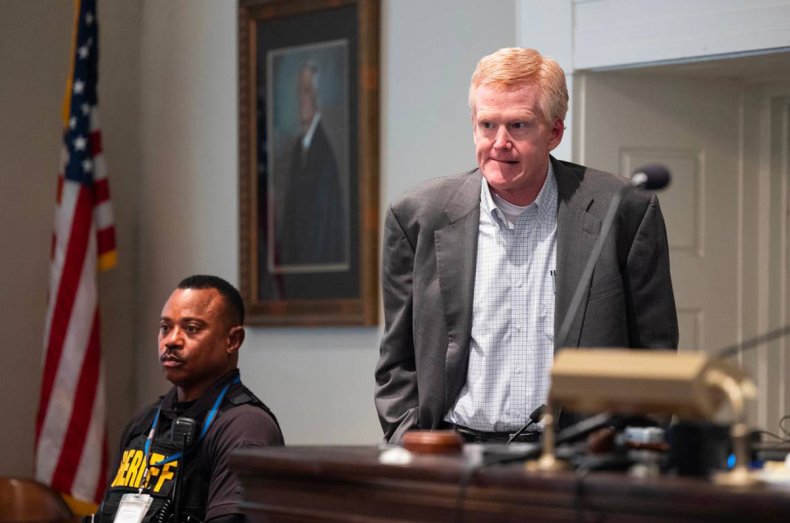 "He was a theatrical-type presence in the courtroom," Crosby explained. "And he could get very emotional during closing arguments in front of a jury."
Murdaugh is accused of fatally shooting his wife Maggie, 52, with a rifle and his son Paul, 22, with a shotgun near the dog kennels on his family's hunting property in Islandton, South Carolina, on the night of June 7, 2021. Despite previously stating that he had not been near the kennels that night, he admitted last week that he had been there after a video retrieved from his son's phone last year showed him talking with his wife minutes before the shooting allegedly took place.
Despite the unflattering admission and history of seemingly changing his story, Murdaugh has continued to insist that he is innocent of killing his two family members.
"You, like you have done so many times in your life, had to back up and make a new story to fit with the facts?" Assistant Attorney General Creighton Waters asked.
"No, sir," Murdaugh responded.
While the new video put Murdaugh close to the scene of the alleged crime, he continued to argue the killings were somehow the result of a 2019 incident in which his son drunkenly crashed a boat into a bridge, killing a 19-year-old woman, injuring four others and setting off a damaging wrongful death lawsuit. That trial, Murdaugh argued, resulted in his son being tarred in the press and becoming the target of online threats.
"I can tell you that at that time, and as I sit here today, that I believe that boat wreck is the reason why PawPaw and Maggie were killed," he said tearfully. "I'm certain...I believe then, and I believe today, that the wrong person, the wrong person saw and read that."
Prosecutors, conversely, argue that Murdaugh committed the killings to deflect from his other indiscretions, which involved allegedly stealing $9 million from his law firm and its clients.
Newsweek reached out to Murdaugh's defense team for comment.