Alexandria Ocasio-Cortez Says If The GOP Controlled House on 1/6, Election Wouldn't Be Certified
Democratic New York Representative Alexandria Ocasio-Cortez has said that she's not sure whether House Republicans on January 6 would've voted to certify the Electoral College victory of Democratic President Joe Biden if Republicans had controlled the lower congressional chamber at the time.
Ocasio-Cortez made her comments during a Friday town hall event. The town hall largely covered public safety amid rising violence in New York City. However, during the event's Q&A portion, an attendee asked how House Republicans who voted against the 2020 election certification would be held accountable.
The congresswoman said that accountability will be aided by Democratic House Speaker Nancy Pelosi's recent creation of a committee to investigate the January 6 insurrection.
Ocasio-Cortez said that once lawmakers had a better understanding of the riot's contributing factors, they would then better know who to hold accountable. This includes anyone who might've helped plan the riot—externally or through "inside involvement"—as well as those behind the military's and police's delayed response to the rioters.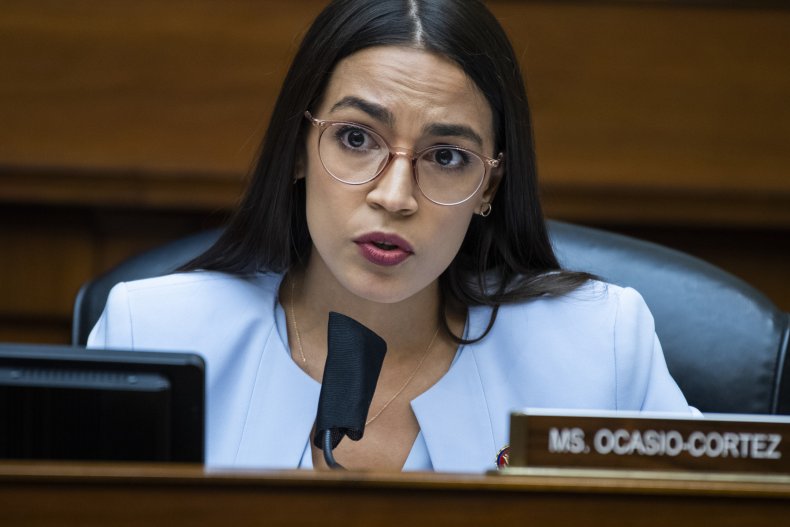 "I thank heavens that we had a Democratic majority in the House that day," Ocasio-Cortez said, "because frankly, if we didn't, we would have to be relying on a sizable amount of Republican members to do the right thing. And what we've seen in some of their votes, many of them will fall in line, even when they know it's the wrong thing."
"If, for example, there was a Republican majority in the House," she continued, "we do not know what would have happened... in terms of certification of election results. And so it's extraordinarily concerning."
In January, the House impeached Republican President Donald Trump for inciting the riots. Trump had incited them, the House said, through his repeated, baseless claims that the 2020 election had been stolen from him by an unprecedented nationwide conspiracy of widespread voter fraud.
Hours before the riots, Trump spoke to a crowd of thousands of supporters at a "Stop the Steal" rally. In his speech, Trump said that if his Vice President Mike Pence simply refused to certify the election's results in Congress, it would make Trump president again.
Trump's statement was factually incorrect. Regardless, Pence didn't oppose the certification. Nearly an hour after the riots began, Trump tweeted, "Mike Pence didn't have the courage to do what should have been done to protect our Country and our Constitution." The rioters chanted "Hang Pence" outside the Capitolas the riots ensued. Pence was reportedly "very upset" with Trump afterwards.
Pence has since said that he doesn't think he and President Trump "will ever see eye-to-eye" on the January 6 capitol riot.
By the early morning hours of January 7, 139 of the 211 House Republicans voted against certifying Biden's election victory. The 139 votes represented nearly 66 percent of the Republican House membership. Comparatively, only 8 of the 50 Senate Republicans voted against certifying Biden's victory.
Republicans Mo Brooks of Alabama and Josh Hawley of Missouri were two of the earliest Congress members to publicly state their opposition to certifying Biden's victory.
A newspaper editorial in Hawley's home state of Missouri said that Hawley has "blood on his hands" for inciting the Capitol riots. At least one Democratic lawmaker has accused Brooks of inciting the riots as well through his baseless claims of voter fraud as well.
Newsweek contacted House Republicans for comment.