Amazon Sells Fake Kyle Rittenhouse Book Encouraging Violence Against 'Woke Mob'
An incendiary book falsely claiming authorship by Kyle Rittenhouse—which talks of the "holy rage" of the "True Patriot" and warns that "only the sword will prevent our nation's ruin"—went on sale through Amazon shortly after the not guilty verdict in his sensational trial.
David Hancock, a spokesman for Rittenhouse, confirmed to Newsweek that the book, titled How to Defend America From the Woke Mob and published on November 30, has nothing to do with him.
"That book is in no way connected to Kyle Rittenhouse...If the claim is Kyle wrote it then I would absolutely want Amazon to take it down," he said.
Instead, it appears that someone is seeking to exploit 18-year-old Rittenhouse's status to fraudulently profit or to rabble-rouse—or both. At one point, the book states: "The AR-15...is ideal for confronting a violent woke mob."
Newsweek has asked Amazon for comment. An Amazon spokesperson confirmed the book is no longer for sale through its platform, though made no further statement and gave no details about the product or who is behind it.
No publisher was listed for the book, which was available as both an ebook for $5 and in paperback format for $12, suggesting it had been self-published.
Recently, Amazon pulled three books written by Roman McClay, a pseudonym for the Denver shooter Lyndon McLeod, that contained passages of violent fantasies involving people who would later become his real-life murder victims.
There is currently no book deal for Rittenhouse—who a jury found in November had acted in self-defense when he shot two people dead in Kenosha, Wisconsin during a riot in the aftermath of a racial justice protest—though it is set to be lucrative should he put pen to paper.
One talent agent told Associated Press the teenager could "easily secure a seven-figure" book contract.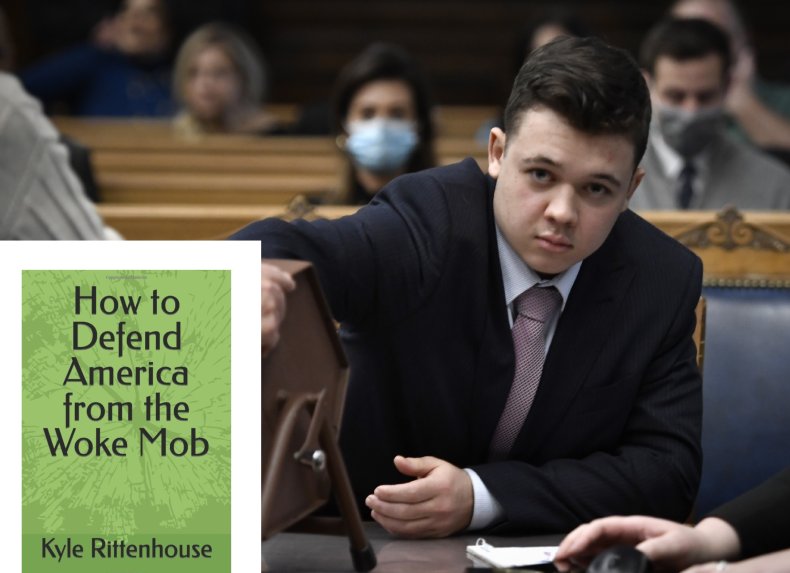 "There have been initial discussions but nothing has been decided," Hancock told Newsweek of a potential Rittenhouse book.
"I can tell you one thing, it won't be about swords or ruin, it will most likely be a story of a young man's very unorthodox journey into adulthood, what it took to make it, and the lessons he learned along the way.
"I'd expect it to convey positive messages. Kyle isn't a doom and gloom kinda guy. He's a goofy, charming, pragmatist with very unique, but optimistic, worldview shaped by an experience very few people can truly relate to but many can understand."
The real author of How to Defend America From the Woke Mob, which is just 20 pages long, is unknown. It had just one review: Five stars given by Tyler Joshua Frederick.
"Kyle Rittenhouse has only been acquitted over two weeks ago and he already wrote a book. This is a great book, I love it and it was definitely money [well] spent. Kyle Rittenhouse is the man! Bravo!" the erroneous review said.
It was also promoted twice on Reddit by a user called Southern-Substance90—in the news and politics subreddits—shortly after it was published.
Both posts claim Rittenhouse wrote it. The user has no other reddit posts.
Newsweek has asked Southern-Substance90 for comment.
It is not clear how many copies have sold. The book does not appear to be a big seller.
At the time of writing, Amazon ranked it at 200 in "30-Minute Politics & Social Sciences Short Reads." Overall, it ranked at just #2,027,258 in the Kindle Store out of what industry observers estimate to be around 10 million ebooks on there.
Though it is short, the book is broken down into five sections: Beliefs, preparation, planning, execution, and aftermath.
It attempts to couch its inflammatory rhetoric with a caveat in the small print: "This is a work of political theory. No names have been changed, no characters invented, no events fabricated. I do not condone vigilantism or violation of the law in general."
Moreover, it frames some of its advice in the language of defense rather than offense; that this is a guide to defending businesses rather than starting a war against political foes.
Yet, it is hardline in its stances and promotes the use of violence.
"The United States was founded in a violent, anti-authoritarian revolution. And as Thomas Jefferson so eloquently put it, there will be many times where violence is required to renew our God-given liberties," the book says.
It later continues: "Modern America finds itself facing the old threat of communism. But unlike ages past, this threat is not in a foreign land. Domestic collectivists menace our cities and seek to destroy our way of life.
"It is vital that true patriots possess a historical understanding of America's foremost ideological threat. By comprehending the current partisan struggle of this country in its long historical context, a patriot may feel confident that their holy rage is justified.
"For when collectivist mobs attempt to steal and destroy our cities, only the sword will prevent our nation's ruin."
Guns feature heavily and the book gives advice on having the right weapons depending on your setting.
"You will probably be vastly outnumbered. It is therefore advisable to use a semi-automatic weapon with a large magazine capacity. The ability to lay down sustained rapid fire is essential when outnumbered...The AR-15...is ideal for confronting a violent woke mob."
It also advises readers to "research military training" and to join a militia to learn combat skills—but also to be secretive about the real motive and not to trust anyone.
"A True Patriot is concerned with results, not appearances. Learn practical skills and do not be swept up too much in the comradery. Furthermore, do not tell anyone in the militia of your plans for applying the skills gained," the book says.
"Secrecy is paramount before going into action. This extends beyond not telling anyone of your plans. Modern surveillance allows the government to monitor your online presence.
"Refrain from communicating your plans on forums/message boards. Mask your searches with VPNs and other encryption technology, lest the fed [sic] start monitoring your activities...It is paramount that you do not alert the federal government of your intentions."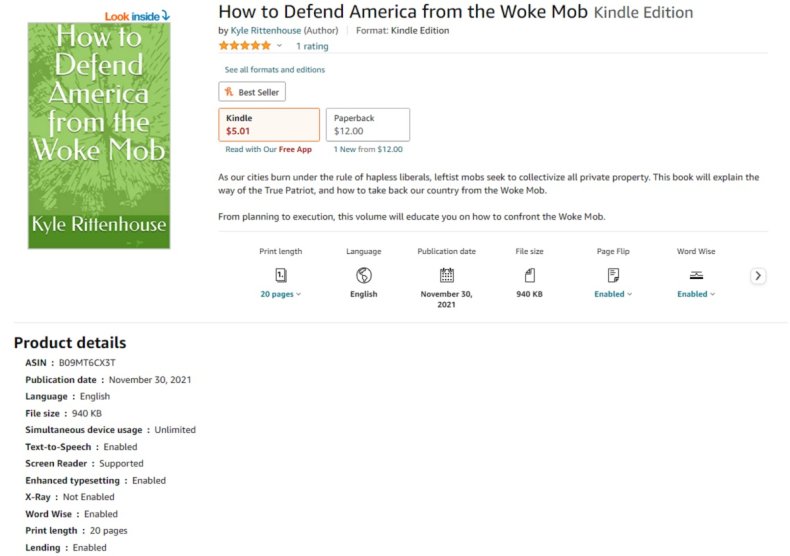 The book urges readers to "always obey any orders given by a police officer" because "there are few faster ways to die early than to disobey a policeman while you are holding a gun."
But it also warns: "You will be faced with choices and decisions that will perplex judges and juries. You must remain cold and impassive in the fact of the most difficult choices."
It also talks of working out where your guard posts and escape routes are during a riot, and advises giving several warnings to people who approach. Readers should only engage a "hostile act" such as violence rather than "hostile intent" like verbal insults, it says.
"Most aggressors will be deterred once they realize you are armed and prepared to fight. Remember, your goal is to defend the business, not to agitate a confrontation," it says.
Still, the book is almost millenarian in its conclusion.
"If enough True Patriots rise up against the Woke Mob, we can bring about a rebirth of American culture. Our nation's best days need not be behind us if we can show the Woke Mob that it doesn't define America," the book says.
"Protect the livelihoods of your fellow Americans. Keep the Woke Mob from consuming America."
Updated at 2:15am ET on 1/5/22 to say that Amazon confirmed it pulled the book from sale.