Amber Heard Admits to Using 'Ugly Names,' Hitting Depp in Self-Defense
Amber Heard admits that she lashed out verbally at ex-husband Johnny Depp and would try to fight back in self-defense.
Heard, who is being sued by Depp for defamation after she wrote an op-ed in 2018 in The Washington Post claiming to be a victim of domestic abuse, took the witness stand on Wednesday and again on Thursday, testifying many details of the actors' turbulent marriage.
Heard's testimony has included many accusations that Depp was physically and verbally abusive, and on Thursday, the actress admitted that she would sometimes fight back.
"I tried to stand up for myself by December 2014," Heard began. "I was pushing back, I pushed him off me and tried to hit his hands away, and try to always get back up which would sometimes, not sometimes, almost always made it worse."
"I would yell at him and scream at him and call him ugly names," she said. "So ashamed of the names we'd call each other. It was awful."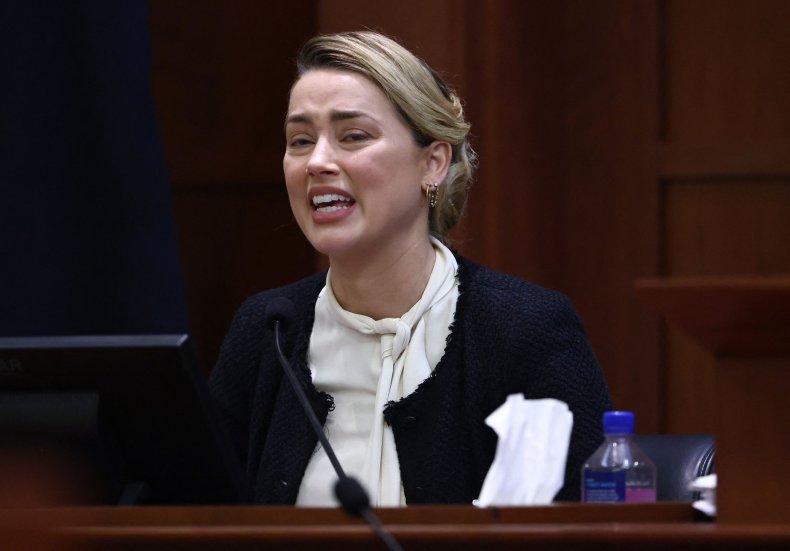 She added, "We both got into that pattern. I was so angry that this is happening to me and it just felt so unfair, you know?"
Heard has testified in the last two days that Depp struggled with heavy drug and alcohol use, which contributed to his abusive behavior. "It felt like nothing I could do would change the sobriety patterns, and nothing I did made him stop hitting me," she said on Thursday.
The couple was married for roughly 15 months, but their entanglement has endured for several years. Despite Heard's claims, Depp has defended that he "never" hit her.
"Nothing of the kind had ever happened," Depp told the jury when on the witness stand in April. "Though [in] the relationship there were arguments and things of that nature...but never did I, myself, reach the point of striking Miss Heard in any way. Nor have I ever struck any woman in my life."
Both Depp and Heard have testified that the other was physically abusive during their relationship, and clinical psychologist and the pair's marriage counselor, Laurel Anderson, described in a video deposition in the trial that the couple engaged in "mutual abuse."
On Thursday, Heard testified, "I tried for over a year, maybe two, just not responding physically, not responding verbally, just staring at him. I tried to freeze, I tried to go to a different place. I would try then lashing out verbally, I would try to threaten that if he hit me again that I would call the police."
She concluded, "I think by this point in our relationship, we're both saying awful things to each other, screaming at each other. And unfortunately, when Johnny would start hitting me, he'd just win."
Newsweek reached out to representatives for Amber Heard for comment.