Amber Heard Supporters Take Aim at Big Brands That Mocked Her During Trial
Amber Heard supporters are this week expressing their disgust at the companies who mocked the actress during her trial against Johnny Depp.
Starbucks, Milani Cosmetics, Etsy and more have been named in a viral thread that called out brands and companies for making light of Heard in the blockbuster defamation trial that saw her detail severe allegations of abuse against her ex-husband.
Depp also leveled allegations of abuse against Heard in turn, and a jury largely sided with the Pirates of the Caribbean star in May, and awarded the actor $10 million in compensatory damages, as well as $5 million in punitive damages.
The punitive damage award was reduced to $350,000 due to a Virginia law that caps punitive damage awards.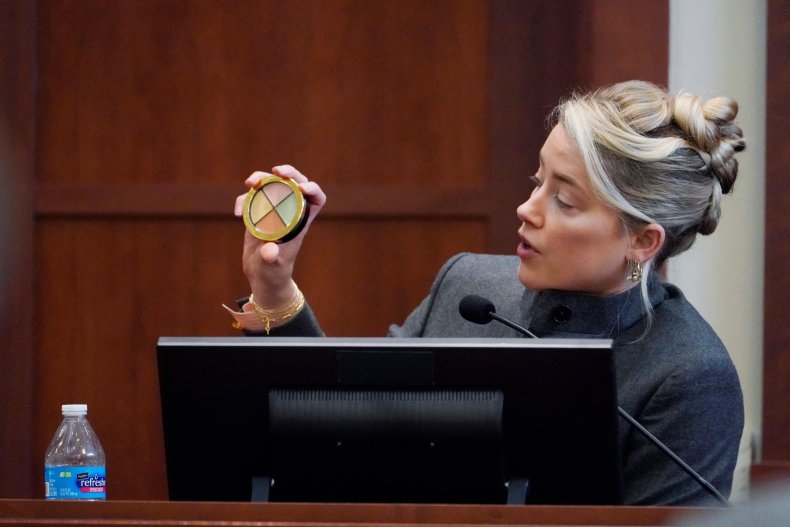 In the months following the trial, more than 6,000 pages of documents were unsealed that do not present Depp in a favorable light, according to experts.
These revelations have prompted a number of Heard supporters to point out ways in which they feel the star was wronged during the trial.
Now, a new viral thread has shone a light on the brands and companies that took part in mocking the actress during the trial.
"A thread on companies and brands who participated in the global humiliation of Amber Heard and profited from the Depp v. Heard trial," posted Twitter user @liliandaisies in a thread that has more than 25,000 likes.
"Milani Cosmetics, a makeup brand, made a TikTok video suggesting Amber is a liar after its product was used as a prop in the trial. This encouraged millions of people to participate in the smear campaign against her," reads one tweet in the thread.
Heard supporters have this week called for the company to apologize to the actress over this video.
Newsweek has reached out to Milani Cosmetics for comment.
Another tweet in the thread took aim at Starbucks: "Starbucks stores all over the world placed tip jars labeled 'Johnny Depp' and 'Amber Heard,' encouraging their costumers to 'vote,' usually decorating Depp's jar with hearts and some even wrote 'Justice for Johnny.'"
This controversy sparked fierce debate on social media earlier this year, as various videos posted online showed two competing tip jars with the celebrity names written on them.
Starbucks responded to this situation back in April, telling Newsweek that the tip jars were not in line with the company's policies.
"We value the creativity our partners (employees) bring in and building connections with our customers day in and day out, but these labels are inconsistent with our policy. We do not condone the use of tip jars in this manner, and have removed the labels where reported," a spokesperson for Starbucks said at the time.
The thread also pointed out how Etsy sellers used the trial to create themed souvenirs, mostly in support of Depp, in what has become a burgeoning thriving cottage industry on the craft seller platform.
"Dozens of @Etsy shops are exploiting a DV survivor for profit. They use pictures of her from crying while recalling her trauma, parts of her rape testimony and are ridiculing her. Etsy has done nothing about it," the tweet reads.
Newsweek has contacted Etsy for comment.
Heard faced severe scrutiny during the multimillion-dollar defamation trial which ended in a jury finding she defamed Depp with actual malice, following an op-ed she wrote in 2018 alleging to be a victim of domestic violence.
Throughout the trial Heard was relentlessly mocked on social media by ardent Depp supporters and her emotional testimony alleging she was hit by Depp was even turned into a viral TikTok trend.