What Happened in the 'American Horror Story: Death Valley' Finale and What Did Fans Think of It?
"Death Valley," the second of a two-part story in American Horror Story: Double Feature, has come to an end, bringing Season 10 to a close.
The four-episode storyline has been focused on an alien invasion and what happened after the extra-terrestrials made Earth their home, taking place from the 1950s all the way to 2021.
And the finale, "The Future Present," revealed the ultimate fate of humanity with a plot so jam-packed with information it felt like a rushed, unsatisfying conclusion.
How did Death Valley end?
"The Future Present" opens in 1972 with President Richard Nixon (Craig Sheffer) now in office and continuing to make deals with the aliens.
Turns out the otherworld beings are behind the Vietnam War as a way to "distract" the public from all the humans they've been abducting, and Nixon is furious with how it's made him look.
The President doesn't trust the aliens and he tries to bug their offices at Watergate to spy on them (clever, Ryan Murphy), but it doesn't work because Mamie Eisenhower (Sarah Paulson) rats him out to the press for the aliens.
While he is pushed to resign, Nixon decides not to and says he'll tell the world the truth but a short kidnapping and the threat of alien probing convinces him to change his mind.
Oh, there's also Lizard People on Earth now, but the episode barely has time to unpack that conspiracy theory, so neither will we.
With her husband Dwight D. Eisenhower (Neal McDonough) now dead, Mamie shacks up with alien spokesperson Valiant Thor (Cody Fern) and decides to live forever in Area 51.
Cut to the modern day and Mamie is still around the facility, which has been shut down after Cal (Nico Greetham) gave birth to an alien-human hybrid in secret that went on to kill him and his partner Troy (Isaac Cole Powell).
Cal and Troy's friends Kendall (Kaia Gerber) and Jamie (Rachel Hilson) find their dead bodies after the baby is "handled" by the authorities, but before they have time to grieve they're taken by alien Theta (Angelica Ross) to give birth to their own children.
They're told one of their babies will be the perfect alien-human hybrid, no surprise there, and Jamie is killed after her child is revealed to not be the one.
Kendall does give birth to the child the aliens seek, and they repay her by cutting off her head and replacing it with a computer interface so her body can be used as a breeding machine.
After learning what happened, Mamie decides to confront Thor and learns that the aliens plan to eradicate humans and take over the planet with the hybrids, something the former First Lady is shocked to learn, despite it being a rather obvious outcome.
She decides to mutiny with Calico (Leslie Grossman) and Theta by killing the child before it's too late, but sadly Theta does a double cross and takes Mamie out.
The episode concludes with Theta convincing Calico to be the alien hybrids' mother, and teases the end of life on Earth as we know it. Got all that? Okay.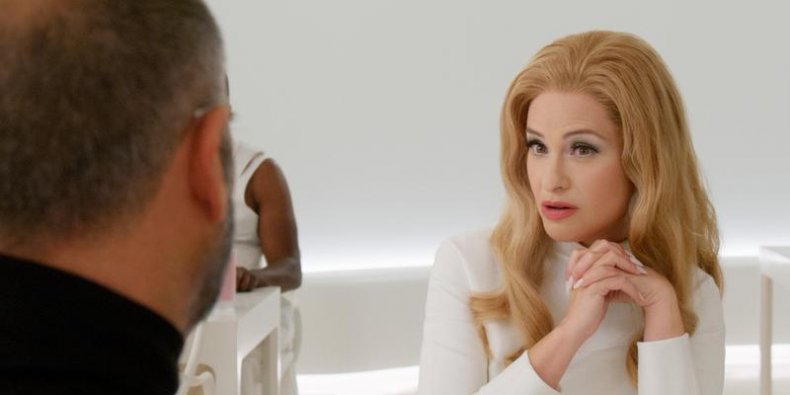 What did fans think of the finale?
Fans were not too happy with the finale, with many calling it the "worst season" to ever air of the horror franchise.
One fan wrote: "#AHSDoubleFeature hands down one of the worst seasons of the show. part 1 was good but the finale was disappointing.. and as for part 2 it had potential but turned out one of the worst incomplete endings & both parts weren't even connected what is this mess."
Another viewer added: "Y'all this finale is worst than I thought (sic)."
Referencing Season 8, Apocalypse, one said: "That finale was god awful, I'd seen better storytelling on Ancient Aliens.
"At this point, just bring in the promised Antichrist & let Satan rule—who would have thought he'd save us from this nonsense [sic]."
One viewer said of the rushed conclusion: "Wow that #AmericanHorrorStory finale ended quite abruptly. It's as if they had ended Murder House with Birth as the finale instead of Afterbirth."