Americans More Sympathetic to Harry and Meghan Than Britons After Oprah Interview: Poll
Americans are more likely than Britons to show sympathy for Prince Harry and Meghan Markle after their bombshell interview with Oprah Winfrey on Sunday, according to a new poll.
The survey, which was conducted by YouGov on Monday, found that nearly 68 percent of Americans said they have a "fair amount" of sympathy for Harry and Meghan, with 35 percent saying they had a "a lot" of sympathy for the couple.
The survey collected information from 2,104 U.S. adults including 793 who watched at least some portion of the interview, 290 who read or watched news stories analyzing it, and 713 who heard about the interview but did not watch or see any coverage of it. The margin of error is plus or minus three percentage points.
The results were in stark contrast to a similar YouGov poll of Britons, which found that only 12 percent of British people said they were very sympathetic toward the couple, with only 17 percent said they were fairly sympathetic.
In total, 33 percent of British people surveyed said they had no sympathy at all Harry and Meghan.
The survey also found that Americans are less likely to show support to the royal family—with only 28 percent of those polled saying they were sympathetic toward senior ranking royals—compared with 39 percent of Britons.
The results came after an interview on Sunday in which the Duke and Duchess of Sussex described what life was like before they decided to split away from the royal family.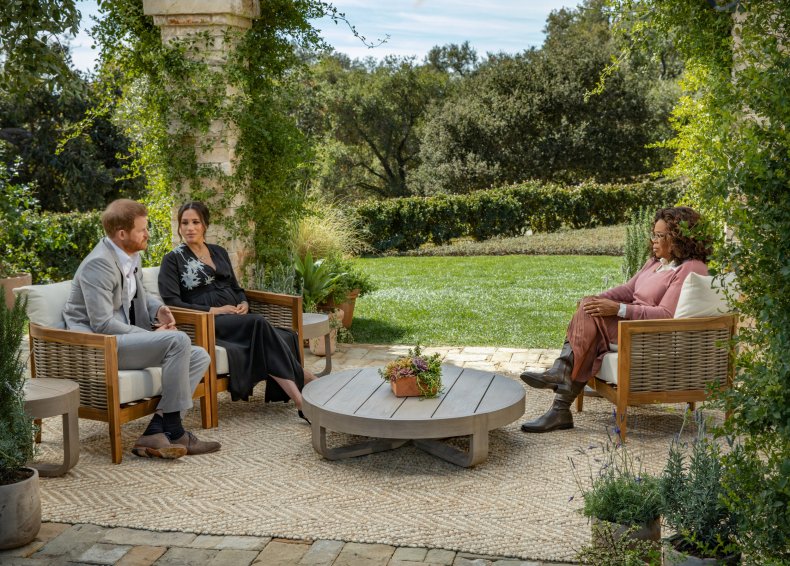 Among those accusations included information about racist probes into the skin color of Meghan and Harry's baby, along with revelations of suicidal thoughts from Meghan, and an overall lack of support from the royal family.
"I just didn't want to be alive any more. And that was a very clear and real and frightening constant thought," Meghan said during one part of the interview, before adding that the palace did "nothing" to support her.
In a statement on Tuesday, Buckingham Palace on behalf of Queen Elizabeth said "recollections" of what transpired may vary, but that the claims made in the interview were being taken "very seriously."
"The whole family is saddened to learn the full extent of how challenging the last few years have been for Harry and Meghan," the statement said. "[The issues] will be addressed by the family privately. Harry, Meghan and Archie will always be much loved family members."
Harry and Meghan were married in 2018, and in January of last year they said they would be taking a "step back" as working members of royal life. As they worked to become financially independent, the couple said they would split time between the United Kingdom and America.
"This geographic balance will enable us to raise our son with an appreciation for the royal tradition into which he was born, while also providing our family with the space to focus on the next chapter, including the launch of our new charitable entity," the couple said in a statement.