'America's Got Talent' 2021: All the Contestants Who Got the Golden Buzzer
America's Got Talent Season 16 is currently airing on NBC, with auditions set to run throughout June and July. As has been the case on AGT for the last few seasons, each of the hosts and host Terry Crews has a Golden Buzzer which automatically sends their favorite act to the live shows.
A Golden Buzzer can mean big things for an act on the show. Acts who were buzzed with it and then went on to win include last season's champ Brandon Leake (buzzed by Howie Mandel), Season 14 winner Kodi Lee (chosen by Gabrielle Union) and Season 12 victor Darci Lynne (Mel B's choice). In fact, since the buzzer was introduced, five out of six of the winning acts have reached the live shows via Golden Buzzer. Here's who could be joining them in America's Got Talent 2021.
All the contestants who got the Golden Buzzer in America's Got Talent 2021
This list will update as Simon Cowell, Heidi Klum, Howie Mandel, Sofa Vergara and Terry Crews choose their Golden Buzzer acts.
Week 1: Howie Mandel—Northwell Health Nurse Choir
In a year where the importance of healthcare workers has been on everyone's minds, Mandel paid tribute to a choir of nurses, who delivered the Bill Withers classic "Lean on Me."
The group is made up of 18 frontline nurses from across 10 Northwell Health hospitals and medical centers in New York. On the Northwell Health website, it says of the group: "Our singing Northwell nurses didn't know each other before joining their voices to support Nurse Heroes—they came from different hospitals, nursing specialties and areas of New York.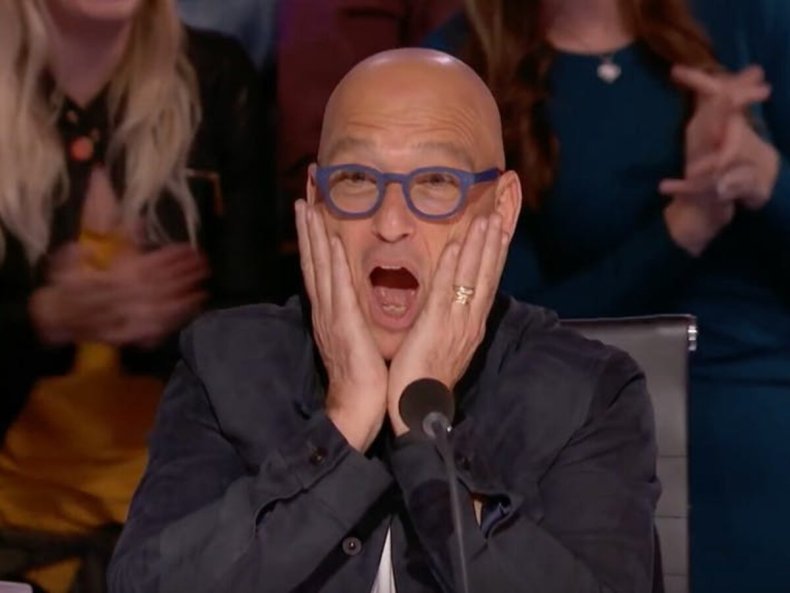 "That's when the power of music lifted their spirits and helped them forge a special bond—something they treasure, as the COVID-19 pandemic has been especially challenging for nurses."
Though Mandel was the one who pressed the Golden Buzzer, he was not the only one to pay tribute to the group. Cowell said of them: "We need you. The world needs you. It is going to touch a lot of people. I am going to remember this audition."
In a Parade Magazine interview in the lead-up to AGT 2021, Mandel said of how the Golden Buzzer acts are selected, "The truth of the matter is we don't take turns doing Golden Buzzers; if the Golden Buzzer moment hits your psyche—we know that we each have one Golden Buzzer per season—and if that hits you, there's no such thing as it being my turn. I will say to the other three, 'I'm loving this, I want to press the button,' and they'll go, 'OK,' so they know what's going on."
Week 2: Simon Cowell—Nightbirde
On the second installment of AGT 2021, Cowell pressed his Golden Buzzer after getting emotional listening to "It's OK," an original song by a 30-year-old singer named Jane, who performs under the pseudonym Nightbirde.
The performer also revealed that she was battling cancer from which she had a "two percent chance of survival." She told the judges, "last time I checked, I had some cancer in my lungs, spine and my liver. It's important that everyone knows I'm so much more than the bad things that happened to me."
Cowell told People Magazine: "I was absolutely mesmerized. Every year we meet the most extraordinary people on this show. She's an amazing person with an incredible talent and she's truly an inspiration."
Week 3: Terry Crews–World Taekwondo Demonstration Team
The Olympics' loss was AGT's gain in Week 3 of the NBC show. The World Taekwondo Demonstration Team is comprised of martial artists who were unable to take part in the Tokyo games due to COVID concerns, so they brought their high-kicking, wood-chopping act to the Talent stage.
Though they may not get Olympic gold, they got the Golden Buzzer from Crews, who said after they had performed, "I have never seen anything like that in my life."
Cowell also praised the group, saying, "I think what you did was one of the most extraordinary things I've ever seen on America's Got Talent."
Week 4: Sofia Vergara–Jimmie Herrod
Despite singing what Cowell called the "worst song in the world," the Portland singer got the Golden Buzzer from the former Modern Family actor.
After singing "Tomorrow "from the movie Annie, Vergara took the singer straight through to the live shows. Speaking about the moment to People, Vergara said: "Jimmie's performance was so powerful and he completely blew me away. His voice, his presence, the song—it was all incredible!
"Every part of me just knew that I needed to push the Golden Buzzer. I absolutely loved his performance and he deserved it!"
In the AGT live shows, Herrod could be joined by a frequent collaborator. He sings in the band Pink Martini alongside Storm Large, who also made it through the audition stage of the ABC show.
Week 5: Heidi Klum—Léa Kyle
The last judge to press their Golden Buzzer was former model Heidi Klum, who saved it for a clothes-based act.
On the June 29 episode of America's Got Talent, the judges met the French quick-change artist Léa Kyle. Though Klum pressed her buzzer, she was not the only judge impressed with the act. Mandel said he had "never seen one [quick-change act] better than you," while Cowell said she had, "amazing showmanship."
Klum said of the act, "You were doing real magic. It was absolutely incredible. You know how much I love fashion. I feel like we have never had anyone who is as good as you, so I feel you should go straight to the live shows."
America's Got Talent Season 16 airs Tuesdays at 8 p.m. ET / 7 p.m. CT on NBC. Previous episodes are streaming on Peacock and Hulu