Amy Robach and Andrew Shue's Blended Family Guide Amid 'GMA3' Exit
Former GMA3: What You Need To Know co-anchor Amy Robach has moved on from her role and seemingly her marriage after her relationship with her colleague, T.J. Holmes came to light.
ABC News confirmed last week that Robach and her co-anchor Holmes have officially left their hosting duties after it was revealed late last year they were in a more than professional relationship.
Robach has been married to Melrose Place actor Andrew Shue since 2010 and was previously married to Tim McIntosh from 1996 until their split in 2009. It is believed Robach and Shue have since separated, especially if his son's Instagram is anything to go by.
Shue's son Nate, 26, posted a cryptic message to his Instagram stories on Saturday night, which may refer to the end of his stepmom's tenure at ABC News, her separation from his dad—or even both. He shared a GIF of late-night host Jimmy Fallon saying, "Let's just move on," according to Us Weekly.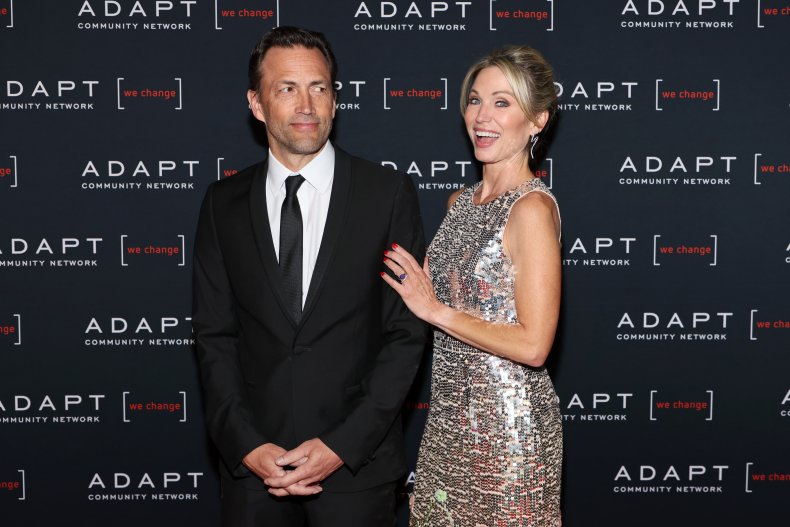 He's no stranger to addressing his family's drama on social media. Late last year he shared a video montage reflecting on the past year and wrote what he wanted in 2023.
"2022 was a doozy," he wrote. "Not sure what I'm wishing for in 23 but I've got a little faith it'll come. Love my people."
Nate is Shue's oldest son from his first marriage to floral designer Jennifer Hageney. They are also parents to Aidan, 24, and Wyatt, 19.
Robach is mom to Ava, born in 2002, and Annie, born in 2006 with ex-husband McIntosh.
Shue and Robach have admitted that it was hard to blend their families, especially when they got married after only 10 months of dating.
"The kids always did and still do remarkably well. They get along phenomenally. But with all issues that come with divorce, and then two completely different parenting styles, intellectually I knew it was going to be hard," she told New York Family in 2013. "But I didn't realize how hard it was going to be until we all actually lived together in the same house."
Shue said in the same interview: "I think that with time comes trust. In a divorce situation, the kids especially are going to feel afraid that something is going to fall apart. So you do have to be patient with them, build that consistency and that trust, show them that you really care about these relationships."
The couple reportedly separated in September and photos soon surfaced showing Holmes and Robach getting cozy at a New York City bar and enjoying a weekend away in late November.
Holmes and Robach were later taken off the air with a rotating roster of co-anchors filling in for them until ABC News confirmed on Friday they would be leaving their roles.
Network president Kim Godwin first confirmed the news in a memo to staff, and then in a public statement via an ABC News spokesperson.
"I know that this has been a distraction for so many of us, but let's not forget all the great work that continues to make ABC News the #1 news network in America, and that's because of you," Godwin wrote in the memo to staff. "I want to thank you again for your patience and professionalism during this time."
Later, an ABC News spokesperson said: "After several productive conversations with Amy Robach and T.J. Holmes, about different options, we all agreed it's best for everyone that they move on from ABC News. We recognize their talent and commitment over the years and are thankful for their contributions."
Since news of their departure broke, Robach and Holmes laid on the PDA in Los Angeles, where she was seen straddling her former co-star, turned lover.
As for Holmes, he is a dad to three children including one daughter named Sabine, 10, with his estranged wife, Marilee Fiebig whom he married in 2010. They filed for divorce in December.
Holmes also has two children, Brianna and Jaiden, from his marriage to his first wife Amy Ferson.