'GMA3' Fans Beg T.J. Holmes, Amy Robach's Replacements to Stay on the Show
Fans of two of the anchors who stepped in to cover for T.J. Holmes and Amy Robach after they were taken off air want them to replace the ousted stars permanently.
Holmes, 45, and Robach, 50, left their roles at ABC News in January including co-anchoring GMA3: Everything You Need To Know— and also, in Robach's case, 20/20— when it was revealed they'd begun a romantic relationship.
Images of the pair canoodling on a romantic getaway and at a New York City bar appeared in the media in November 2022. They were quickly taken off air, pending an internal investigation.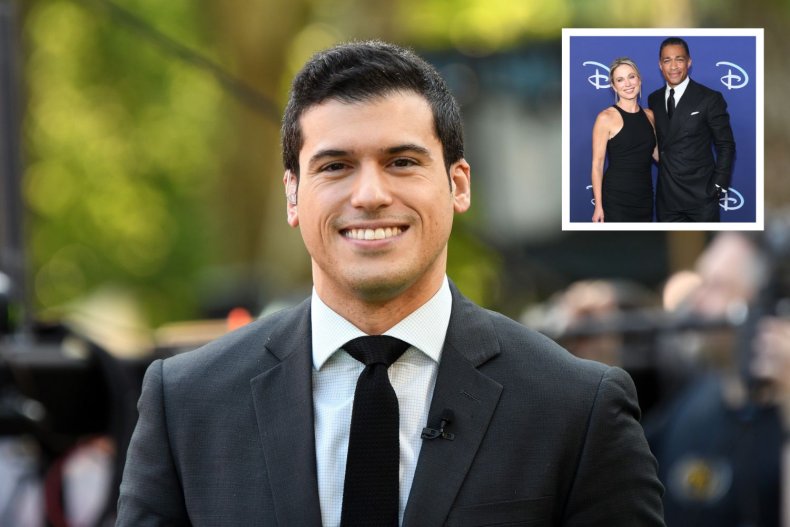 A series of replacements stepped in to host the show, including Rhiannon Ally, DeMarco Morgan and Gio Benitez. ABC News boss Kim Godwin promised to announce Holmes and Robach's permanent replacements soon.
"I know that this has been a distraction for so many of us, but let's not forget all the great work that continues to make ABC News the #1 news network in America, and that's because of you," Godwin wrote in a memo to staff in late January.
However, it seems fans are keen to lock in Benitez, 37, and Ally, 42, as their preferred choice of permanent hosts. The anchors' Instagram posts have been flooded with fans expressing their desire to see them full time on their TVs.
On one of Benitez's posts about the relationship between less social media and improved mental health, one of his followers wrote: "I hope you become the main host permanently on the show!!"
Another added: "Gio, I was so upset when they removed Amy & TJ, but you are an AMAZING host & I LOVE watching you on GMA 3!! You are so positive & charismatic & it is contagious! You are very committed & dedicated!! You should DEFINITELY be the permanent male host!!"
A third fan commented: "I like this team. I Hope you stay Gio."
On Ally's Instagram, she posted a vacation photo with her friend, the singer-songwriter and stage actress Shoshana Bean. Ally told fans that she'd taken the week off work to spend time with her kids who were off school.
"I hope you get the job permanently for GMA3!!!! Doing a great job," one of Ally's followers wrote to her.
A second posted: "You're a great hostess. Smart, Serious, fun, the best laugh. Light. Goodness through and through. And beautiful."
A third wrote: "You are so entertaining- yes I agree a perfect fit for the show- beautiful, smart & full of personality!!"
The permanent hosts of GMA3 have not been announced yet. Holmes and Robach have made no announcement as to what their next move is. Instead, they've been jetting off to exotic locations to enjoy loved-up vacations.
The couple were seen packing on public displays of affection (PDA) during getaways to Los Angeles and Mexico.
The pair headed to Cabo San Lucas, Mexico, for a romantic Valentine's Day vacation. Holmes and Robach were seen kissing poolside, cuddling over a beer and holding hands.
In December, Holmes and his wife, Marilee Fiebig, filed for divorce after almost 13 years of marriage. They are parents to 10-year-old, Sabine, and Holmes is dad to Brianna and Jaiden, with his first wife, Amy Ferson.
Robach was married to Tim McIntosh from 1996 until 2009, and she married Melrose Place star Andrew Shue, 56, in 2010.
She shares daughters, Ava, 20, and Annie, 17, with McIntosh.