Amy Schumer 'Triggered and Traumatized' By Will Smith Oscars Slap
Amy Schumer admits she's still feeling "triggered and traumatized" after the events of Sunday night's Oscars where she was the host.
She presented the 94th Academy Awards alongside Regina Hall and Wanda Sykes but all anyone could talk about after the ceremony was Will Smith slapping Chris Rock.
Schumer finally addressed the topic on her Instagram account, calling the ordeal "disturbing" and "sickening." She complimented her friend Rock while expressing concern for Smith.
The Oscars received a ratings boost compared to the 2021 ceremony, but the award winners and performances were largely overshadowed by Smith when he walked onstage and slapped Rock for telling a joke about Jada Pinkett Smith. Soon afterwards, Smith was awarded the Best Actor Academy Award and received a standing ovation from the crowd inside the Dolby Theater.
Not long after the ceremony, Schumer admitted that she's going to be processing what happened on the night for a while, but she's now formulated her feelings and expressed herself in an Instagram post.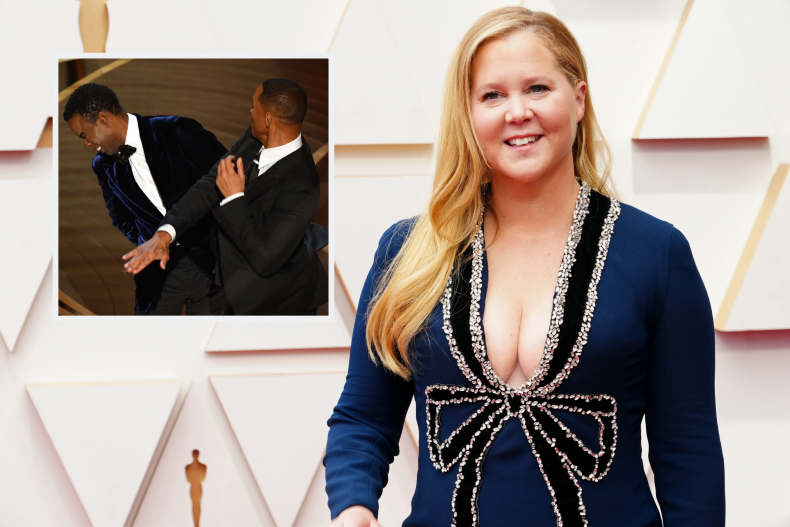 Speaking to her 11.5 million followers, she wrote, "Still triggered and traumatized. I love my friend [Chris Rock] and believe he handled it like a pro. Stayed up there and gave an Oscar to his friend [Questlove] and the whole thing was so disturbing."
Schumer is herself a stand-up comedian and the comedy community in general has condemned Smith's actions. She addressed Smith's current state in her statement.
"So much pain in [Will Smith] anyway I'm still in shock and stunned and sad. I'm proud of myself and my cohosts. But yeah. Waiting for this sickening feeling to go away from what we all witnessed."
Schumer was praised online for keeping the show going when she came out to continue hosting after the slapping incident. She asked the crowd if she'd missed something because there was a different vibe in the room. Tiffany Haddish fist-bumped Schumer for her off-the-cuff joke.
Since the event, Rock has yet to speak out but reportedly declined to press charges against Smith, according to the Los Angeles Police Department.
Smith however has made a statement, and issued a public apology to Rock on his Instagram account. Explaining his actions he said, "A joke about Jada's medical condition was too much for me to bear and I reacted emotionally."
Smith continued, "I would like to publicly apologize to you, Chris. I was out of line and I was wrong. I am embarrassed and my actions were not indicative of the man I want to be."
Chris Rock's brother Tony Rock, also a comedian, spoke out about the subject on Twitter on Wednesday morning. During a question and answer session with fans, he said that he found the Oscars ordeal "foul" and confirmed that his brother Chris is "fine."
There's been a dramatic rise in ticket sales for Chris Rock's upcoming comedy tour called Ego Death since the Oscars. The price of those tickets has sky-rocketed too.
The Academy of Motion Picture Arts and Sciences have confirmed that Smith's slap is still under investigation and the actor is facing a formal review of his actions.