Andrew Cuomo Lashes Out in Final Days as Governor During Hurricane Henri Briefing
New York Governor Andrew Cuomo lashed out at a reporter who asked about claims made by his attorney alleging they have discrediting information about one of his accusers during a Saturday press briefing on Hurricane Henri—just days before he is slated to leave office after announcing his resignation.
The reporter asked about a claim by Cuomo's attorney Rita Glavin, who said Friday she had information related to the credibility of Charlotte Bennett, one of the women who accused the governor of sexual misconduct. Glavin would not specify what the information is, WTEN-TV reported.
Cuomo, a Democrat, dismissed the question, saying he did not "want to get into Albany politics." Rather, he insisted on staying on topic and answer questions only about Hurricane Henri, which is set to bring heavy rain, wind and storms to Long Island Sunday.
"If you think justice is to accept a complaint from a person without investigation and without credibility determinations and without looking at past actions of that person, then you don't know what the justice system is," he said. "You've never been in a situation where you just reiterate complaints, and you don't investigate them and you don't say whether or not the law even applies to them."
He added "that's not justice. That's a bulletin board posting complaints."
"Justice is, I hear the complaint and welcome everyone to come forward, and that takes courage and that takes bravery. But we need to know the facts," he told the reporter. "I can make a complaint about you today, maybe it's true. Maybe it's not true. But that's why they do investigations."
Cuomo will leave office on Tuesday, less than one month after New York Attorney General Letitia James released a report that found Cuomo sexually harassed multiple women and violated federal and state law. James said during a press conference on August 3 that her findings painted a "deeply disturbing, yet clear, picture."
Cuomo announced his resignation on August 10. Lieutenant Governor Kathy Hochul is set to replace him on Tuesday.
New York State Assembly Speaker Carl Heastie and Assembly Judiciary Chair Charles Lavine said in joint statement Monday: "The Assembly Judiciary Committee will continue to review evidence and issue a final report on its investigation of Governor Cuomo. In doing so, the committee will take all appropriate steps to ensure that this effort does not interfere with various ongoing investigations by the United States Attorney concerning nursing home data; the attorney general concerning the governor's memoir; and local law enforcement authorities in five jurisdictions – Manhattan, Albany, Westchester, Nassau and Oswego – regarding possible criminal incidents of sexual misconduct."
Heastie announced on August 13 that the State Assembly was suspending its impeachment investigation into Cuomo following the governor's resignation. Some Democrats, however, have insisted that Cuomo still needs to be impeached to prevent him from seeking office in the future.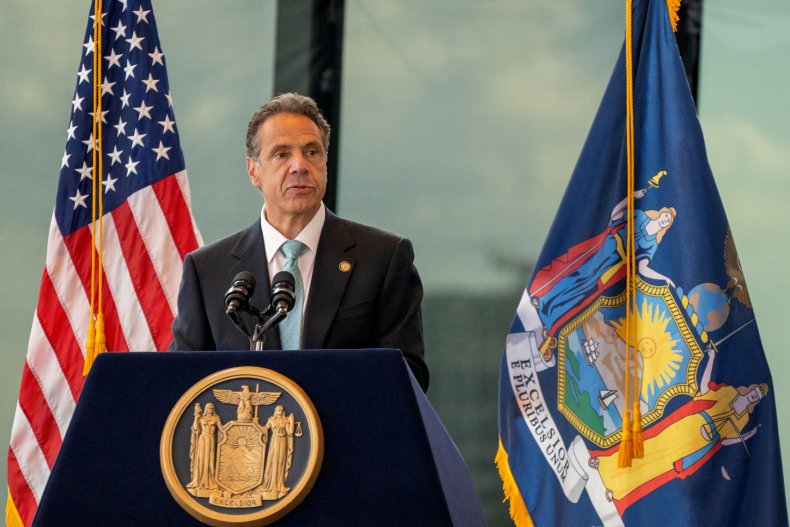 Cuomo told New York magazine August 13 that he would have won any impeachment process following the report, but he said he did not want to "drag the state through the mud, through a three-month, four-month impeachment, and then win, and have made the State Legislature and the state government look like a ship of fools."
"Everything I've done all my life was for the exact opposite. I'm not doing that," he said. "I'm not a martyr. It's just, I saw the options, option A, option B."
Newsweek reached out to Cuomo's office for comment Saturday, but had not heard back by publication. This story will be updated with any response.