Imagine Netflix offered $320,000 for the rights to tell your story? Well, that is exactly what happened to a convicted fraudster, Anna Sorokin, with the money for Inventing Anna being paid via an escrow account and monitored by the Office of Victim Services (OVS).
The majority of the Netflix money was used to pay her victims and legal fees.
Between 2013 and 2017, using the name Anna Delvey (which she continues to go by today), Sorokin was able to con New York's elite, businesses, banks, and her friends out of thousands of dollars to help fund her lifestyle and art foundation, ADF.
In 2019, Delvey was found guilty of attempted grand larceny, grand larceny, and theft of services. She served under two years of her four to 12-year sentence and was released in February 2021, but just six weeks after Delvey's release, she found herself in the hands of ICE custody and is currently fighting deportation.
Meanwhile, Inventing Anna dropped on Netflix and with the whole world witnessing the mind-blowing true story unfold on their screens, Delvey has been sharing her thoughts on the series and more.
Newsweek has everything you need to know.
1. Got Her Own Documentary Series
Courtesy of Surviving R. Kelly's Bumin/Murray Productions, Delvey is getting her own documentary series.
Delvey shared the exciting news on her Instagram stories, reposting a Vogue article detailing the documentary.
According to Vogue, Delvey will receive further compensation from Bumim/Murray for her participation in the documentary. However, just like the money she received for the Netflix series, any money will be paid to Delvey via escrow and monitored by the OVS.
The upcoming documentary series will follow Delvey now that she is free from prison, back in the spotlight, and fighting deportation.
Michael Driscoll, head of development for Bunim/Murray Productions, told Deadline: "Anna's story is very much alive and still unfolding as we speak.
"We've been developing this project with her for months now—and spent countless hours on the phone and video calls with her. She is a complicated and fascinating character, and we are looking forward to telling the next chapter of her ever-evolving tale."
2. Teased Chase's Real Identity
In a recent Instagram story post, Delvey teased she was willing to reveal the real identity behind Chase in Inventing Anna.
In the Netflix series, Delvey's love interest is given the name Chase, who is loosely based on a real person.
Jessica Pressler in her article "How Anna Delvey Tricked New York's Party People," which Inventing Anna is based upon, did not reveal Delvey's boyfriend's true identity other than he described himself as 'futurist', was a regular on the TED-Talks circuit and had even been profiled in The New Yorker.
He had been working on an unspecified app (called Wake in the Netflix series), whilst Anna worked on setting up her own art foundation for New York's elite, The Anna Delvey Foundation (ADF).
According to Pressler's article, Anna and her boyfriend dated for two years.
She wrote: "They'd been kind of like a team, showing up in places frequented by the itinerant wealthy, living out of fancy hotels and hosting scenery dinners where the Futurist talked up his app and Delvey spoke of the private club she wanted to open once she turned 25 and came into her trust fund."
As seen in Inventing Anna, Delvey's boyfriend really did move to the Emirates but remained anonymous.
Now, Delvey is willing to reveal his identity, for a fee.
Writing on Instagram, Delvey said: "Want to know who the real "Chase" is? The media outlet with the highest bid gets the exclusive. Bids start at $10k. DM to bid."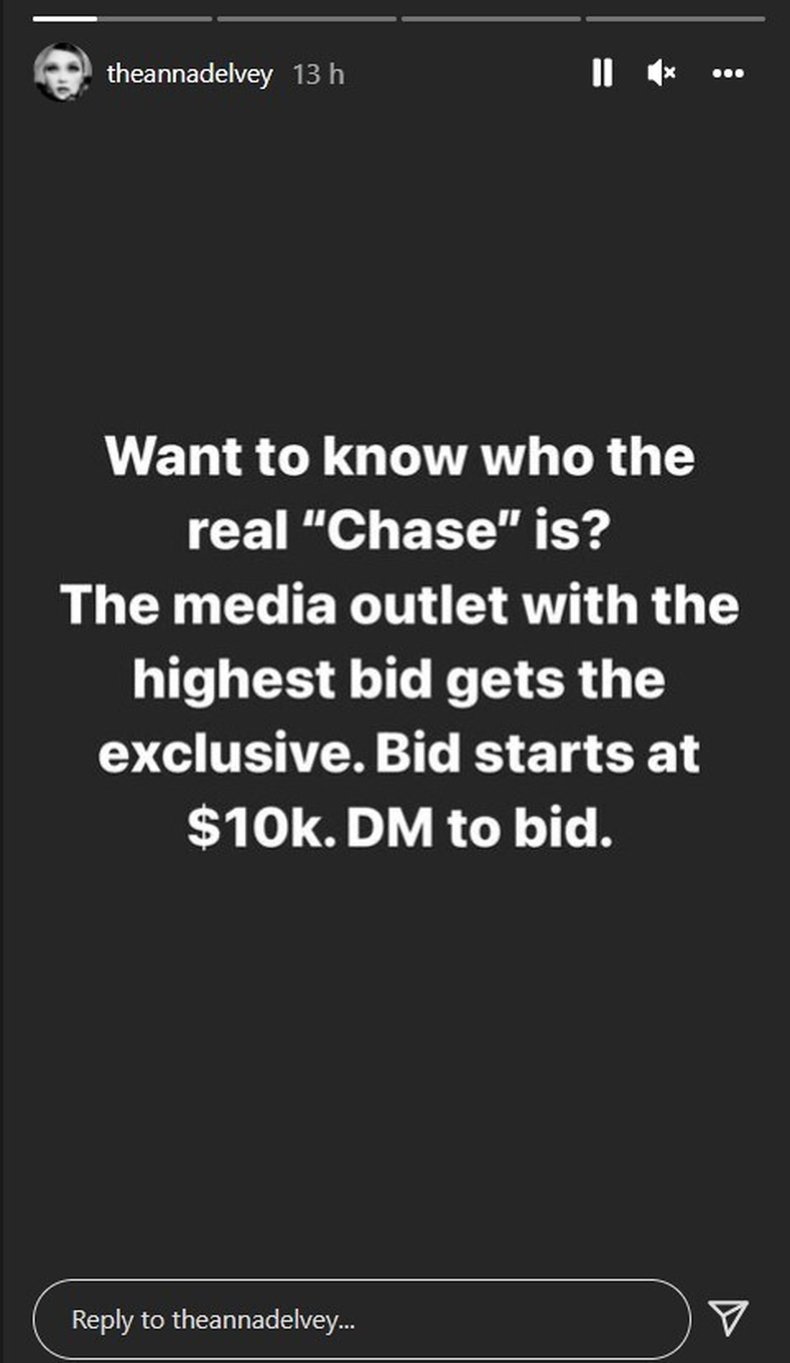 3. Confirmed She Was Still BFFL With Neff
In Inventing Anna, Neff Davis (played by Alexis Floyd) seemed to be the only person willing to stand by Delvey after the truth about her finances was exposed.
She even supported Delvey during her trial, reaching out to close friend and stylist Anastasia Walker (Natasha in the series) to style Delvey ahead of her courtroom appearances.
Davis then documented Delvey's looks via the @annadelveycourtlooks Instagram account she set up, reports Cosmopolitan. Three years later, Delvey has confirmed the pair are still great friends.
She recently posted on her Instagram Stories a photograph of Davis, who is a director, writing "my friends are better than yours."
She also attached a love-heart emoji that read "I miss my friends."
Meanwhile, the real Davis has been opening up about her friendship with Delvey. Speaking to Bustle after the release of Inventing Anna, Davis said: "Anna is my friend and always will be. We had to get to know each other again and develop healthy boundaries. We have blocked and unblocked each other, cried, and laughed. I get her."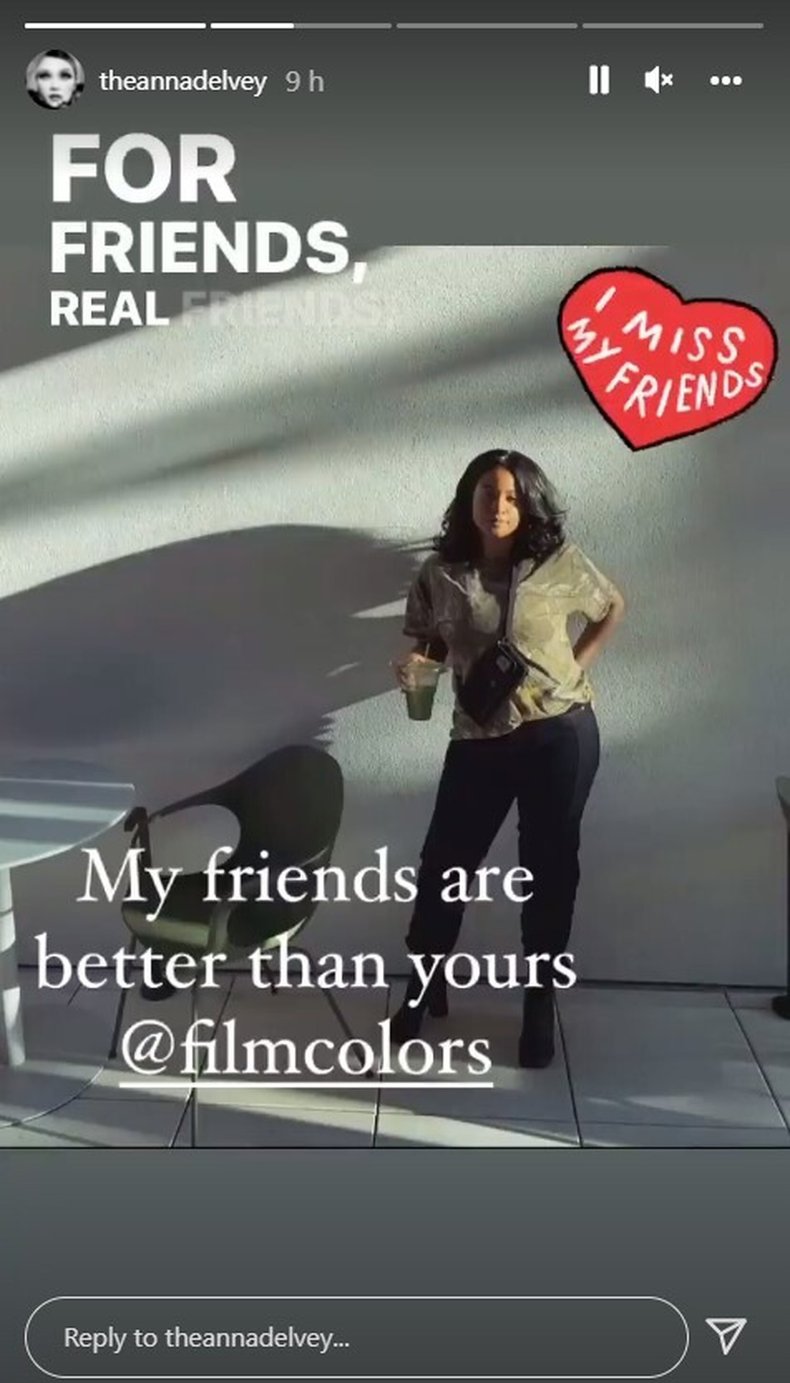 4. Apologized Via The New York Times
In timing with the release of Inventing Anna on Netflix, Delvey, via the Orange County Correctional Facility where she is being held in ICE detention, did an exclusive interview with The New York Times.
Anna reposted a snippet of the video on her Instagram, alongside writer Emily Palmer's caption which read: "years after anna Sorokin told me she was "not sorry" for the financial crimes she was convicted of under another name (@theannadelvey), I phoned the fake heiress at her correctional facility in Goshen, new york to ask her the same question again."
In her post, Palmer recalled meeting Anna for the first time in 2019, writing "a lot has changed in the three years since that first interview."
Palmer continued: "and over the past week, we've spent a lot of time catching up—and a lot of money, too. twenty-one phone calls, a slew of text messages, and $191.30 later, my q&a for @nytimes styles is out now."
Speaking to The New York Times, Delvey admitted she felt she had changed a lot after serving time in prison and was "sorry."
She said: "I feel sorry for the way my case is being perceived. And I feel sorry that I resorted to these actions that people think I'm glorifying now.
"I feel sorry for the choices I've made. Definitely, I don't feel like the world would be a better place if people were just trying to be more like me."
5. Teased a Book, Podcast and Julia Fox Project
Delvey also shared she was working on a book about her time in jail and a podcast.
She shared: "I'm not trying to encourage people to commit crimes. I'm just trying to shed light on how I made the best out of my situation, without trying to glorify it. This is what I'm creating out of that story."
In a move people may or may not have seen coming, Delvey also teased she was working closely with model and actress Julia Fox, who was recently dating Kanye West.
Fox recently shared an article on Instagram Delvey has written for Insider about life behind bars. In her post, Fox called Sorokin "my dear sis" and said she was "killing it behind hers."
Delvey explained to The New York Times how their friendship came to be via Instagram and teased a future collaboration.
She shared: "We have a similar sense of humor. She was never judgmental, and we've stayed in touch ever since.
"She has lots of interesting creative projects going on, and I feel like the media is not doing her justice talking about her dating life. We are actually working on a little something together."
Inventing Anna is streaming on Netflix now.