AOC Blasts Wells Fargo CEO's 'Lack of Talent' to Recruit Black Workers
Alexandria Ocasio-Cortez has hit out at Wells Fargo's CEO after he claimed that there is a lack of "Black talent" the bank could recruit from.
During a Zoom meeting this summer, the bank's head, Charles Scharf, said that the bank has not found enough qualified minority talent to hire in order to reach its diversity goals, Reuters reported.
According to the bank's workforce profile, 44 percent of its U.S. workforce was ethnically/racially diverse at the end of 2018.
Scharf reportedly made a similar remark while announcing diversity initiatives in June, amid protests following the killing of George Floyd.
In a memo, sent to employees and seen by Reuters, the CEO wrote: "While it might sound like an excuse, the unfortunate reality is that there is a very limited pool of black talent to recruit from."
Responding to the reports, Ocasio-Cortez tweeted on Wednesday: "Perhaps it's the CEO of Wells Fargo who lacks the talent to recruit Black workers."
It is not the first time that Ocasio-Cortez has hit out at a Wells Fargo CEO.
During a hearing in March last year, the congresswoman asked the then Wells Fargo chief executive, Tim Sloan, why his bank got involved with caging children through financing two private prison companies.
"For a period of time, we were involved in financing one of the firms," said Sloan. "We aren't anymore. I'm not familiar with the specific assertion that you're making, but we weren't directly involved in that."
Ocasio-Cortez then concluded: "These companies run private detention facilities run by ICE which is involved in caging children, but I'll move on."
Sloan resigned in March 2019 following controversy around Wells Fargo's ongoing account fraud scandal, which involved the creation of millions of fraudulent accounts on behalf of clients without their consent.
The congresswoman vowed to tackle issues such as the student loan crisis, for-profit prisons/ICE detention, and the development of public and postal banking when she joined the House Financial Services Committee in 2019.
Chase Bank was also a target of the representative from New York, after the bank posted a now-deleted tweet which implied that people who frequent coffee shops and restaurants and take cabs were deserving of the low balances on their bank accounts.
"Why is my balance so low?" Chase asked in the now-deleted tweet. "Make coffee at home," it advised.
In a series of tweets, the congresswoman responded: "It's the idea that if you choose to have any expense beyond mere animalistic survival - an iced coffee, a cab after a 18hr shift on your feet - you deserve suffering, eviction, or skipped medicine. You don't. Nobody does."
Ocasio-Cortez has also frequently rallied behind ideas such as higher taxes for society's wealthiest individuals and corporations, and the cancellation of student loan debt, which she says has slowed down the country's entire economy.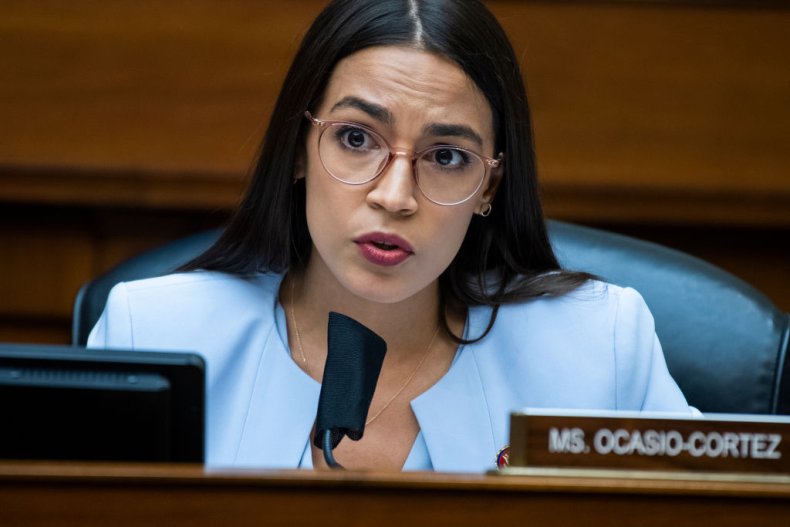 Scharf issued a statement Wednesday following a number of media stories about his June memo: "I apologize for making an insensitive comment reflecting my own unconscious bias. There are many talented diverse individuals working at Wells Fargo and throughout the financial services industry and I never meant to imply otherwise."
"I've worked in the financial services industry for many years, and it's clear to me that, across the industry, we have not done enough to improve diversity, especially at senior leadership levels. And there is no question Wells Fargo has to make meaningful progress to increase diverse representation. As I said in June, I have committed that this time must be different."
After listing the efforts that the bank is making to increase diversity and accountability, Scharf addressed employees: "This is an important moment in our firm and we will not let it go by without substantive changes. I cannot do this alone, and I am asking for your help. I know we will be judged based on our outcomes. Thank you for all you do for our company."
Update 9/24/20, 9:20 a.m. ET: This article was updated to include Charles Scharf's statement to his employees.