AOC 'Faked Being Handcuffed' in Arrest, Enraged Marjorie Taylor Greene Says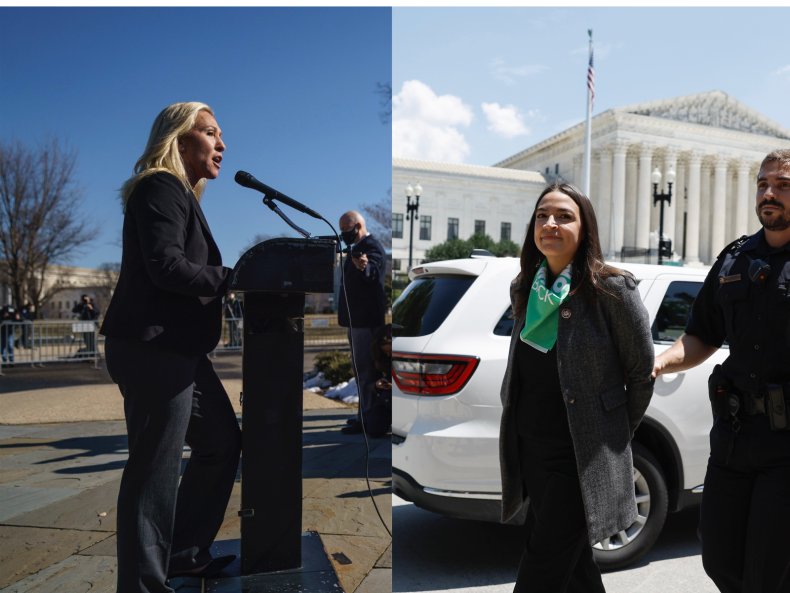 Marjorie Taylor Greene, Republican representative from Georgia, has lashed out at Democratic Representative Alexandria Ocasio-Cortez of New York, accusing her of pretending to be handcuffed as she was arrested during a pro-abortion rights protest outside the Supreme Court.
Ocasio-Cortez was among 17 Democratic members of Congress arrested outside the court on Tuesday while protesting the recent decision to eliminate federal abortion rights protections by overturning the landmark 1973 Roe v. Wade ruling. Capitol Police said the arrests, which included 35 protesters in total, were on charges of crowding, obstructing or incommoding.
A video shared to the official Twitter account of Ocasio-Cotez shows the congresswoman with her hands behind her back as she is led away by police. It soon becomes clear that she is not wearing handcuffs when she raises one fist in solidarity with the other protesters at the end of the video. It was unclear if Capitol Police asked Ocasio-Cortez to place her hands behind her back.
Greene, who is often at odds with Ocasio-Cortez as her ideological opposite, quickly responded to the footage in a series of outraged tweets and a hastily organized 24-minute Facebook livestream video about the incident.
"AOC just faked being handcuffed to sell her lie," Greene tweeted. "Democrats are failing so badly, they are now resorting to flat out lying to their voters to try to get them to vote. It's pathetic!"
Greene went on to tweet a forward-facing image of Ocasio-Cortez holding her hands behind her back, marked "media," alongside a closeup of her uncuffed hands taken from the back, marked "reality."
"@AOC so you faked being handcuffed to keep lying to women?" she commented alongside the comparison. "Abortion is legal up until birth in NY, but your voters can't afford groceries and crime is out of control. Desperate isn't a good look on you. Go back to your Insta makeup tutorials, you're actually good at those."
The Georgia Republican went on to accuse one of Ocasio-Cortez's fellow "Squad" members, Democratic Representative Ilhan Omar of Minnesota, of also faking being handcuffed.
"You faked being handcuffed for your photo-op today as Cap Police warned you 3 times to get out of the street," Greene tweeted in reaction to a video shared by Omar. "Then you were arrested, so you would stop playing in traffic. Abortion is legal up to 24 weeks in Minnesota, you're protesting nothing. You're a liar."
Greene expanded on her outrage in the Facebook Live video, while falsely claiming that Ocasio-Cortez only "pretended" to be arrested in addition to faking being handcuffed. She also said that the video was evidence that Democrats are "liars," while President Joe Biden "has dementia" and Vice President Kamala Harris is unable to "make a coherent sentence."
"You see, the problem with the Democrats are is they're nothing but a bunch of liars," said Greene. "Not only are their policies horrible, their policies are failing. Their president has dementia, their vice president can't even make a coherent sentence. And then they're ruining everyone's lives."
Toward the end of Greene's impromptu video rant, the congresswoman argued that Ocasio-Cortez was attempting to distract Americans from high inflation and other economic issues by pretending to be handcuffed.
"Oh, shame on you, Mr. and Mrs. American," Greene said sarcastically. "You're supposed to care about the fact that AOC just pretended to get arrested, went out there and stood in the middle of the road and the police had to escort her out of the street."
"They weren't arresting her," she continued. "You have to get out of the street ... she pretended like she's been arrested ... and she walked away with a smug little smile because she knew that they were taking pictures."
Newsweek has reached out to the office of Ocasio-Cortez for comment.