AOC Mocks Ted Cruz, Donald Trump Mar-a-Lago Photo: 'Reminiscing' About 'Attempted' Coups
Representative Alexandria Ocasio-Cortez (D-NY) mocked a photo of Senator Ted Cruz (R-TX) and former President Donald Trump in Florida on Wednesday, stating that the two were "reminiscing" about "attempted coups."
"Nothing like reminiscing about attempted coups over a bouquet of flowers," Ocasio-Cortez tweeted, while sharing a photo of Cruz and Trump at the former president's Mar-a-Lago resort in Palm Beach.
The New York Democrat's message ridiculed the two Republicans for their alleged role in the January 6 attack on the Capitol, when a violent mob of Trump supporters stormed the building in an effort to stop the election certification for President Joe Biden. Cruz was one of eight Republican Senators who voted to object the results of the election certification, citing unsubstantiated allegations of voter fraud heavily pushed by Trump and his most vocal supporters.
Following the attack, which left five people dead, Ocasio-Cortez accused Cruz of "almost" having her murdered and has repeatedly called for his removal from office.
Ocasio-Cortez's statement on Wednesday follows Cruz's visit to Mar-a-Lago a day earlier to meet with Trump in order to discuss the future of the Republican Party.
"Had a great dinner tonight with President Trump at Mar-a-Lago," Cruz tweeted along with a photo of himself and Trump on Tuesday. "He's in great spirits! We spent the evening talking about working together to re-take the House & Senate in 2022."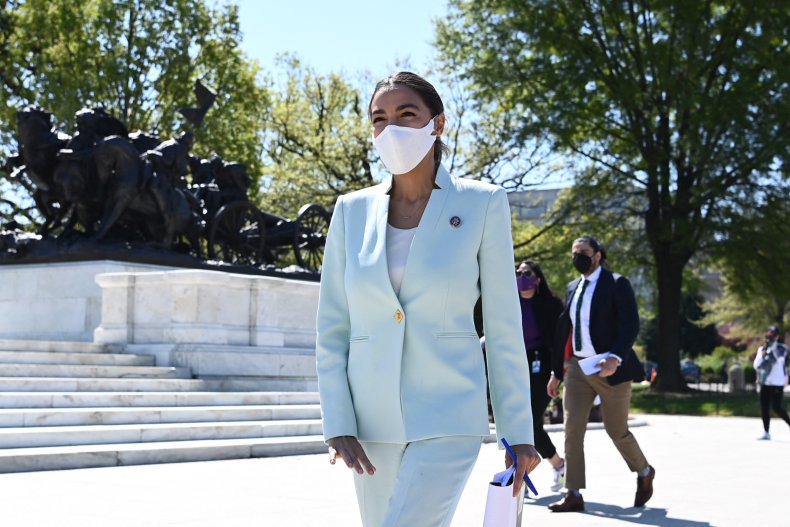 The meeting comes amid expectations that both Cruz and Trump will put in a presidential bid for the 2024 election. On Tuesday, Trump told conservative commentator Candace Owens that he "looks forward" to announcing his decision on whether he'll be running again at "the right time."
"As you know, it's very early. But I think people are going to be very, very happy when I make a certain announcement," Trump added.
Cruz, who campaigned against and lost to Trump for the GOP nomination for president in 2016, has also been rumored to run again. Over the past several months, Cruz has strongly embraced a pro-Trump stance within the GOP, while others spar over how much influence the former president should maintain over the party.
In February, the Texas Republican vowed that "Donald J. Trump ain't going anywhere" during a speech at the Conservative Political Action Conference (CPAC). Meanwhile, Senate Minority Leader Mitch McConnell, has since distanced himself from Trump and blamed him for "provoking" the January 6 riot.
In response, Trump said McConnell's political future was "hanging by a thread" in March, and has threatened to back 2022 primary challengers to campaign against those endorsed by the Kentucky Republican.
On Wednesday, several other people joined Ocasio-Cortez to mock Cruz and Trump's meeting on social media, including political commentator Charlie Sykes who tweeted: "In case your cringes haven't cringed yet this morning."
Newsweek contacted representatives for Ocasio-Cortez, Cruz, and Trump for additional comment, but did not hear back in time for publication.