How to Listen to Apple Music on Your PS5
You can now listen to the Apple Music library while playing games on your PS5, giving you new ways to score FIFA matches, intense battle royale sessions and grueling boss fights in Demon Souls.
Following a recent update, Apple Music is available to download on both the disc and digital editions of Sony's next-gen hardware. This is the first time that the streaming service (which launched in 2015) has been integrated with any gaming console and it means that PlayStation 5 owners will now have a catalog of over 90 million songs at their fingertips.
By downloading the app onto your PS5, you will have direct access to curated gaming playlists, 4K music videos, time-synched lyrics, radio streaming and many other features that you would associate with the core Apple Music experience. Not only can you listen to music in the app itself, but you can also have it blasting away in the background while you are playing games.
Of course, to be able to use any of this functionality you will need a PS5 device and an Apple Music subscription. If you have both, then this guide will show you how to bring them together.
How to Download Apple Music on Your PS5
Downloading the Apple Music app on a PlayStation 5 is a rather straightforward process.
Although it might seem counterintuitive, you don't need to head into the PlayStation Store to get the app. Instead, you must simply navigate to the media page of the PS5 dashboard.
From there, go to the "All Apps" menu. If you scroll down the list here, you should be able to find the Apple Music logo, but if you are having trouble, you can just manually search for it using the magnifying glass icon in the top right-hand corner of the screen.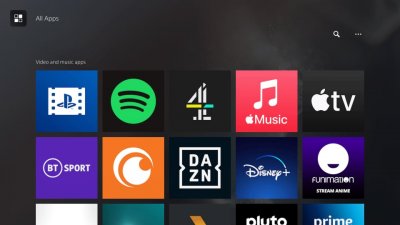 Once you are on the Apple Music product page, you will need to press the download button. After it has been installed, launch the app from your dashboard and log in using your existing Apple Music credentials. If you don't already have an account, then you can use this opportunity to sign up. A standard subscription costs $9.99 per month, but there are a variety of alternative options to consider.
Finally, you will be prompted to link your PlayStation Network (PSN) and Apple Music accounts. Follow the instructions on the screen to do this.
How to Listen to Apple Music on Your PS5
In terms of listening to Apple Music on your PS5 you have two choices. You can either just head into the app itself and stream tracks directly from there, or you can have it playing in the background.
When it comes to the latter, the first thing you will need to do is boot up a game of your choosing. Once you are in, press the PS Button on the DualSense controller to open up the PS5 control center. From there, scroll along to the music card, which is signified by the musical notation icon (it should be located in the middle of the toolbar).
Once you are in the relevant card, scroll down to the "Music Sources" list. Here you will find a tab for Apple Music. Open this to access a selection of featured playlists and recommended songs that you can play without having to close your gaming session.
It is worth noting that one of Apple Music's competitors, Spotify, is also integrated with the PS5 and is available to download now.