Arcade Fire's 20 Best Songs, From 'The Suburbs' to 'Reflektor'
"All right. We're the flavor of the month. Let's go."
That was Arcade Fire frontman Win Butler in 2004, dismissing the buzz that had engulfed his scrappy Canadian band as a momentary joke. He could not have been more wrong. (Well, maybe if he'd written this 2003 headline about Beyoncé... but that's a different story.)
From 2004's Funeral onward, Arcade Fire has defended its title as the most inventive, colorful and emotionally resonant band of its generation, exploring organized religion (Neon Bible) and suburban desperation (The Suburbs) with passion and yelps. Now, as the band promotes a surprisingly lackluster new record, we decided to go through the back catalog and rank the 20 best songs.
There's a whole lot of Funeral on this list. We're not sorry for that.
20. "Neighborhood #4 (7 Kettles)" (2004)
Though it may be the least raucous of the four "Neighborhood" tracks on Funeral, we're going to go ahead and say that "#4" features the most soothing use of a tea kettle in the history of recorded music. Sound off in the comments if you have a better example. —Ryan Bort
19. "Black Mirror" (2007)
As the opening track to Neon Bible, "Black Mirror" is a song that sneaks up on you. Sure, there's the creeping piano line, and those cavernous background noises that seem to echo from inside a ship's hull. But not until Win Butler wails, "Mine is the only kind that I relate to!" do you truly feel the song's desperation. —Claire Shaffer
18. "Wake Up" (2004)
"Wake Up" all but invented the now-ubiquitous "WHOA-OH!" refrain—a dangerous legacy, but a song so great you can't blame it for the atrocities it's inspired. Overpowering in its melodic exhilaration, this Funeral cut serves proof that Arcade Fire was destined for stadiums even when it was playing random cafés. It has soundtracked major sporting events, movie trailers (see: Where the Wild Things Are), Saturday Night Live sketches and a lot more. It's part of the indie canon. You'll know it when you hear it. —Zach Schonfeld
17. "Normal Person" (2013)
"Man, do you like rock and roll music?" Win Butler asks at the top of what is probably the most "normal" rock song on the band's ambitious fourth album. Considering what it means to be a normal person is a pretty overt form of existentialism relative to the rest of Reflektor, which is actually pretty refreshing. The song has big swagger and a loud, pummeling chorus. —Ryan Bort
Related: Arcade Fire: The Biggest Little Band?
16. "Rococo" (2010)
The word "Rococo" refers to an 18th-century French arts movement but melts into glorious gibberish mush as this song rises and shakes. It's like when you repeat a common word aloud so many times that it suddenly sounds like nonsense. The swelling orchestral and guitar feedback that envelope the final verse sounds as huge as the arenas the band filled up on the Suburbs tour. —Zach Schonfeld
15. "Windowsill" (2007)
Neon Bible's moody gem rides Springsteenian angst to a rousing, string-drenched finale. Between this song and the prior track "(Antichrist Television Blues)," you can get an exhaustive guide to all the things Win Butler doesn't want to do: "give them my name and address" (check), "see what happens next" (check), "live in my father's house" (check), "forgive what you can't forget" (check), "fight in the holy war" (check), "live in America no more" (check). Most importantly, he really doesn't want to see it at his windowsill. Take note, Win Butler's neighbors. —Zach Schonfeld
14. "We Used to Wait" (2010)
"We Used to Wait," in my mind, will always be tied to its interactive music video, which featured a hooded figure sprinting down a suburban street of the viewer's choosing. (Fans were encouraged to input "the address of the house where you grew up.") That image has gained a lot more political significance since 2010, only contributing to the song's haunting build-up of dread and call-to-arms chant of "sing the chorus again." —Claire Shaffer
13. "In the Backseat" (2004)
Régine Chassagne rode a cab to her mother's funeral because she'd never learned to drive. On "In the Backseat," this grief-filled memory expands into a wrenching, fluttering swan song for youth. The violin coda that carries out the album is extraordinary. When it finally fades, the silence feels charged and new. The echo lingers. —Zach Schonfeld
12. "Sprawl II (Mountains Beyond Mountains)" (2010)
Arcade Fire's first big excursion into dance-pop is a glimmering gem with echoes of Blondie's "Heart of Glass." The song boasts excellent lead vocals from Régine Chassagne, whose central query is immediately relatable to any bored suburban kid: "Can we ever get away from the sprawl?" —Zach Schonfeld
11. "Ready to Start" (2010)
I realize now that the Arcade Fire songs I tend to gravitate toward are the ones that could conceivably be used to lead an angry mob. Perhaps that's because, along with the omnipresent "Wake Up," "Ready to Start" was my introduction to the band—and to their ability to inject much-needed kinetic life into the wide-reaching, occasionally simpering genre of late-aughts "indie rock." It's an ode to the pleasures of selling out before Arcade Fire really sold out, and it's as fitting in a sports stadium as it is at an art school soiree. —Claire Shaffer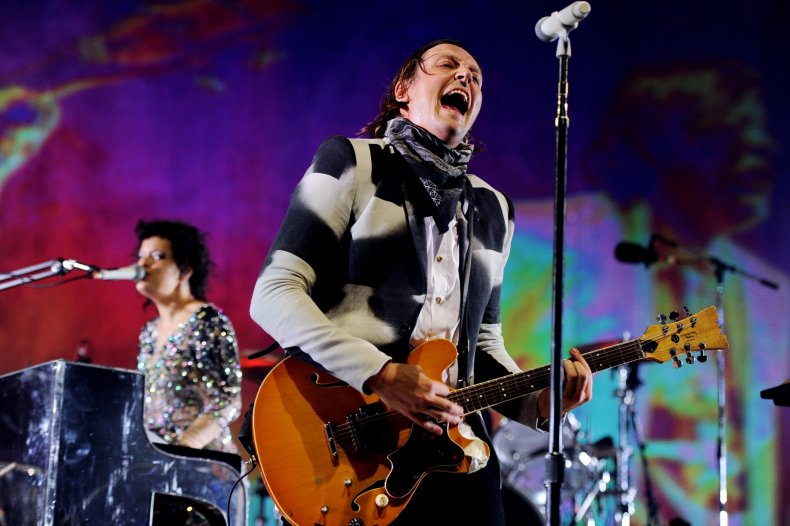 10. "Afterlife" (2013)
The party's over on "Afterlife." As it is in the real afterlife, I imagine, though who can say for sure. On this hallucinatory glitter-glam anthem, Win Butler asks the tough questions—"When love is gone / Where does it go?"—and demands to know what the next life holds. Both meditative and danceable, the song was inspired by the 1959 film Black Orpheus. (No, it's not on Netflix.) —Zach Schonfeld
9. "Keep the Car Running" (2007)
See: "Ready to Start" blurb. Although this is less "angry mob" and more "must-have for your next road trip." —Claire Shaffer
8. "Haiti" (2004)
Named after the Caribbean nation from which Régine Chassagne's parents fled in 1960, "Haiti" is a gorgeous respite from the full-throated exuberance that surrounds it on Funeral. Though it's a delightful oasis of a song that features one of the band's catchiest melodies, the lyrics touch on the hardships endured by the Haitian people under the rule of Francois Duvalier. Chassagne's parents were able to escape; thousands of others weren't. —Ryan Bort
Related: The Arcade Fire's Barclays Center blow-out
7. "Neighborhood#2 (Laïka​)" (2004)
"Neighborhood #2" was, for many listeners, the first Arcade Fire track that really seized their attention. (The album opener is great too, obviously, but it's more stately and subtle.) This one is a frenetic, frenzied classic inspired by the sad and true story of the first dog in space. The song's ramshackle instrumentation—which includes such unconventional tools as a xylophone, accordion and harp—helped secure the band's early reputation as a joyous musical collective free of structure and rules. —Zach Schonfeld
6. "Deep Blue" (2010)
Forget Boyhood. Forget email hacks. Forget data mining. Forget push notifications and Shazam and Ambrosia LLC and "pivot to video" and microchip fingertips. Just sit back, relax and contemplate whether Arcade Fire might've recorded the best harbinger of the techno-apocalypse since OK Computer. —Claire Shaffer
5. "Reflektor" (2013)
I've never properly danced to "Reflektor." I guess it wouldn't be out of place in certain discotheques, at least the ones in Brooklyn that regularly spin LCD Soundsystem or "Heart of Glass." But here we have a sprawling, multi-genre track that works equally well when driving down the 134 at sunset, with Bowie's spectral voice floating high above the city. —Claire Shaffer
4. "Neighborhood#1 (Tunnels)" (2004)
Sure, this may only be the first part of a four-part suite that's still some of the best music Arcade Fire has ever recorded. But "Tunnels" works just as well as its own saga, about two kids just trying to reach each other through the snow. —Claire Shaffer
3. "Neighborhood #3 (Power Out)" (2004)
Pure dance-punk euphoria. The beat is heavy and relentless, like factory machinery you can dance to. Yet there's nothing mechanical at all about Butler's yowls, which sound wild and unglued: "Light a candle for the kids / Jesus Christ, don't keep it hid!" The song is a requirement, and a joyous cacophony to behold, on every Arcade Fire setlist. Blare it on a college campus; watch the misfits assemble and dance. —Zach Schonfeld
2. "The Suburbs" (2010)
The Suburbs came out when I was 14. Shortly after it unexpectedly took home the Grammy for Album of the Year, my ninth grade English teacher (who possessed a well-trimmed beard and an Indie Rock Coloring Book) decided we were going to study the record as though it were a novel. He loved The Suburbs and thought it would enrich our young minds. Most of us hated it. A classmate of mine repeatedly asked why we weren't studying rap instead—which now I sort of agree with (2010 was a great year for hip-hop) except this kid wanted to study goddamn Rebirth by Lil Wayne.
Anyway, eventually The Suburbs, and its title track in particular, convinced me to move beyond my parents' country albums and discover my own music. Not because "The Suburbs" is well-composed or a pretty traditional ballad that still manages to sound unique (although both of those things are true), but because it captured the storytelling essence of the country/folk genre that I, at that point in my life, thought was necessary for Good Songwriting. Except "The Suburbs" was also ambiguous and melancholy and didn't wrap itself neatly in a bow by the end. As a kid from the suburbs who would soon be learning to drive and to navigate those claustrophobic worlds—of Pasadena and of adolescence—I can't thank Arcade Fire enough for it. —Claire Shaffer
1. "Rebellion (Lies)" (2004)
"Rebellion (Lies)," the penultimate track on Funeral, is the quintessential Arcade Fire song—and the type of anthem by which the band will be remembered. It is joyous and inspiring. It drives and churns. There are propulsive drums, heavy keys, swelling strings and uplifting harmonies. Win Butler expends all his energy trying to keep his vocals up to speed with this instrumental force. Somehow, he winds up transcending it. "Now here's the sun, it's all right / Now here's the moon, it's all right," he belts, his voice driving like a piston until the song finally clears the horizon and settles into an outro. If you've have the pleasure of seeing Arcade Fire close a show with this song, give thanks. —Ryan Bort