Conspiracy theorist Alex Jones has hired a free-speech specialist lawyer, who is also representing the founder of a leading neo-Nazi website, to tackle his upcoming defamation lawsuits involving families of the Sandy Hook school shooting victims.
The InfoWars host brought in Marc Randazza and Jay Wolman, of the Randazza Legal Group, to defend him after several suits were filed against Jones in Connecticut for claiming the 2012 massacre in Newtown was a hoax and the murdered children's families were crisis actors.
"Mr Jones has the utmost compassion for these parents. However, we believe that the case will be resolved in his favor," Randazza told Newsweek.
Randazza, who describes himself as a "first amendment lawyer," was previously confirmed to be representing Andrew Anglin, founder and editor of the neo-Nazi Daily Stormer website.
Anglin faced a federal lawsuit filed against him by Jewish woman Tanya Gersh, who says Anglin orchestrated an anti-Semitic "troll storm" against her by claiming she tried to extort money from the mother of alt-right figurehead Richard Spencer.
The Daily Stormer post included her contact information (email and cellphone number) and personal information about her 12-year-old son, specifically his Twitter handle and photo.
Among Randazza's other clients is alt-right social media personality Mike Cernovich, who was behind the fake "Pizzagate" theory which claimed Democrats were running a child-sex ring from a pizza restaurant's basement. Randazza also represented infamous online message board 8chan, known to be frequented by racist trolls.
"If it's unpopular and people want to shut it up, then we have represented them," Randazza told the Associated Press in June 2017 while confirming he had been hired by Anglin to defend his "constitutional rights."
In a profile for the Daily Beast, Randazza added: "The more unpopular the speaker, I think the more likely it is that they say 'get Randazza.'"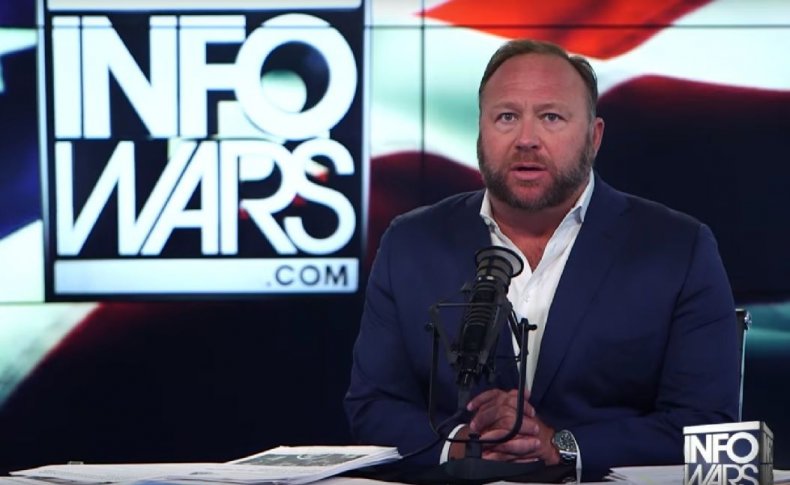 The latest lawsuit filed against Jones comes from William Sherlach, whose wife Mary Sherlach was a school psychologist and one of the 26 victims killed at Sandy Hook.
"Even though overwhelming—and indisputable—evidence exists showing exactly what happened at Sandy Hook Elementary School on December 14, 2012, certain individuals have persistently perpetuated a monstrous, unspeakable lie: That the Sandy Hook shooting was staged, and that the families who lost loved ones that day are actors who faked their relatives' deaths," the suit filed by lawyers from the Koskoff Koskoff & Bieder law firm claims, reports Connecticut Law Tribune.
The suit will be combined with existing lawsuits against Jones which have already been filed by families of the victims of the massacre, and an FBI agent.
Speaking to the New York Times, Randazza admitted the Sandy Hook families have a strong claim against Jones, who said during a November 2016 broadcast of his InfoWars show: "If children were lost at Sandy Hook, my heart goes out to each and every one of those parents. The only problem is, I've watched a lot of soap operas, and I've seen actors before. And I know when I'm watching a movie and when I'm watching something real."
Randazza said: "I think if you look at the allegations in the complaint, that's an easy conclusion to make. But as these cases progress sometimes things turn in the other direction. We are going to be mounting a strong First Amendment defense and look forward to this being resolved in a civil and collegial manner."
Jones did not respond to a request for comment.