Are Kendall Jenner and Bad Bunny Dating? What We Know
Is love in the air for Kendall Jenner and Bad Bunny? Instagram posts and photos of the pair separately leaving a Beverly Hills restaurant have all but left fans convinced that they are Hollywood's newest couple.
Over the weekend, TMZ published photos that showed Jenner and Bad Bunny, whose real name is Benito Antonio Martínez Ocasio, arriving at and leaving the popular eatery Wally's, along with Justin Bieber and his wife, Hailey Bieber.
According to the outlet, Jenner, 27, arrived at the venue first at around 8:30 p.m., followed by Puerto Rican musician Bad Bunny at 8:42 p.m. The Biebers also arrived at the restaurant separately.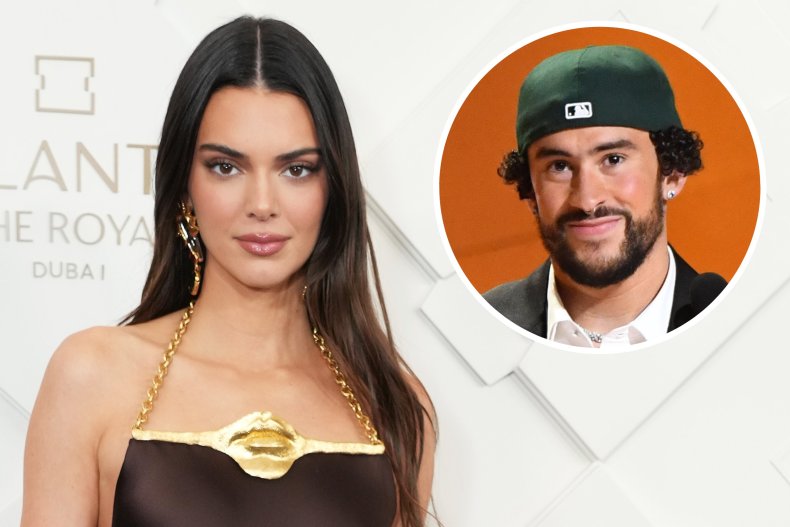 When it was time to depart, TMZ reports that Jenner was seen leaving Wally's through the front door at 11:06 p.m. Bad Bunny left minutes earlier but via the back of the restaurant. The Biebers are reported to have also gone through the rear, almost an hour before Jenner's departure.
Photos and video footage of Jenner and Bad Bunny at the same restaurant were published after Instagram gossip account DeuxMoi posted a blind item on Friday about a new couple in the making.
"This single, famous model sister was seen playing tonsil hockey with Bad Bunny at a private L.A. club last night," read the Instagram Story post, per Cosmopolitan.
While many women could have been the anonymous kisser, a follow-up DeuxMoi post read: "So I'm revealing it was Kendall Jenner and Bad Bunny, I have witnesses on the scene who saw her in the club."
Though the stars have not publicly addressed speculation that they're romantically involved, the rumors have sparked a flood of viral posts across social media. One TikTok post imagined Bad Bunny as part of The Kardashians' cast.
Newsweek has reached out to representatives of Jenner and Bad Bunny for comment.
Model Jenner was most recently romantically linked to NBA All-Star and Phoenix Suns guard Devin Booker from early 2020. People reported in November 2022 that the pair had called it quits a month beforehand due to demanding work schedules.
Cosmopolitan reported that, from 2018 to 2019, Jenner was an item with NBA star Ben Simmons. She also dated Boston Celtics star Blake Griffin in 2017, as well as basketball players Kyle Kuzma in 2019 and Jordan Clarkson in 2016.
In a 2019 interview with Vogue Australia, Jenner told the magazine about her reluctance to speak publicly on her relationships after seeing the issues her older sisters—including Kim Kardashian and Khloé Kardashian—have faced.
"A relationship is only meant to be between two people, and the second you make it the world's business is when it starts messing with the two people mentally," Jenner said. "Like once everyone is let in, you're letting all these opinions into your relationships, and I don't think that's fair."
Grammy winner Bad Bunny, 28, was in December named Spotify's most-streamed artist in the world for the third consecutive year.
However, in an interview with Billboard, published in December, the recording artist said that he plans to take a break from music to allow him some time to "enjoy [his] achievements."
When asked about his plans for the new year, Bad Bunny said: "I'm taking a break. 2023 is for me, for my physical health, my emotional health to breathe, enjoy my achievements. We're going to celebrate.
"Let's go here, let's go there, let's go on the boat. I have a couple of sporadic commitments, and I'll go to the studio, but there's no pressure."