Khloé Kardashian Hits Back at Kanye as He Claims Family Kept Him From Kids
Khloé Kardashian hit out at Kanye West's repeated claims that her family attempted to stop him from seeing the children he shares with his ex-wife, Kim Kardashian.
Kim Kardashian, 41, filed for divorce from West, 45, in February 2021, with the former Keeping Up With the Kardashians star being declared legally single in March of this year.
Over the past several months, West has directed a number of posts at his ex-wife, ranging from lamenting the demise of their relationship to questioning her parenting, and targeting her ex-boyfriend, Pete Davidson, throughout the months they dated.
On Wednesday, West publicly responded to model Gigi Hadid's criticism of his behavior toward a Vogue editor but used the Instagram post to largely focus on his claims that the Kardashian family kept him from seeing his children.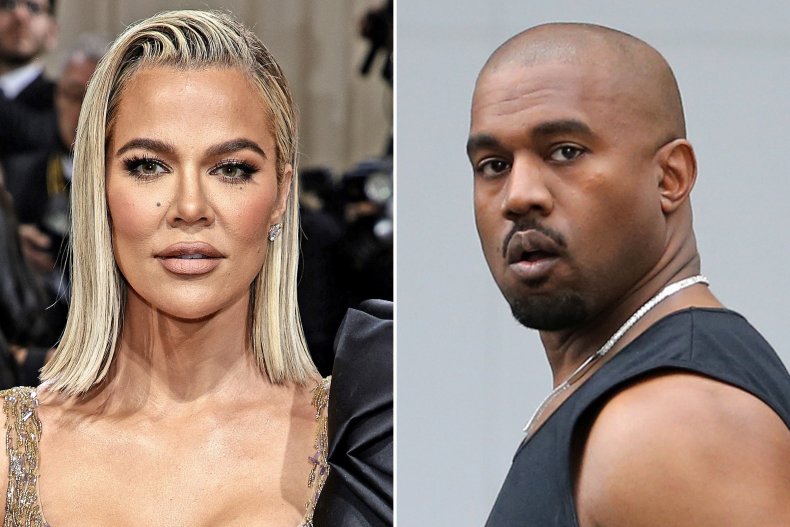 In a post captioned "The children are our future," he wrote: "I wonder what Gigi and Venus's perspectives were when I didn't know where my child was on her birthday. Gabby told me that she disagreed with that (and [that's] me putting it in a nice way. She said it was on her group chats.
"So why did everyone feel so free to attack me about my T shirt but Candace Owens was the only public figure to say that it was wrong for the Kardashians to keep me from seeing my daughter.
"Or we just chime in when we want to tear a Black man down for actually having a different political opinion. And for all audience so outraged about my T shirt where was you when I couldn't see my kids. I went public in hope of public support at that time."
Within minutes of the upload, Khloé Kardashian, 38, spoke out in defense of her sister, writing in the comments section of West's post that "everyone's tired" of the narrative he had chosen to push.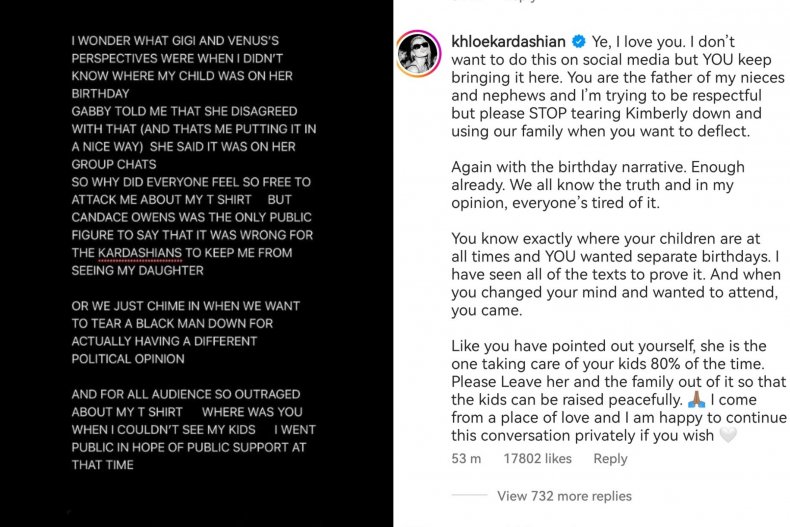 "Ye, I love you. I don't want to do this on social media but YOU keep bringing it here," she wrote to her former brother-in-law. "You are the father of my nieces and nephews and I'm trying to be respectful but please STOP tearing Kimberly down and using our family when you want to deflect."
"Again with the birthday narrative. Enough already," she went on. "We all know the truth and in my opinion, everyone's tired of it. You know exactly where your children are at all times and YOU wanted separate birthdays. I have seen all of the texts to prove it. And when you changed your mind and wanted to attend, you came.
"Like you have pointed out yourself, she is the one taking care of your kids 80% of the time," she added. "Please Leave her and the family out of it so that the kids can be raised peacefully. I come from a place of love and I am happy to continue this conversation privately if you wish."
West responded to Khloé Kardashian by posting a screenshot of her statement as he accused her of dishonesty.
"You are lying and are liars," he wrote in the caption. "Yall basically kidnapped Chicago on her birthday so she could remember her father not being there. Trav gave me the address of my childs party thats how yall play with black fathers.
"Yall also threw a party before [son Psalm's] birthday when I was flying back from Japan to be there for his birthday and the first I heard about it was seeing pics of the party on line. Also I should see my children 100% of the time but since there's a separation it should have been 50% of the time yall wouldn't have played with Donda like that in Jesus name."
Owens, who was photographed wearing a "White Lives Matter" T-shirt alongside West on Monday, also commented on West's initial post, criticizing former Saturday Night Live comedian Davidson over his tattoo of West and Kim Kardashian's children's initials.
"My bigger question for GiGi is whether or not she felt it was bullying when Pete had your [children's] name carved into his neck and was walking around with that after 6 minutes of dating Kim," the conservative commentator wrote.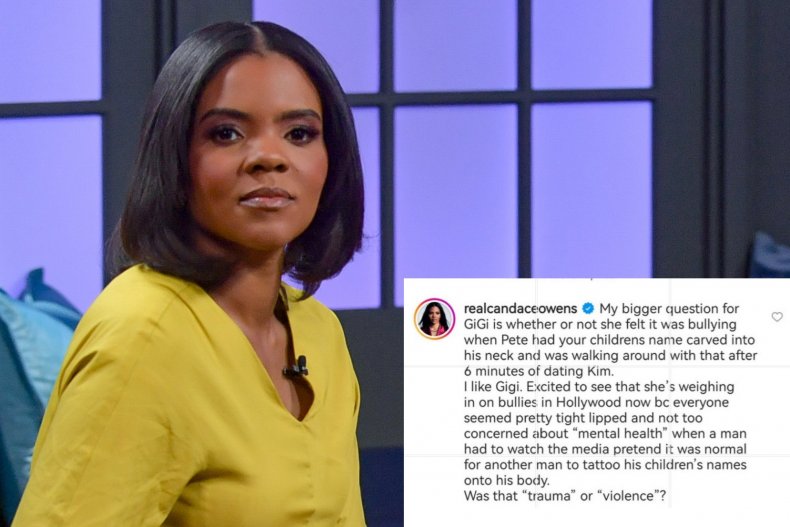 "I like Gigi," Owens went on. "Excited to see that she's weighing in on bullies in Hollywood now bc everyone seemed pretty tight lipped and not too concerned about 'mental health' when a man had to watch the media pretend it was normal for another man to tattoo his children's names onto his body. Was that 'trauma' or 'violence'?"
When contacted for comment, a representative of Kim Kardashian directed Newsweek to Khloé Kardashian's post. Newsweek reached out to a representative of Hadid for comment.
In January, West alleged he was unable to attend his daughter Chicago's party as she celebrated turning 4 years old. In a video on his Instagram Story, he wished his daughter a "public happy birthday," claiming he "was not allowed to know where his party was."
According to Marie Claire, West later attended the party, thanks to rapper Travis Scott, who is in a relationship with Kim Kardashian's younger sister, Kylie Jenner.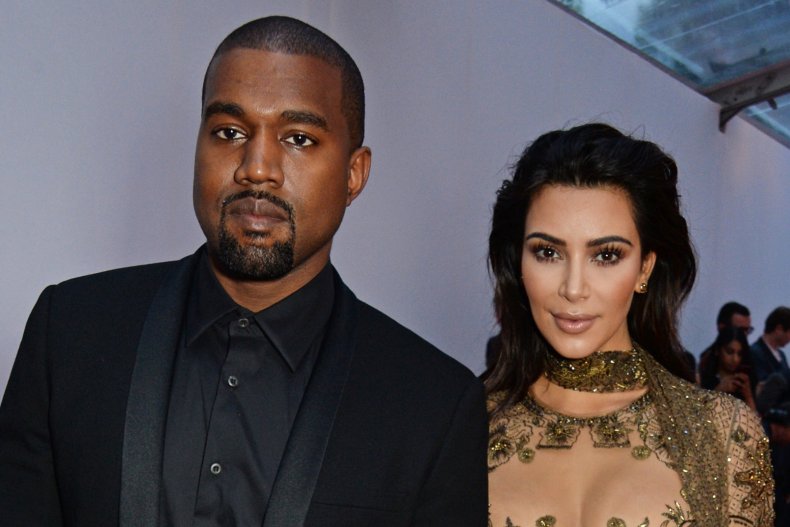 West has been at the eye of a storm of controversy when he and models at his Yeezy Paris Fashion Week presentation on Monday were seen wearing T-shirts emblazoned with the words "White Lives Matter."
The statement, a revision of the Black Lives Matter (BLM) message, has been deemed a hate slogan used by the Anti-Defamation League, which states that it has been used by white supremacists, including the Ku Klux Klan.
Global Vogue contributing editor Gabriella Karefa-Johnson, who was present at the show, later stated in an Instagram Story post that the runway stunt was "incredibly irresponsible" and "pure violence," as she shared her thoughts on the matter.
After calling Black Lives Matter a "scam," West on Tuesday replied to the stylist and journalist's criticism by posting a screenshot of her Instagram profile, while also taking mean-spirited jabs at her sense of style.
Hadid led a charge of fashion professionals who criticized West's actions, as they also defended Karefa-Johnson, with whom the musician has since met.
West chose to address the backlash directed at him on Wednesday by questioning why his detractors had not spoken out in his defense amid an apparent issue with seeing his children.
Over the past several days, West has been in France, where he attended Paris Fashion Week. Per her social media posts, Kim Kardashian is also in the French capital.
Newsweek viewed photographs of West with their children in Paris on Sunday.
Update 10/6/22, 7:55 a.m. ET: This article was updated to include West's response to Khloé Kardashian.