Disgusted Ariana Grande Fans Say She Was 'Sexualized' as Nickelodeon Teen
Nickelodeon has been making headlines in recent weeks with the release of Jennette McCurdy's tell-all memoir and the spotlight has also been turned on her former co-star, Ariana Grande.
The pop superstar rose to fame on the network playing Cat Valentine in both Victorious and Sam & Cat, created by Dan Schneider, but looking back, fans say that the then-teenager was "sexualized and infantilized" in the role.
In McCurdy's book, titled I'm Glad My Mom Died, she details ​​the abuse she suffered at the hands of her late mother and the now 30-year-old also included allegations of on-set exploitation by Nickelodeon and a figure she refers to as "The Creator."
Social media has been awash with fans expressing their shock at McCurdy's treatment while she played Sam Puckett on iCarly and now many are saying that Grande was similarly exploited.
Twitter user @VERONASFILMS posted a series of clips of Grande playing Cat on Nickelodeon's now defunct site, TheSlap.
"Everyone keeps bringing Ariana Grande for stan drama against Jennette and I don't know why. Let's not forget, Ariana is a victim herself from the creepiness of Dan Schneider," the viral tweet reads, along with the compilation of clips.
"This is why she doesn't talk about the role of Cat Valentine anymore. They sexualized and infantilized her."
TheSlap was separate from the TV shows and offered viewers exclusive footage with Grande playing Cat. All of these segments were written and directed by Schneider and one segment was titled Cat's Random Thoughts which showed the character recording self-tapes in her bedroom.
The video shows a 16-year-old Grande in a variety of suggestive moments doing things like sticking a finger in her mouth and attempting to put her own toe in her mouth.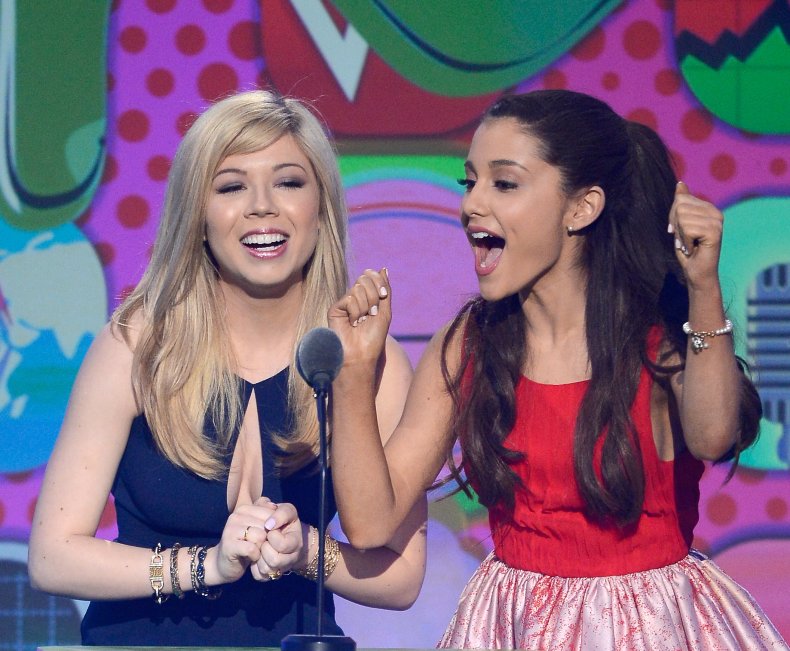 Another suggestive scene shows the character attempting to "juice a potato," while in another she's lying upside down pouring water on herself. In another, she screams: "I'm soaking wet!"
"Ariana and the other Victorious cast members have every right not to talk about what went on the Victorious set," the thread continued. "It was mad uncomfortable and disgusting things going on. She doesn't want to relive that trauma or discuss Cat Valentine if she doesn't want to!"
The tweet has clocked up more than 78,000 likes and the video has been viewed 3.4 million times at the time of writing.
Newsweek has contacted Grande's representatives and Nickelodeon for comment.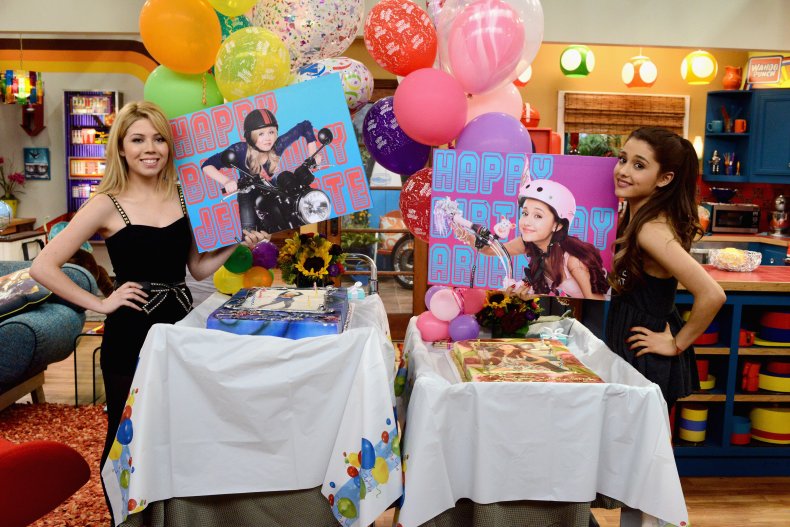 One person in the comments replied: "This is absolutely disgusting. As an adult watching this right now you can tell EXACTLY what they were doing. I hope she speaks on it, people will definitely support her. But understand exactly why she doesn't given how they treat people who do."
While another said: "I feel really really sorry for all of the children involved with Nickelodeon. I enjoyed Nick as a kid growing in the 1990s. Can't quite see it the same. Ever again."
The thread comes after Schneider made headlines last week ahead of the release of iCarly star McCurdy's memoir in which she recalls her unhappy experiences working on the show.
In the book, she speaks of being encouraged to drink alcohol at work when she was underage and about being photographed in a bikini at a wardrobe fitting.
McCurdy claims that Nickelodeon offered her $300,000 hush money if she agreed to not speak about her experiences at the network.