Arizona Teen Denied Lifesaving Medication Due to State's Abortion Ban
A 14-year-old girl in Tucson, Arizona, was denied refill of a lifesaving drug—methotrexate (MTX)—she had been taking for years over fears that she would use the medication for abortion purposes.
For years, Emma Thompson has been relying on low, weekly doses of MTX to treat her juvenile idiopathic arthritis, a form of the condition in children that can cause serious complications, including growth problems and joint damage, which MTX slows down.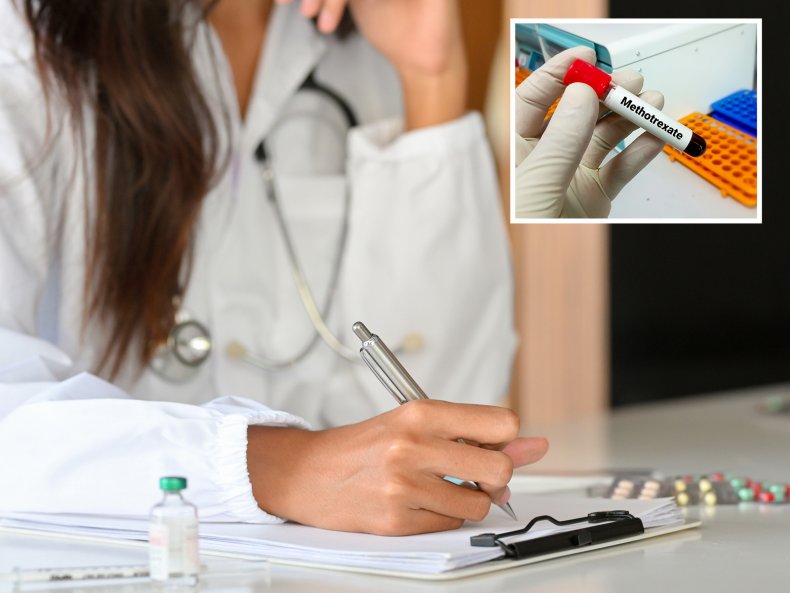 But at higher doses, MTX can be used to end ectopic pregnancies, where a fertilized egg implants outside the uterus.
This is why the girl's doctor, Deborah Jane Power, thinks Thompson was denied her prescribed medication, only three days after Arizona's new abortion law had taken into effect.
"We think she was denied by the pharmacist because, three days before, a judge in Pima County, Arizona, lifted the injunction on a law from 1864 when Arizona was a territory, which bans all abortions unless the mother is dying and makes it a crime to perform/assist," Power told Newsweek.
"The pharmacist said the patient is 14, so we feel she was worried the patient could be pregnant and using methotrexate for abortion purposes."
As per a rule that preceded Roe v. Wade and has come back into force since the landmark ruling was overturned, almost all abortions are now banned across Arizona after the 15th week of pregnancy, except in case of danger to the mother's life. There is no exception for rape or incest.
After the Supreme Court voted to overturn Roe v. Wade on June 24, alarm was raised over the way pre-existing abortion bans in several states could have a negative impact on access to lifesaving drugs for women with serious health conditions, including cancer and arthritis.
The American College of Rheumatology (ACR) had issued a statement on June 30 tweeting about being aware "of the emerging concerns surrounding access to needed treatments such as #MTX after the recent decision in Dobbs v. Jackson Women's Health Organization."
The ACR wrote it had assembled a task force of medical and policy experts to "decide the best course of action for ensuring our patients keep access to treatments they need."
But while the risks were clear for adult women, not the same could be said about teenage girls.
"Older women in Arizona have had delays in getting medication since the Supreme Court overturned Roe v. Wade," Power said. "We anticipated difficulties but not with adolescents."
Power said Thompson was her first underage patient to be denied a refill of MTX.
"She was my first pediatric patient denied," Power said. "It was the first Monday after the decision by the judge made on Friday. If she doesn't get the methotrexate, her other medication to control her disease may become ineffective."
What happened led Power to write on Twitter: "Welcome to Arizona. Today a pharmacist denied the MTX refill for my adolescent patient." Power tweeted that she was "livid."
On Twitter, she argued that the dosage of MTX her patient needed was "so low it would take months to 'collect' enough for that purpose [an abortion]."
Power fought for her patient to get the lifesaving drug, and eventually Thompson got her refill—at least for this month. "The pharmacy technician pushed the pharmacist to eventually refill for this month," Power said.
But this is not the only way Thompson and Power are challenging the impact of Arizona's abortion law on MTX.
"We've filed complaints with the State Board of Pharmacy," Power said. "We will notify the American College of Rheumatology. We will write to the Secretary of Health and Human Services, Congress and the Senate."
Walgreens, the pharmacy that denied the prescription of MTX to Thompson, wrote a statement to KOLD News 13 saying that the focus of the company is "meeting the needs" of patients but that "trigger laws in various states require additional steps for dispensing certain prescriptions."
Power described the ramifications of the state's abortion law as "horrifying." "I'm trying to protect our patients," she said. "But it's very frightening."
Newsweek has reached out to Thompson's family for comment.