Atlanta Police Attempt to Disperse Protesters Backfires as Wind Blows Tear Gas Back Into Their Faces
Police in Atlanta, the state capital of Georgia, have fired tear gas at crowds of demonstrators in a bid to clear the areas where protests are ongoing following the death of George Floyd.
Video footage shared on Twitter, YouTube and Reddit has shown much of the tear gas being blown back towards the police.
"We have gas in Atlanta. Most of it is blowing back onto police," wrote Charlie Gile, an NBC News producer, on his Twitter account. "A few members of law enforcement are flushing their eyes with water now," he added.
Georgia Gov. Brian Kemp has authorized up to 3,000 National Guard members to provide assistance across the state. Several have been deployed in downtown Atlanta, including at the Georgia State Capitol Building, Centennial Olympic Park and the Savannah Civic Center, the Georgia National Guard confirms on its official Twitter account.
Centennial Olympic Park was reported to be the epicenter of the protests over the past three days and 64 protesters were arrested on Sunday, Sergeant John Chafee, a spokesperson for the Atlanta Police Department, said in a statement.
The protests in Georgia join several other demonstrations that have been taking place in over 30 cities across the country. Thousands of National Guard members have been deployed in 15 states as well as in Washington, D.C.
Several protests have resulted in violence including in Louisville, the largest city in Kentucky, where a man was shot dead by police while clearing a crowd of protesters. A 21-year-old man was also fatally shot in Detroit, the most populous city in Michigan, amid riots.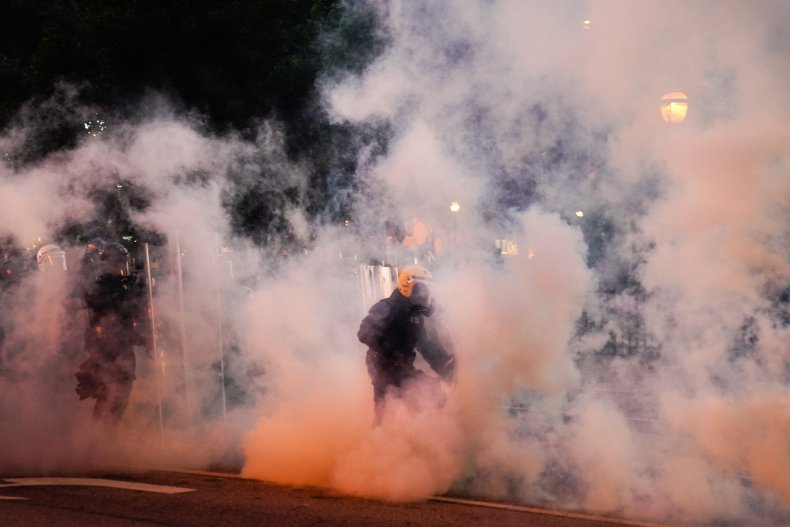 Protests also erupted last month over the fatal shooting of Ahmaud Arbery in Georgia. The 25-year-old black man was killed by two white men while he was out for a jog in Georgia's Glynn County on February 23. Video of the incident began circulating in May.
On May 6, a 64-year-old former law enforcement official and his 34-year-old son were arrested in connection with the fatal shooting of Arbery.
The man who filmed the video of Arbery being shot to death, was also arrested last month on charges of felony murder and criminal attempt to commit false imprisonment in connection with Arbery's slaying.
Last month, the Georgia Bureau of Investigation also arrested and charged a 20-year-old man with making terroristic threats to protesters of Arbery's deadly shooting.