Australian Politician Calls for Amber Heard to Be Jailed in Perjury Probe
An Australian politician has called for Amber Heard to be jailed, should she be found guilty of committing perjury in Australia.
Australia's Department of Agriculture, Water and the Environment (DAWE) told Newsweek in May that investigations were ongoing over allegations that Heard lied under oath with regards to taking her pet dogs into the country back in May 2015.
In 2016, Heard—who was then married to Johnny Depp—entered a court battle with local authorities for taking the two terriers, Pistol and Boo, into Australia without declaring them. The trial concluded with Heard avoiding conviction.
Because of Australia's strict quarantine laws, foreign pets must be quarantined for 10 days on arrival into the country. Government officials asked Heard at the time to remove the dogs from Australia or have them euthanized. Depp flew the dogs back to the U.S., and Heard was charged with illegally importing them to Australia.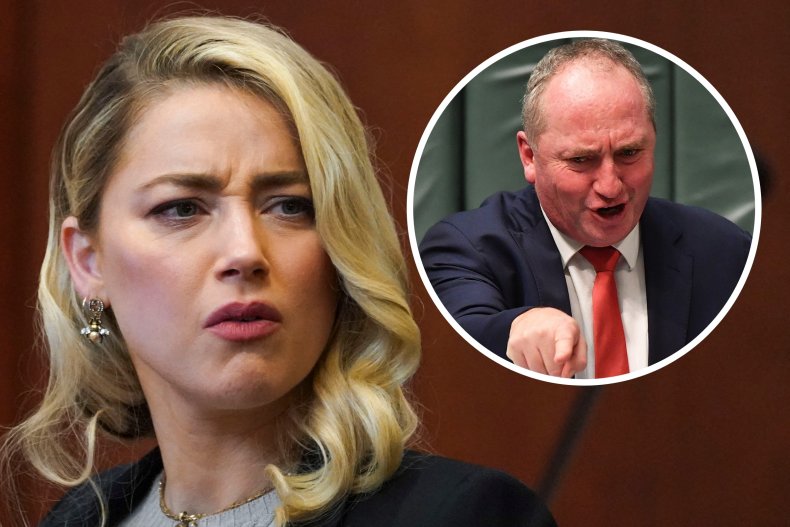 Heard had been charged with making a false statement on her immigration card. The Magic Mike XXL star checked "no" to the question of importing anything into the country that ought to have been declared.
Following a Law & Crime report this week that the FBI is assisting Australian authorities in the investigation, the country's former Deputy Prime Minister Barnaby Joyce has called for Heard to face jail time.
"It now looks like Ms. Heard has allegedly not been telling the truth and it's perjury," Joyce said during an appearance on the Australian TV show Sunrise on Thursday.
He then went on to reference Australian-born WikiLeaks co-founder Julian Assange, who the U.K. recently ordered to be extradited to the U.S. to face charges over the publication of classified documents.
"If they want Julian Assange, well we'll take Amber and possibly Johnny and they can come over to Australia and spend some time at Her Majesty's convenience," said Joyce, who was engaged in a war of words with Heard and Depp at the time.
Addressing the unlikelihood that Heard would be extradited to Australia to face the charges against her, Joyce went on: "It really annoys me when they say they wouldn't extradite them if they perjured themselves.
"They put at risk our biosecurity. We have a big issue right now with foot and mouth [disease]. If that comes into Australia, the beef industry [would be] decimated. When they say things like, 'Ah we'd never do that for this', well what would you do it for? They broke the law."
As for what would happen, given such restrictions, Joyce noted: "Well, it's up to the Americans. I suppose the U.S. want to show the purity of it.
"They are insisting on getting Julian Assange so it's fair enough that any person who's perjured themselves, committed a crime in Australia, should go back to Australia to serve their time because we've got to be fair dinkum and straight with both these things, don't we? Let's see how that goes," Joyce said.
Last year, Heard took to social media to reveal that a new dog called Barnaby had joined her family—a move that was widely seen as a swipe at the politician.
Addressing the matter during his Sunrise interview, Joyce joked that he would be happy to take the dog hunting for wild pigs.
"Send it up here and we'll go pigging with it, see if we can knock over a few old boars," he said. "I'll look after it, my namesake, Barnaby. He'll be safe with me."
Elsewhere, he discussed the highly publicized defamation trial between Heard and Depp, remarking: "It was bigger than the election, it was great. It was compulsory train wreck viewing."
"It was bizarre," he went on, "but we watch them and they earn millions of dollars, but let's see what happens."
"They should have a sequel," Joyce added. "Maybe if we get them back in court we can have a sequel."
Newsweek has reached out to a representative of Heard for comment.
At the time of the trial, Heard said it was a misunderstanding as she had assumed her husband's assistants had arranged the terriers' passage into the country, where Depp had been shooting Pirates of the Caribbean: Dead Men Tell No Tales.
In a taped apology in 2016, Heard said she was "truly sorry" for not declaring her dogs when she entered Australia—which is known for its strict quarantine laws. Foreign pets must be quarantined for 10 days when first brought into the country.
The perjury investigation was initially revealed in October 2021, with a representative for DAWE telling E! News that "the department is seeking to obtain witness statements and once obtained, the Commonwealth director of public prosecutions will consider whether the evidence is sufficient to warrant pursuance of the matter."
An attorney for Heard criticized the investigation, telling E! News in 2021: "It is truly inconceivable, and we are confident it is not true, that either the Australian government, or the FBI, would embrace a policy of further pursuing and victimizing a person who has already been adjudicated to be the victim of domestic violence."
Heard pleaded guilty in court but magistrate Bernadette Callaghan gave the actor, accompanied to the Queensland hearing by Depp, a $1,000 one-month good behavior bond with no recorded conviction.
She had previously avoided two charges for illegal importation, and Depp and Heard apologized in a video shown in court at the time. However, Depp later mocked the video while promoting one of his films in the U.K. in 2016.
In April, Heard embarked on a six-week court battle with Depp, who had filed a $50 million lawsuit against her over her 2018 op-ed in The Washington Post, in which she said she was a domestic abuse survivor.
On June 1, the jury awarded Depp $10 million in compensatory damages and $5 million in punitive damages, after finding Heard's claim to be false and defamatory. The judge adjusted the punitive damages to $350,000, as Virginia law limits the value of punitive damages available.
Heard, who had countersued for $100 million, was awarded $2 million after it was found that Depp's former attorney, Adam Waldman, had made defamatory comments about her.