Abbott CEO Outlines Six Steps To End Baby Formula Crisis
The CEO of Abbott Nutrition, the biggest supplier of baby formula in the U.S., has outlined six steps the company is taking to fix the nationwide shortage.
Robert Ford, Abbot's chairman and CEO, apologized for the company's role in exacerbating the shortage an op-ed for The Washington Post.
"The past few months have distressed us as they have you, and so I want to say: We're sorry to every family we've let down since our voluntary recall exacerbated our nation's baby formula shortage," he wrote. "I have high expectations of this company, and we fell short of them."
Abbott's formula plant in Sturgis, Michigan—the largest in the country—has been closed since February after four babies who consumed powdered formula made at the plant were hospitalized with a rare bacterial infection and two died.
The company's recall compounded supply chain disruptions related to the coronavirus pandemic, leaving many parents scrambling to source formula products to feed their infants.
In the Post, Ford said that an investigation "did not find any connection" between Abbott's products and the four cases. However, the U.S. Food and Drug Administration's food director Susan Mayne has said that investigators were unable to collect bacterial strains from two of the four patients.
But Ford acknowledged that the FDA investigation "did discover a bacteria in our plant that we will not tolerate."
He went on to outline six steps the company is taking to ease the shortage.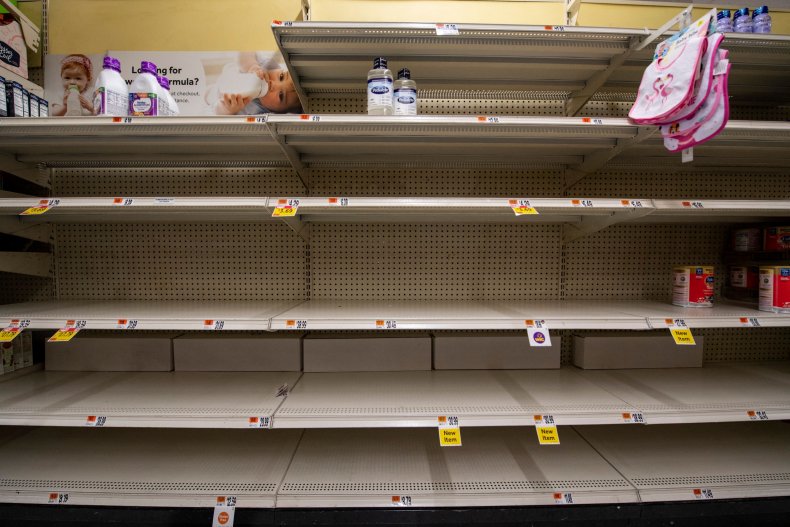 Ford said that the company will prioritize EleCare—a specialized product for infants who cannot digest formulas and milks—when manufacturing resumes.
"We know that some children have been hospitalized because of the lack of EleCare," Ford wrote. "Given their unique needs, children who lose access to it can require medical supervision until the formula is returned to the shelves. I will not mince words—this is tragic and heartbreaking, and it is consuming my thoughts and those of my colleagues."
Ford also said the company is establishing an "independently administered" $5 million that will to help families with medical and living expenses during the crisis.
He also noted that Abbott has converted lines of adult nutrition products at its plant in Columbus, Ohio, to prioritize the product of liquid infant formula and relive the supply crisis.
Abbott is also air-shipping "millions" of cans of a widely used powdered baby formula from an FDA-approved facility in Ireland, Ford added.
He cited the consent decree that Abbott has entered into with the FDA in relation to the closed Michigan facility. "This was a major step toward quickly and safely reopening," Ford wrote.
He reiterated that it could take a couple of weeks to restart production at the facility, and then another six to eight weeks for formula products reach store shelves.
Once the facility is operating at full capacity, Ford said Abbott plans to "more than double " its production of powdered infant formula for the U.S. market. "By the end of June, we will be supplying more formula to Americans than we were in January before the recall," he added.
Ford concluded by saying Abbott is making significant investments and upgrading safety and quality processes and equipment to ensure a similar shortage never happens again.
"These steps we're taking won't end the struggles of families today," he wrote.
"Some solutions will take weeks, others will take longer, but we will not rest until it is done. I will not rest. I want everyone to trust us to do what is right, and I know that must be earned back."
Earlier this week, President Joe Biden has invoked the Defense Production Act and launched an initiative, dubbed "Operation Fly Formula," to expedite the production and delivery of baby formula.
Abbott Nutrition has been contacted for additional comment.