Dead Baby Great White Shark Washes Up On Long Island Beach
The body of a small, dead great white shark has been found on a beach in a village in Long Island, New York.
A local resident found the shark, which measured between seven and eight feet long, on the morning of July 20 in Quogue.
After investigating pictures from the scene, the Department of Environmental Conservation confirmed the dead shark was a juvenile male great white. However, the body was washed back out to sea before it could be taken in for study.
Great whites, which can grow up to around 20 feet long, are classified as "vulnerable" according to the IUCN Red List, having seen a reduction in population worldwide by between 30 and 49 percent over the last three great white generations (approximately 159 years).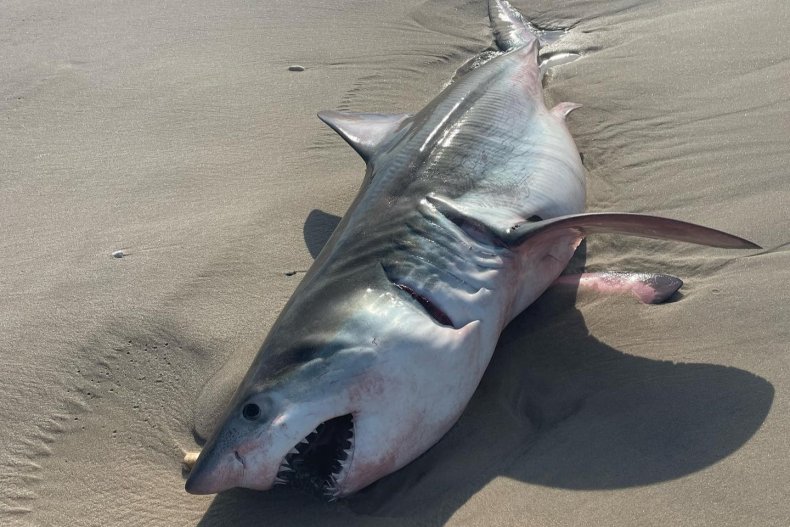 This population decline is mostly due to hunting and overfishing the sharks to harvest their valuable jaws, teeth and skin, and fins. Plastic pollution in the oceans is also a driver of population decrease, entangling the shark and causing them to suffocate without the constant flow of water over their gills.
They may also swallow larger chunks of plastic, which can poison them or fill up their stomachs to the point that they starve to death.
However, efforts to restore the populations have resulted in an uptick in their numbers off the U.S. East Coast.
"Due to conservation efforts, these sharks are making a comeback," Chris Paparo, a shark expert at Stony Brook University, told NBC New York. "Many of the ones we are seeing are juveniles."
The South Fork Natural History Museum has tagged over 30 baby white sharks in the area, leading them to believe that Long Island's south shore is a nursery for white sharks, spanning the New York Bight. The cause of death of this juvenile is unknown as of yet, as the body was not recovered.
While this increase in great white shark numbers may be good news for the species and for conservationists, it may be a bad thing for humans. Long Island alone has seen six shark attacks so far this summer, the most recent of which occurred on July 20 when a teenage surfer was bitten by a sand tiger shark.
Great whites and other sharks pose a very low risk to humans overall. Florida Museum's International Shark Attack file put the risk of dying from a shark attack at one in 4.3 million.
"I would say that this is not anything to worry about. You should just be cautious. You're more likely to get killed by a vending machine falling on you than get attacked by a shark," Tess Moore, a senior at the College of the Atlantic, told WABI 5, in response to increased shark sightings off the coast of Maine.
The Quogue Police have warned swimmers to take caution in the Long Island area, especially during dawn and dusk feeding times when the sharks are most active.
"At this time we are cautioning swimmers and boaters in the area to be aware of this ongoing situation, and to keep distance to allow the Law Enforcement to monitor this event," said the Quogue Village Police Department in a post on Facebook.
"We have been in contact with South Fork Natural History Museum Shark Research and Education Program, who are attempting to monitor this situation along with our law enforcement partners."
Governor Kathy Hochul has also announced plans to increase lifeguard staffing and use drones to spot sharks swimming near public beaches, in an attempt to reduce shark attack numbers.