Ex-NYC Mayor Bill de Blasio Ends Run for House in Latest Political Setback
Former New York City Mayor Bill de Blasio announced he would suspend his congressional campaign in his first political defeat since leaving office last year.
"It's clear to me that when it comes to this congressional district, people are looking for another option, and I respect that," de Blasio said in a video shared to Twitter on Tuesday. "Time for me to leave electoral politics and focus on other ways to serve," he wrote in the caption.
De Blasio, who served two terms as mayor of the most populous city in the U.S., was running to represent New York's newly redrawn 10th congressional district, which includes neighborhoods in Manhattan and Brooklyn, in this year's midterm elections.
The former mayor's announcement comes a little over a month before the August 23 primaries and amid shockingly low polling numbers.
A new Working Families Party poll released on Monday showed De Blasio near the bottom of a crowded race, with 49 percent of undecided, likely Democratic primary voters saying they would not cast their ballot for the 61-year-old politician. He finished nearly last with 3 percent, even worse than last week's poll from Data for Progress, which showed him picking up just 5 percent of the vote.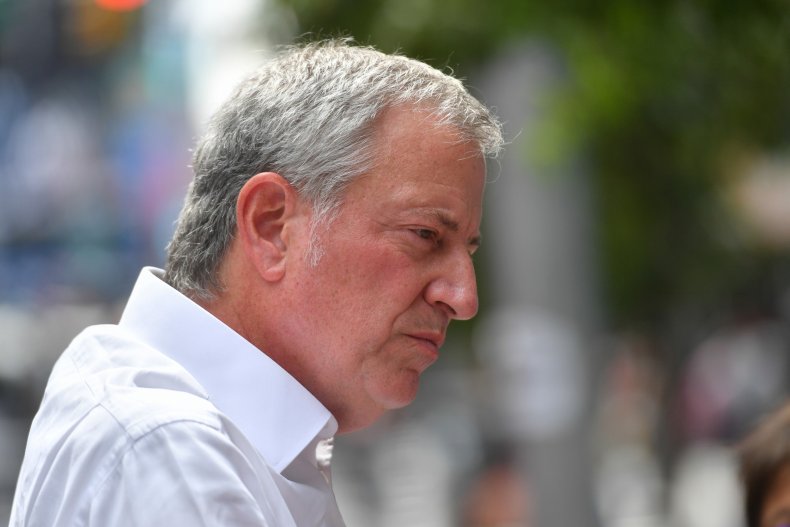 De Blasio had hoped to continue on his political road with his run for the U.S. House, after deciding not to run for governor earlier this year.
"I am not going to be running for Governor of New York State, but I am going to devote every fiber of my being to fighting inequality in the state of New York," he tweeted in January.
De Blasio had teased a run to replace his former rival Governor Andrew Cuomo, but he chose not to join the race after facing challenges in fundraising and seeking endorsements.
The former mayor also ran in the Democratic primaries in the 2020 presidential election but failed to qualify for the third round of debates. Four months after announcing that he would seek the Democratic nomination, de Blasio suspended his campaign. He went on to endorse Senator Bernie Sanders.
"I love the people of this city. I really want to keep serving and I'm going to find a different way to serve," de Blasio said in Tuesday's video.
"I want to thank all the people who have helped in this campaign and before, the members of the team, the volunteers and supporters, everyone who has been part of it—thank you, and it's made a huge difference," he added. "Even though this is not going to work out, I hope you know how much I appreciate you and we're gonna do a lot together to make the city better in the future."