Barron Trump Tested Positive for COVID-19, Melania Trump Reveals
President Donald Trump's youngest son, Barron, has tested positive for the coronavirus, according to a statement released Wednesday by first lady Melania Trump.
Barron Trump initially tested negative after both his parents tested positive for the disease, as previously reported by Newsweek. However, the first lady said that later tests came out positive. That said, he showed no symptoms, Melania Trump said.
"Luckily he is a strong teenager and exhibited no symptoms. In one way I was glad the three of us went through this at the same time so we could take care of one another and spend time together. He has since tested negative," Melania Trump wrote.
Before boarding Marine One en route to Joint Base Andrews to Wednesday's rally in Des Moines, Iowa, Donald Trump told reporters that Barron was doing "fine."
Newsweek reached out to the White House for further information.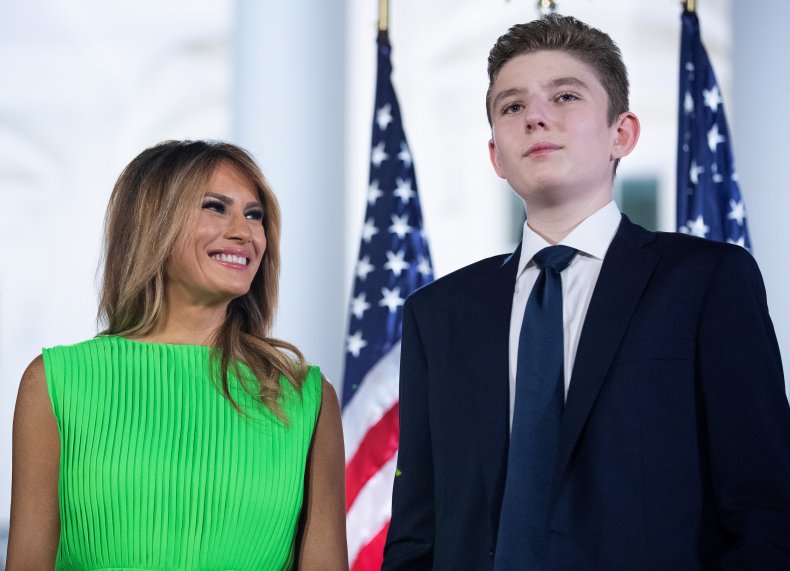 Melania Trump also confirmed that she has since tested negative for COVID-19, and only suffered "minimal symptoms, though they hit me all at once and it seemed to be a roller coaster of symptoms in the days after."
"I experienced body aches, a cough and headaches, and felt extremely tired most of the time. I chose to go a more natural route in terms of medicine, opting more for vitamins and healthy food," she added.
Though the Centers for Disease Control and Prevention (CDC) has not made any recommendations for specific vitamins that can help treat coronavirus, the CDC does recommend over-the-counter remedies like acetaminophen to manage symptoms. Most people who contract COVID-19 suffer mild symptoms, according to the CDC, and the best thing someone with the disease can do is to stay home except to get medical care, rest and stay hydrated.
While Donald Trump had been taken to Walter Reed National Military Medical Center for treatment, Melania Trump said she stayed behind "reflecting on my family."
"I also thought about the hundreds of thousands of people across our country who have been impacted by this illness that infects people with no discrimination," Melania Trump wrote. "We are in unprecedented times—and with the election fast approaching, it has been easy to get caught up in so much negative energy."
"It also cheered me to think of all the people I have met across our country and the world—and the goodness and compassion that exists if you seek it out," she continued. "Our country has overcome many hardships and much adversity, and it is my hope COVID-19 will be another obstacle we will be able to tell future generations we overcame—and learned from in the process."
"I encourage everyone to continue to live the healthiest life they can. A balanced diet, fresh air, and vitamins really are vital to keep our bodies healthy. For your complete well-being, compassion and humility are just as important in keeping our minds strong," Melania added.
Donald and Melania began quarantining on October 1, after aide and former White House Communications Director Hope Hicks tested positive. The president and first lady reported that they had tested positive as well in the early morning of October 2.
Hicks first started experiencing symptoms on the plane back from a Minnesota campaign rally on September 30. Earlier that week, on September 26, the nomination ceremony for Judge Amy Coney Barrett took place in the White House Rose Garden.
The ceremony has been since called a "superspreader event," following a number of positive COVID-19 cases among those who attended, including former New Jersey Governor Chris Christie, Senators Mike Lee (R-Utah) and Thom Tillis (R-N.C.) of the Senate Judiciary Committee, White House press secretary Kayleigh McEnany, former aide Kellyanne Conway and a number of journalists who covered the event. It has not been confirmed that the nomination ceremony was the source of the outbreak.
Donald Trump entered Walter Reed on October 2, where he received an experimental antibody treatment from pharmaceutical company Regeneron. He was discharged October 5, and as of Wednesday, the president had numerous consecutive negative test results and was confirmed to no longer be "shedding" the disease, according to Dr. Anthony Fauci, director of the National Institute of Allergy and Infectious Diseases.