Ben & Jerry's Urge 25th Amendment, Trump Impeachment After Capitol Riots
Ben & Jerry's has called for the removal of President Donald Trump in a statement on the U.S. Capitol riots, stating: "Resign, impeach, 25th Amendment... not one more day."
The ice cream brand is known for being outspoken on social issues, so it is no surprise that it has commented on Wednesday's violent storming of the Capitol. In its latest statement, the company has not only condemned white supremacy but called for the immediate removal of Trump from office.
Ben & Jerry says the riot was enabled by white supremacy and encouraged by Trump. The statement, posted on Twitter on Thursday, begins: "Yesterday was not a protest—it was a riot to uphold white supremacy."
"It was allowed to happen. The mostly white insurrectionists roamed freely and without consequence through the heart of our democracy. The only explanation is that this was allowed to happen because they were white—not Black, Brown or Indigenous people.
"The white mob that made its way to the dais of the U.S. House of Representatives and the Senate, literally sitting in the chair the vice president had been in minutes before, is the ultimate embodiment of white privilege."
The statement also highlights the disparity between Georgia electing its first Black senator, Raphael Warnock, and its first Jewish senator, Jon Ossoff, on the same day that a "mostly white mob" tried to "overturn a free and fair election."
Ben & Jerry's said: "We saw two Americas yesterday. In one America we saw record voter turnout driven by Black voters that resulted in the election of the first Black and first Jewish senators from the state of Georgia—our democracy at its best.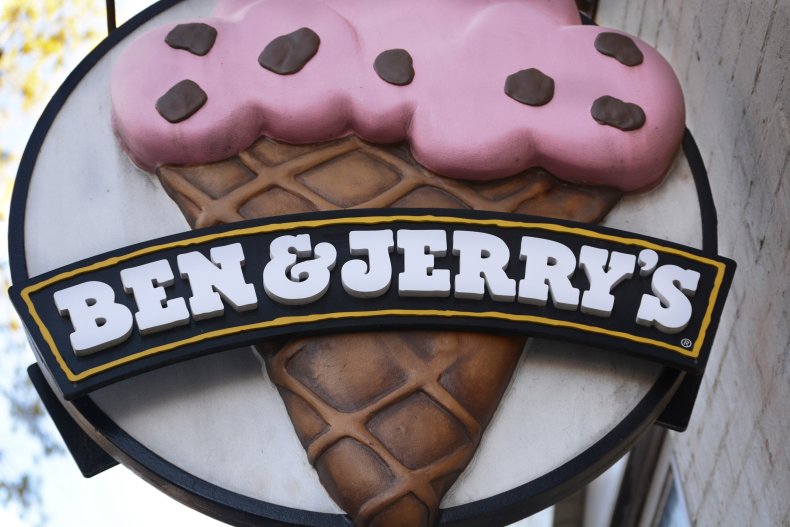 "In the second America we saw a mostly white mob, encouraged by the president, violently invade the seat of our democracy in an attempt to overturn a free and fair election. It was a failed coup—our democracy in peril.
"Both of these Americas are us. Black and Brown people have long understood this. They've been exposed to the white tyranny that was on full display at yesterday's riot since the founding of our nation. It's the double standard that undergirds white supremacy in our nation."
Ben & Jerry's ended its statement by calling for Trump's removal: "How we respond to the events of yesterday will determine which America we will be. Resign, impeach, 25th Amendment... not one more day."
The company is not alone in calling for Trump to be removed by either resignation, impeachment or by invoking the 25th Amendment.
Although Trump conceded to President-elect Joe Biden on Thursday—two months after Election Day—he is unlikely to resign.
Nancy Pelosi has joined dozens of Democrats calling for Trump's removal, with many urging Vice President Mike Pence to deploy the 25th Amendment and declare Trump "unable to discharge the powers and duties of his office."
Others are calling for the president to be impeached, for the Capitol riots as well as his attempt to pressure Georgia's Republican secretary of state to "find" votes that would overturn the state's presidential election results.