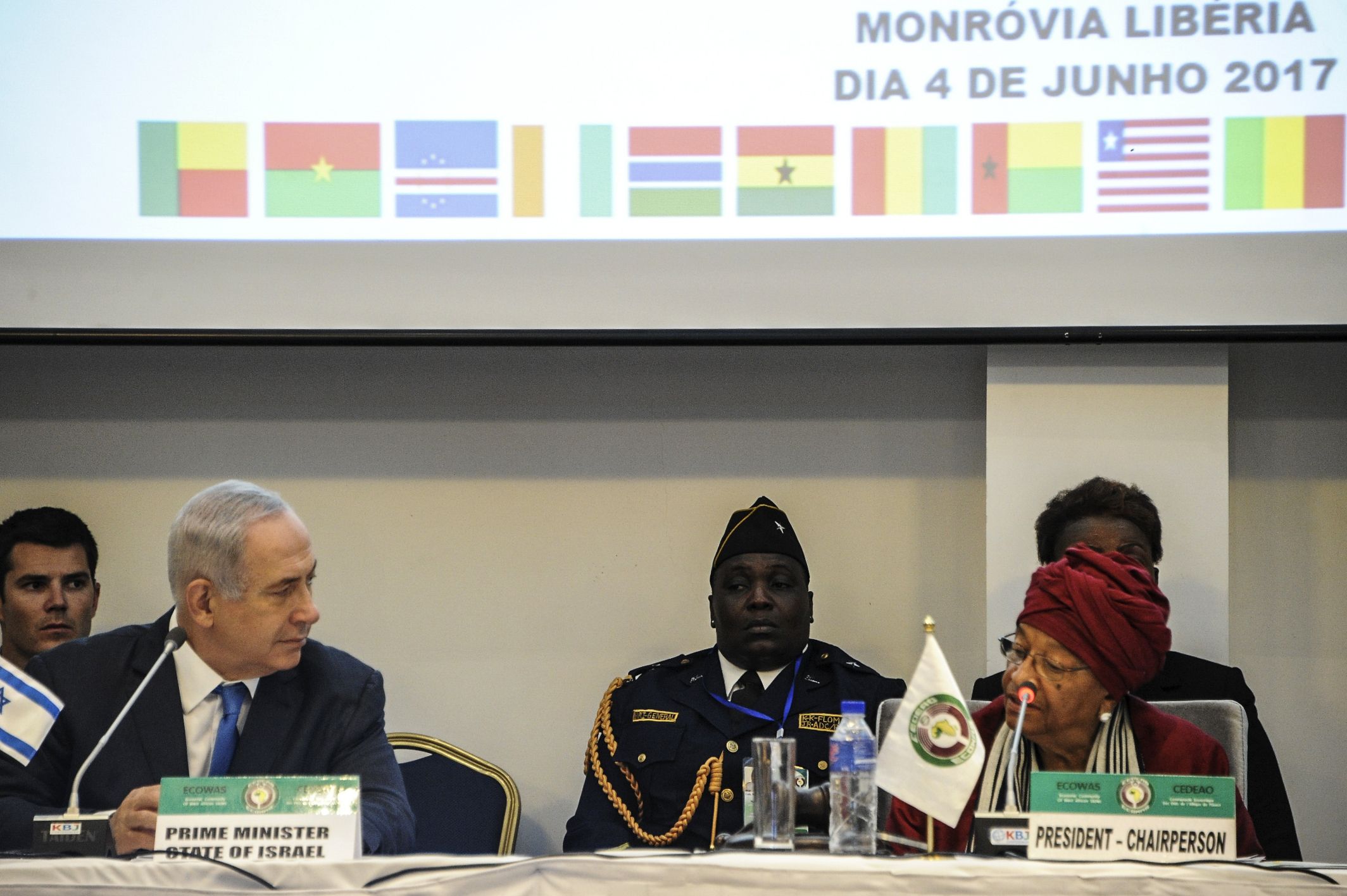 Israel is coming back to Africa.
That was the message of Israeli Prime Minister Benjamin Netanyahu when he attended a regional security conference in Liberia on Sunday.
Netanyahu became the first non-African head of state to address a meeting of the Economic Community of West African States (ECOWAS), a regional body that aims to promote integration between countries in West Africa.
"I believe in Africa, I believe in its potential—present and future. It is a continent on the rise," said Netanyahu in his address to the summit in the Liberian capital Monrovia.
Netanyahu added that he had made strengthening Israel's ties with the continent a priority, as indicated by a four-county East African tour he made in 2016— the first visit by an Israeli head of state to sub-Saharan Africa in almost three decades.
Historically, Africa has not been a place where Israeli leaders are guaranteed a warm welcome. North African states are traditionally closer to the Middle East and have Muslim Arab majorities, leading to antipathy with Israeli and supportive of the Palestinian cause.
Many sub-Saharan African nations also cut ties to Israel following the 1973 Yom Kippur War, in which a coalition of Arab states, led by Egypt and Syria, fought against Israel in a partially-successful bid to overturn Israel's territorial gains in the 1967 Six Day War.
But in recent years, Israel has pursued a policy of rapprochement with many African nations that may once have been considered enemies. In July 2016, Netanyahu unveiled an optimistic world map of Israel's foreign relations. Only five states were denoted as avowed enemies of Israel, none of which were in Africa.
Prior to his trip to Liberia, Netanyahu said that the purpose of the trip was to win over African support for Israel, which would come in handy during U.N. Security Council votes on Israeli settlements and peace negotiations with the Palestinians.
"The purpose of this trip is to dissolve this majority, this giant bloc of 54 African countries that is the basis of the automatic majority against Israel in the U.N. and international bodies," the Israeli PM told journalists on Saturday.
But who are Israel's main allies and enemies in Africa?
Allies:
Ethiopia
Ethiopia probably represents Israel's strongest ally on the continent. Israel has a 140,000-strong Ethiopian community—known as Beta Israel, or the House of Israel—although the community does face discrimination and fewer socioeconomic opportunities.
Ethiopia, a majority-Christian country in the Horn of Africa, has long sought military support from Israel to fend off Islamist militias in Somalia and neighboring Eritrea, which Ethiopia has characterized as Arab-influenced.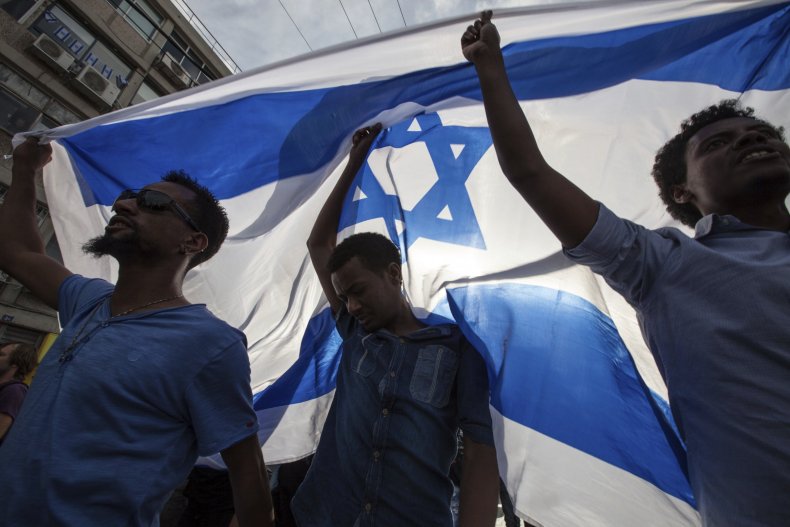 Senegal
One of the headline achievements from Netanyahu's appearance at the ECOWAS summit was the normalization of ties with Senegal, a prominent West African country and a significant influence among the continent's Francophone countries, which number around two dozen.
Ties had been broken after Senegal co-sponsored a U.N. Security Council resolution in December 2016, which condemned the construction of Israeli settlements in the West Bank and east Jerusalem. Israel recalled its ambassador and canceled aid programs to Senegal in the wake of the decision. But following a meeting with Senegalese President Macky Sall, Netanyahu announced that Israel would return its ambassador to Dakar and Senegal would back Israel's candidacy for observer status at the African Union.
Kenya
The East African powerhouse was one of Netanyahu's stops in his 2016 tour, and for good reason. After cutting ties following the Yom Kippur War in 1973, Israel and Kenya restored relations in 1988, and the two countries have cooperated in various ways since. Kenya has sought to buy arms from Israel in recent years to aid its battle against Al-Shabab jihadis from neighboring Somalia, and Israeli intelligence agents assisted their Kenyan counterparts in investigating the 2013 Westgate mall attack, in which Al-Shabab militants killed more than 60 people.
Enemies:
Mauritania
The North African country declared war on Israel following the 1967 Six-Day War—where Israeli forces routed an Egypt-Jordan-Syria coalition—but the move was seen as a symbolic declaration by Mauritania to gain entrance to the Arab League, and the country never undertook aggressive action towards Israel.
For a time, Mauritania was one of just three Arab League members to recognize Israel as a sovereign state, exchanging ambassadors in 1999. But in 2009, Mauritania ordered Israel to close its embassy and evacuate all staff within 48 hours in response to Israel's bombardment of Gaza, and by 2010, Mauritania had officially cut severed diplomatic relations with Israel.
Morocco
Morocco sent a small number of troops to Egypt and Syria to fight against Israel in the Yom Kippur War in 1973. But relations have improved in recent decades: Following Egypt's lead, Morocco's King Hassan II invited then-Israeli Prime Minister Shimon Peres for talks in 1986, the second Arab leader to host an Israeli head of state.
The two states have increased economic cooperation in recent years, although this has suffered setbacks during spikes in Israeli-Palestinian violence. But relations suffered a blow over the weekend after King Mohamed VI of Morocco pulled out of the ECOWAS summit in response to Netanyahu's attendance. (Morocco is petitioning to become a full member of ECOWAS, and the summit was due to be the king's first.) The Israeli prime minister's visit was met with antipathy from some African states, and the Moroccan foreign ministry said that the king did not wish his maiden visit to an ECOWAS summit to "take place in a context of tension and controversy."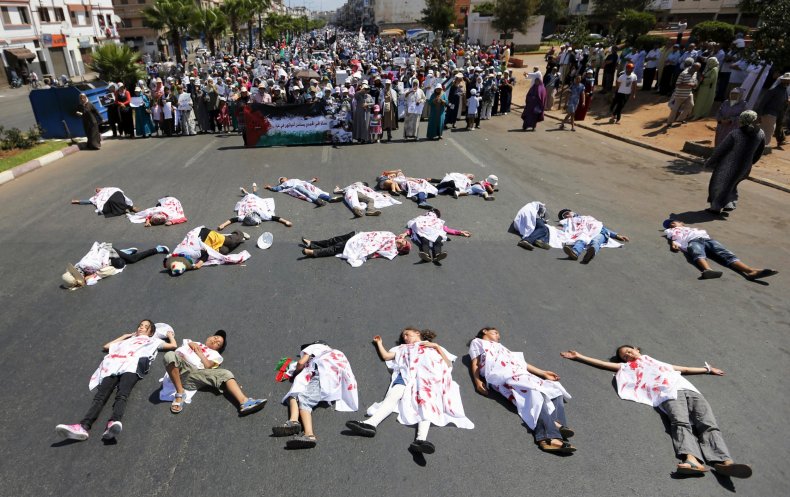 Sudan
An Arab-led state that is a sworn enemy of Israel's main international ally, the United States, it is not surprising that Sudan is no friend of Israel's. Sudan is one of 16 countries that ban Israeli citizens from entry, and the majority-Muslim state backed the Arab coalitions in both the Six-Day and Yom Kippur wars.
But there have been some signs of hope for bilateral ties: Israel is reportedly trying to drum up Western support for Sudan after it cut ties with Iran, Israel's sworn enemy, in 2016, Israeli daily Haaretz reported in 2016.
It's complicated:
South Africa
During its apartheid years, South Africa was one of Israel's few allies on the continent. South Africa voted in favor of the 1947 U.N. resolution that resulted in the establishment of the State of Israel.
But following the end of white-minority rule in South Africa in 1994, relations cooled: The ruling African National Congress (ANC) has condemned Israel's policy towards the West Bank and the Gaza Strip, and is an advocate of a two-state solution.
Nelson Mandela, the country's first black president, remarked that upon his release from prison in 1990, he received invitations to visit "almost every country in the world, except Israel." But despite the change in tone, the two countries maintain diplomatic relations, and South Africa remains Israel's biggest trading partner on the continent.