Progressive Democrat John Fetterman Is Using Fox News to Take Down Dr. Oz
John Fetterman, a Democratic Senate candidate in Pennsylvania, is turning to Fox News to appeal to voters in the upcoming general election, airing two of his first TV ads against Trump-backed GOP candidate Mehmet Oz on the conservative network.
The Fetterman campaign purchased two spots on Fox News in the Pittsburgh, Scranton and Johnson markets that will run from Tuesday through June 14, according to Politico. A campaign spokesperson said Fetterman's team has spent $250,000 for the weeklong ads, adding that "we plan to re-up the buy weekly as the GOP attacks keep coming."
Fetterman, who is serving as Pennsylvania's lieutenant governor, is set to run against Oz in November's general election. Oz officially won the Republican primary last Friday after opponent David McCormick conceded the race as the state conducted a recount. Fetterman, a progressive Democrat who endorsed Senator Bernie Sanders in the 2016 presidential nomination race, easily defeated his centrist opponent, Representative Conor Lamb, in their party's May 17 primary.
Fetterman and Oz are running to fill the seat held by outgoing GOP Senator Pat Toomey in one of the most important races of the 2022 midterms.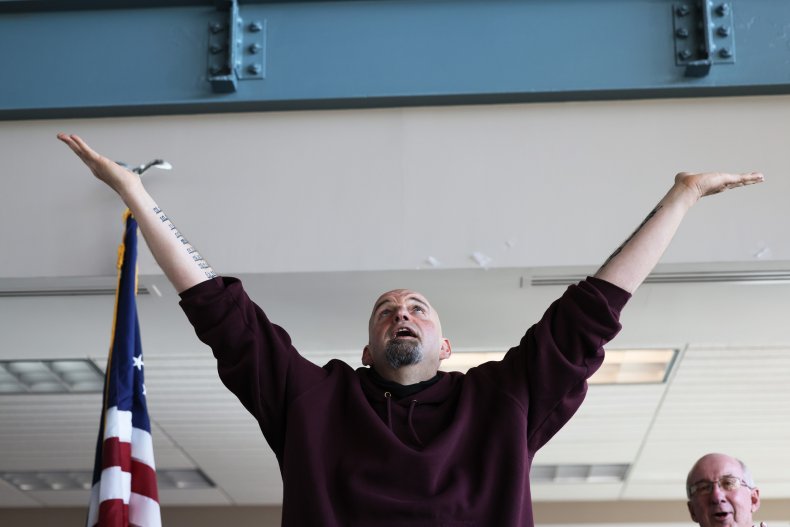 The GOP has already begun televised attacks on Fetterman, highlighting his relationship to Sanders and linking him to "left-wing radicals."
The National Republican Senatorial Committee, the campaign arm of Senate Republicans, put just under $1.5 million behind a 30-second ad targeting Fetterman. It began airing last Friday and will continue to air through June 16 on broadcast and cable TV.
"Fetterman sided with socialists, backed a government takeover of health care, embraced parts of the Green New Deal that'd cost you 50,000 bucks a year," the ad's narrator says.
"Bernie Sanders calls Fetterman an outstanding progressive. Fetterman admits he'll always vote for Democrats. In this economy, that's the last thing we need," she adds.
The GOP ad began airing before Oz was declared the Republican nominee, but now that his rival has been determined, Fetterman isn't holding back against the television doctor.
In one of Fetterman's two ads, the lieutenant governor took an indirect jab at Oz, who was a longtime resident of New Jersey before moving to Pennsylvania just two years ago.
Describing closing factories, rising prices and small towns being left behind, Fetterman says, "Those decisions were made for us, by people that don't know us. And that's exactly who we're running against. Pennsylvania is our home, and it's worth fighting for."
The narrator describes how Fetterman grew up in York, played football in Reading, raised his family in Braddock and is now "running for Senate to take on Washington."
"This is a race for the future of every community across Pennsylvania," the Democrat says in the autobiographical spot.
In a second ad, Fetterman is described by Braxton White, an Army veteran and local school board member, as a politician who doesn't "just talk."
"For 20 years, he's lived in a place like this, building, pushing, fighting," White says in the 30-second spot.
Newsweek reached out to the Oz campaign for comment.
Update 06/07/22, 4:40 p.m. ET: This story was updated with a new headline.