Presidential candidate Bernie Sanders has accused his Democratic rival Joe Biden of being bankrolled by Wall Street and said it is a sign of a "corrupt political system."
On Thursday, the Vermont senator paid tribute to Sen. Elizabeth Warren who dropped out of the Democratic race this week, emphasizing how she had campaigned for many of the same issues that he believed in.
Sanders said that he and Warren shared similar views on income inequality, a wealth tax, "Medicare for All," and how the political system was funded.
Sanders told reporters: "Senator Warren has been very strong in making it clear that we have a corrupt political system in which billionaires are buying elections and right now, what you're seeing, is Wall Street opening up its check book to Joe Biden.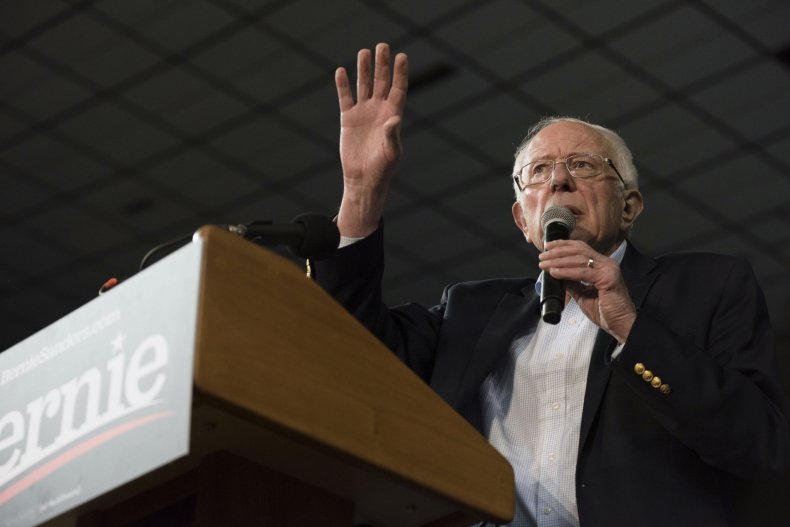 "You are seeing Mike Bloomberg, worth some $60 billion prepared to support Joe Biden. And that is what a corrupt political system is," Sanders said, referring to the former New York City mayor who also suspended his campaign this week after spending half a billion dollars of his own fortune.
Bloomberg has endorsed Biden, saying: I will work to make him the next president of the United States."
Sanders went on: "What democracy is, is one person, one vote. What a corrupt political system is billionaires buying elections.
"Senator Warren has been very strong on that," he added, reiterating a point he made in a tweet earlier that day in which he praised her move to take on "powerful corporate interests." Newsweek has contacted the Biden campaign for a response to Sanders' criticism.
The former vice president is enjoying a surge of support from Wall Street after his success on Super Tuesday, The New York Times reported, with trader and merchant banker Michael Novogratz telling the paper, "there's a lot of momentum on Biden's side."
Meanwhile, Biden supporter Tracy Maitland, who is the president of Advent Capital Management, said he had taken calls from Wall Street figures relieved at the former vice president's strong showing, telling the paper, "People think we've turned a corner."
Sanders' praise of Warren's campaign comes as he hopes to get her backing and woo her base. So far, she has remained tight-lipped on whom she would support.
President of the National Organization for Women, Toni Van Pelt, believes Warren should not back Sanders, saying the Violence Against Women Act, passed in 1994, was thanks to Biden's leadership when he was a senator.
"Sanders doesn't have a record. He's really, as far as we know, done next to nothing for women and for our issues," Van Pelt said.