Bernie Sanders Tells Joe Manchin He Will Pay for West Virginia Poll on Build Back Better
Sen. Bernie Sanders has said he will pay for a poll to find out how the people of West Virginia feel about the Build Back Better bill after Sen. Joe Manchin said he would not support it.
Manchin, a moderate Democrat representing West Virginia, threw President Joe Biden's $1.75 trillion domestic initiative into jeopardy when he announced on Fox News Sunday that he could not support it.
"If I can't go home and explain it to the people of West Virginia, I can't vote for it," Manchin said. "And I cannot vote to continue with this piece of legislation."
He pointed to inflation, the Omicron variant of the coronavirus and national debt as his reasons for not supporting the bill.
The House passed the Build Back Better Act in November, but the legislation appears dead without Manchin's support in the Senate.
Sanders, an Independent from Vermont, blasted Manchin during an appearance on CNN's State of the Union on Sunday, noting that he had backed other costly legislation.
"Manchin voted for an infrastructure bill which added $250 billion to the deficit," Sanders told Jake Tapper. "The truth of the matter is, that if you look at the military budget—$770 billion—times that by 10 years, it is four times higher than what the Build Back Better plan is."
Sanders also took issue with Manchin's remarks about representing the people of West Virginia.
"OK, why don't you do a poll? At CNN, do a poll," he said. "And you ask the people of West Virginia whether or not they want to lower the cost of prescription drugs. You ask them whether they want to expand Medicare to cover dental, hearing and eyeglasses.
"You ask whether they want to continue that $300 payment to help working parents in these very difficult times bring up their kids with dignity. Ask them if they want to deal with climate change. On all of those issues, I suspect people of West Virginia, like every other state in this country, will say, yes, do the right thing for working families."
Sanders went on to say that he had discussed the matter with Manchin and even offered to pay for such a poll.
"I told Manchin, by the way, I'll pay for the damn poll in West Virginia on those issues, see how the people of West Virginia feel," he said.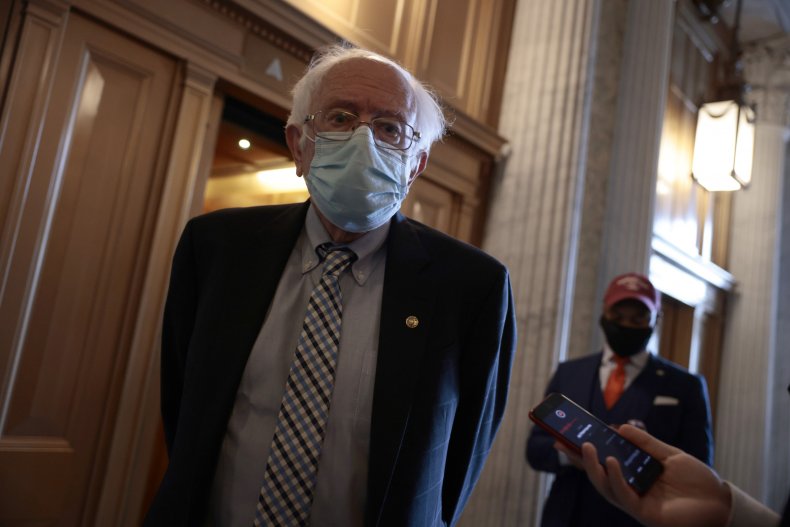 Elsewhere in the interview, Sanders noted that West Virginia is among the poorest states in the country and is "struggling."
He said: "What's going on now, Jake, in Washington is the big money interests are pouring hundreds and hundreds of millions of dollars to make sure that we continue to pay the highest prices in the world for prescription drugs, that the rich do not start paying their fair share of taxes.
"And I would have hoped that we could have had at least 50 Democrats on board who had the guts to stand up for working families and take on the lobbyists and the powerful special interests."
Sanders also said he hoped a vote on the legislation would be held in the Senate soon, which would put Manchin's opposition on the record.
"And let Mr. Manchin explain to the people of West Virginia why he doesn't have the guts to stand up the powerful special interests," he said.
Representatives for Sanders and Manchin have been contacted for further comment.