Bernie Sanders Refuses to Give up on $15 Minimum Wage: 'We Are Developing a Strategy'
Vermont senator Bernie Sanders has said that he would not back down in his quest to raise the federal minimum wage despite legislative setbacks in the Senate.
Sanders, who chairs the Senate budget committee, is broadly happy with the $1.9 trillion stimulus package agreed on Saturday, telling CNN it was "the most significant legislation for working people that has been passed in decades."
However, Sanders and other progressives had been unable to include in it a provision to increase the federal minimum wage to $15 an hour.
The Senate parliamentarian ruled that it could not be part of budget reconciliation, in which the legislation would only need a straight majority.
Then, Sanders' last ditch-effort to add it to the American Rescue Plan was rejected 58-42 by the upper house last week, with seven Democrats and one independent siding with Republicans in quashing the measure.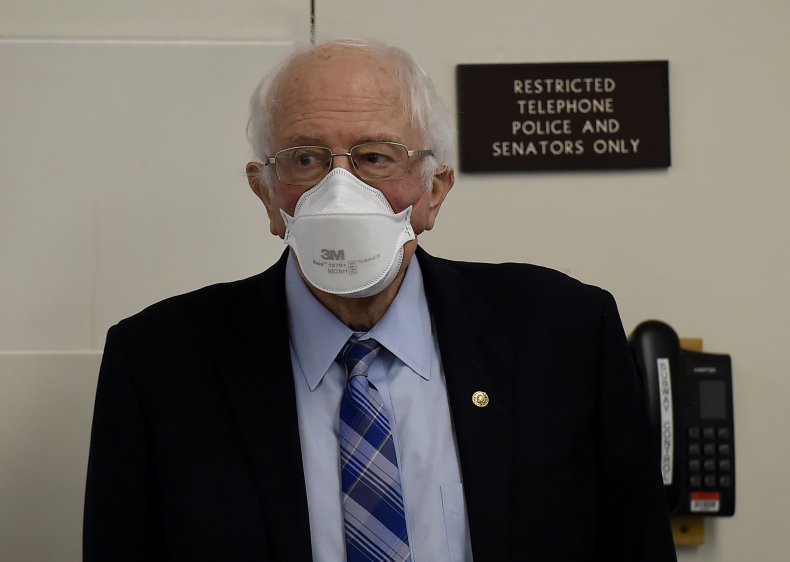 But Sanders has said he was not prepared to wave the white flag just yet, and when asked by anchor Anderson Cooper what he would do next to increase the minimum wage, he insisted that it is still "absolutely on my agenda."
"We are developing a strategy and if anyone thinks that the vote that we had the other day on the minimum wage is the last vote that is taking place this session, they are very, very wrong. We are going to pass that bill," he said.
"At the end of the day, the American people want it. Overwhelmingly large numbers of people support raising the minimum wage to 15 bucks an hour."
"We are going to do what the American people want, and in one way or another we are going to pass the $15 an hour minimum wage," he added, without specifying what his next step would be. Newsweek has contacted Sanders' office for comment.
The support that Sanders is pointing to is reflected by recent polls, such as a survey last week by Monmouth University, which shows that the majority of Americans back the increase.
No longer a debate that pits Republicans and their business allies against the Democrats, one camp which wants to see the minimum wage go up includes those who want to see an increase, but not all the way to $15.
At least six Republican senators support raising the wage to $10 an hour or more and even the Business Roundtable backs an increase, saying that the current level of $7.25 which is unchanged since 2009, "no longer provides an adequate income to many working Americans who depend on it."
Senator Kyrsten Sinema, an Arizona Democrat, who sparked controversy with her thumbs-down rejection of the minimum wage increase, has said that the raise needed to be "separate from the COVID-focused reconciliation bill."
Meanwhile, Democratic senator Joe Manchin (D-WV), a centrist who has voted with the GOP and has suggested a lesser rate of $11, suggested that there was a bipartisan will to get agreement of some kind of increase, even if it did not quite reach Sanders' stated goal.
"I think that every Republican wants to raise the minimum wage. Everyone's just not in sync with Bernie Sanders at $15," he told CNN host Chris Cuomo.
The graphic below, provided by Statista, shows the state minimum wage rates across the U.S.