Bernie Sanders' Mittens Merch Sells Out in 30 Mins, Raises $1.8M for Working Class in Need
Independent Vermont Senator Bernie Sanders has raised over $1.8 million for charities in his home state after he used his official website to sell t-shirts, stickers and other merchandise bearing the now-iconic image of him sitting at Joe Biden's inauguration while wearing unique woolen mittens. His first offering of merchandise sold out in half an hour.
As countless memes and jokes images of Sanders went viral following his appearance at last Wednesday's inaugural event, the senator seized on the opportunity to reprint the image on different products that he began selling on his website the following day. The merchandise all sold out in less than 30 minutes, according to the Associated Press. New products added over the weekend also sold out by Monday.
"Jane and I were amazed by all the creativity shown by so many people over the last week, and we're glad we can use my internet fame to help Vermonters in need," Sanders said in a written statement. Jane Sanders is the senator's spouse.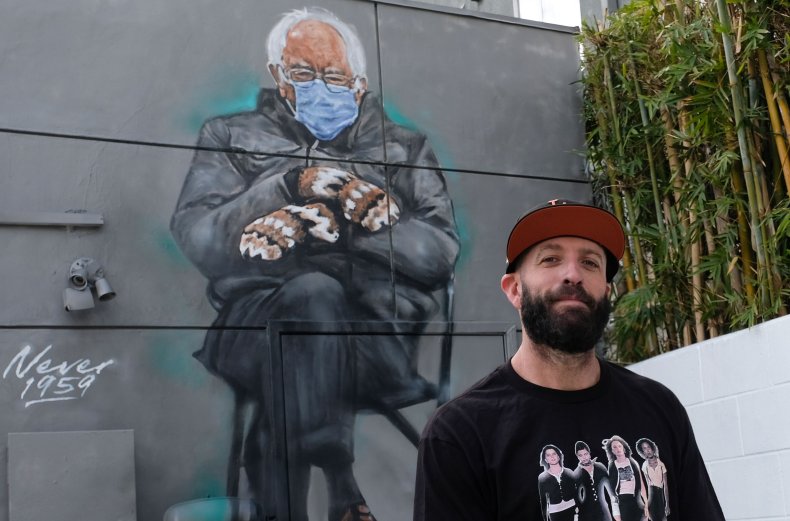 The $1.8 million went to numerous Vermont charities including Feeding Chittenden, a community food program; the Chill Foundation, a youth organization that teaches local children skills through boarding sports; and Vermont's community action centers which help lower-income Vermonters meet their basic needs and become self-sufficient.
Sanders said that his monetary donation "is no substitute for action by Congress." He pledged to do "everything I can in Washington" to help get his state's and the nation's working citizens "the relief they need in the middle of the worst crisis we've faced since the Great Depression."
Sanders' now-iconic mittens were made out of recycled wool by Jen Ellis, a lesbian mother and Vermont school teacher, according to LGBTQ Nation. Ellis made them as a gift for people who worked at her daughter's preschool about two years ago, including for the preschool's owner Liza Driscoll, who is also Bernie Sanders' daughter-in-law. Ellis gave an extra pair to Driscoll and asked her to pass them onto the senator, which Driscoll did.
Bernie Sanders said of Ellis, "The woman who made the mittens ... she is a schoolteacher [and] is a very very nice person, and she's been somewhat overwhelmed by the kind of attention that is being shown to her mittens."
Ellis told reporters, "I've tried not to let all of the mitten business overshadow the gloriousness of sitting with my 5-year-old daughter and my partner and watching the first woman be sworn in as vice president. That's amazing," referring to Vice President Kamala Harris.
Newsweek contacted Bernie Sanders' office for comment.