Bernie Sanders Shrinks Endorsements as Democrats Shy Away From Socialism
As the Democratic Party prepares for the GOP to pick up a wave of seats in November's midterms, the party is shying away from spotlighting its more progressive congressional candidates.
Senator Bernie Sanders, who is arguably the most progressive Democrat in the chamber, has notably had a shorter list of endorsements this year, compared with the long lineup the senator supported in the 2020 election, including Joe Biden.
With the primaries set to begin in the coming weeks, experts aren't expect any last-minute expansions to his target list.
"I don't think Bernie Sanders is focused on expanding his endorsement list," political consultant Carly Cooperman told Newsweek. "He is not looking to play kingmaker as much as he prioritizes fighting for a progressive agenda, and in this upcoming election cycle, endorsing a large number of candidates is not the most effective way to advance that agenda as Republicans are expecting to make large gains this November."
Brad Bauman, CEO of progressive communications firm Fireside Campaigns, added that while endorsements routinely contract in non-presidential election years, a smaller endorsement list suggests that Sanders and his allies want to focus on maximizing impact upon a smaller group of candidates who have better chances winning a tough primary electorate.
"What I don't think, is that [a shorter endorsement list] suggests a national strategic pivot away from progressive economic policies that Senator Sanders has long championed and that remain universally popular with Americans of all political ideologies," he said.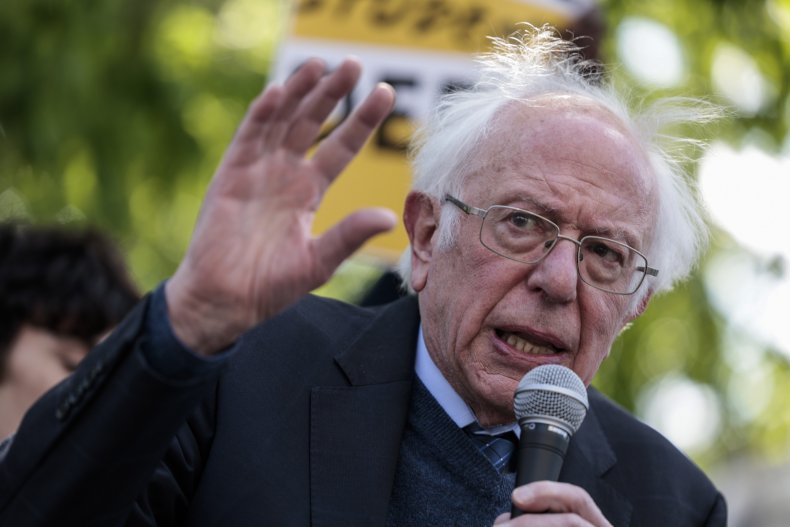 The 2018 midterms suggested that there could be large gains for the Democrats to win by promoting the party's more progressive candidates.
The blue wave that year saw the introduction of the "squad"—a group of the most left-leaning members in the House. Representatives Alexandria Ocasio-Cortez, Ilhan Omar, Rashida Tlaib and Ayanna Pressley all successfully won their primary elections two years after former President Donald Trump took office.
But anticipation that the Republican Party will now have its turn to take back Congress has prompted Democrats to play it safe in an effort to appeal to more voters—a strategy out of Biden's own book.
Ahead of the primaries, Democrats have made an effort to move closer toward the center in their messaging and strategy for the midterms for voters who feel the party has lost touch with Americans' day-to-day challenges, Cooperman said.
"Substantively, [the Democratic Party] knows that voters are concerned about inflation and the cost of living, as well as public safety and crime, and Democrats know that they need to connect with voters on these issues," she said. "We saw Biden shift his focus from broad, transformative spending bills to these issues in his State of the Union speech and then with the budget he unveiled, and Democrats down the ballot are doing the same."
While the Democratic Party may not be touting as many socialist candidates than they have in the past, Sanders and other progressives have remained focused on urging party leaders to act on President Joe Biden's agenda that have wide support from voters.
"Sanders has acknowledged that the Democratic Party is not connecting with voters and he has advocated for Biden and Schumer to push for votes on popular components of Biden's domestic agenda, like cutting prescription drug prices and raising the minimum wage, even if they don't pass," Cooperman said.