Midterm Elections 2018 Results, Live Updates, Exit Polls on Election Night
01:15 a.m.
Well, it's been a night.
We're still waiting on some key races that will likely sort themselves out overnight. The gubernatorial races between Stacey Abrams and Brian Kemp in Georgia and Scott Walker and Tony Evers in Wisconsin are still too close to call. Senatorial races between Martha McSally and Kyrsten Sinema in Arizona and Dean Heller and Jacky Rosen in Nevada remain to be determined.
What we do know is that Democrats have control of the House. That means they can subpoena members of the Trump administration, request to see President Trump's tax returns and block Republican legislation.
We also know that Republicans won the Senate by a landslide, leaving Democrats scrambling to regroup ahead of 2020.
It's been a night of firsts. We've seen Alexandria Ocasio-Cortez become the youngest woman ever elected to Congress, and we've seen Ayanna Pressley become the first black House member from Massachusetts and Rashida Tlaib and Ilhan Omar become the first Muslim congresswomen. Jared Polis become the first openly gay man elected governor and Sharice Davids and Deb Haaland become the first Native American congresswomen.
Starting in January, we'll have a divided House and Senate and the president will experience his first real taste of legislative-branch resistance.
Until then, I'm going to sleep.
Just kidding, I'll be back tomorrow with more analysis!
12:35 a.m.
Democrats have won the House.
12:30 a.m.
Beto O'Rourke delivered a concession speech calling for unity across Texas and America.
"For the last 22 months I've been traveling through every single country of Texas, and I'm as inspired and hopeful as I've ever been in my life and tonight's loss does nothing to diminish the way I feel about Texas or this country," said O'Rourke in El Paso.
"We're not going to define ourselves by who or what we're against or afraid of. We are a great people, defined by our aspirations and the hard work we are willing to commit to achieve them."
He dropped one of his famous F-bombs, telling his supporters, "I'm so f**king proud of you," to cheers.
And, amidst speculation of a presidential run, the congressman kept the door for another campaign open. "We will see you down the road," he said.
11:53 p.m.
Florida Governor Rick Scott is delivering a Senatorial victory speech even though the election has not yet been called in his favor.
"I have no interest in looking backwards, I'm going to look to the future and we have a bright future ahead of us," he said. "We are the envy of the world, and Florida is the envy of the United States. When you see all of this success it's shocking that people actually want to embrace socialism."
11:30 p.m.
Maybe you're wondering what President Donald Trump has been up to tonight. Advisers said he was glued to his televison all day, watching election results just like the rest of America.
This evening, he hosted a small gathering in the White House's East Room with treats like hot dogs and pizza, according to Bloomberg. Guests included Treasury Secretary Steve Mnuchin, OMB head Mick Mulvaney, Commerce Secretary Wilbur Ross, chief of staff John Kelly and Corey Lewandowski (who I spent a few hours with this Sunday, stay tuned for that story). Also in the room: Charlie Kirk, Betsy DeVos, Mike Pence and Karen Pence.
The mood was celebratory.
11:10 p.m.
Texas Senator Ted Cruz commented on his opponent Beto O'Rourke during his victory speech Tuesday evening.
"I want to take a moment to congratulate Beto O'Rourke, he poured his heart into this campaign. He worked tirelessly, I want to say millions across this state were inspired by his campaign," said Cruz. "They didn't prevail and I am grateful the people of Texas chose a different path...We saw an assault that was unprecedented, an $100 million race with Hollywood coming in the state and the media coming in the state but all the money in the world was no match against the good people of our state."
11:05 p.m.
Democratic Senator Heidi Heitkamp has lost her Senate seat to Republican rising-star Kevin Kramer. North Dakota voted for Trump by 36 points in 2016.
11:00 p.m.
Tallahassee Mayor Andrew Gillum has conceded the Floridian gubernatorial race to Republican Ron DeSantis.
In one of the most closely watched races in the country, the fight between Gillum and DeSantis was thought of as a stand-in for the larger Trump vs. progressive race being battled around the country. DeSantis largely aligned himself with the president and ran on this relation to Trump.
"We could not be prouder of the way we ran this race...We recognize that we didn't win this tonight," said Gillum, who lost by one point.
10:45 p.m.
Republicans will officially retain control of Senate through 2020.
Going into tonight's election it was highly unlikely that Democrats gained control of the legislative body, but there was an uphill path to victory. It appears that Democrats were not able to climb that hill, and that they may actually end up losing seats.
10:30 p.m.
We're calling it, Senator Ted Cruz will serve in Washington D.C. for another six years and Texas will remain a ruby-red state. Despite a historic effort by Beto O'Rourke, with record amounts of money earned, the El Paso Congressman fell just below the votes needed to break Texas's 25-year Democratic dry spell.
10:15 p.m.
ABC and NBC News are now projecting that incumbent Republican Senator Ted Cruz has beat El Paso Congressman Beto O'Rourke. About 80 percent of the state has reported and Cruz has about 1.6 points on O'Rourke.
Newsweek isn't calling the race yet, but it doesn't look great for O'Rourke.
If O'Rourke loses, Republicans officially remain in control of Senate.
10:00 p.m.
Florida has voted in favor of Amendment 4, which restores the voting rights to ex-felons. There are currently about 1.5 million felons in the state who have served their time and are still unable to vote. Read more about this amendement and what it means for Florida here.
2012 presidential contender Mitt Romney has won the Senate seat in Utah. He will take over for the retiring Senator Orrin Hatch.
9:45 p.m.
No surprise here, but we can now confirm that Alexandria Ocasio-Cortez has won election to the House in New York's 14th Congressional District. The 29 year-old Democratic Socialist will be the youngest women to serve in Congress.
Click here to read more about Ocasio-Cortez's historic win.
9:35 p.m.
Fox News just called the House for Democrats. No other outlet has done so, and multiple House elections are still too early to call.
Sarah Huckabee Sanders, White House press secretary told Fox that if Democrats win the House, "they shouldn't waste time investigating" the Trump administration.
9:15 p.m.
West Virginia Democratic Senator Joe Manchin has retained control of his Senate seat, beating out competitor Republican Patrick Morrisey. President Donald Trump threw his weight behind Morrisey, campaigning on his behalf in the coal-mining state multiple times.
Tennessee Republican Marsha Blackburn, meanwhile, has beat Democrat Phil Bredesen and will become the first female Senator to represent the state.
It is now extremely unlikely that Democrats will take Senate.
8:50 p.m.
Republican Mike Braun has beat out incumbent Indiana Senator Joe Donnelly, a key state for Democrats. Trump won Indiana in 2016 by more than 20 points and has worked hard to flip the state in favor of Braun, visiting four times over the course of the election. This defeat makes it very unlikely that Democrats take the Senate.
Republican Congressman Andy Barr also won re-election to Kentucky's 6th Congressional District. Barr was in a tight race against Democrat Amy McGrath.
8:30 p.m.
Democrats have officially flipped their second House seat. Former Clinton admin official Donna Shalala won Florida's 27th Congressional District, beating out Republican Maria Elvira Salazar.
Hillary Clinton won the district by 20 points in 2016.
Democrats now need to take 21 Republican seats in order to win House.
8:15 p.m.
Here we go, Texas is starting to report. So far, Beto O'Rourke has a 3-point lead over incumbent Ted Cruz, but it's very early still and many Republican strongholds haven't reported yet.
Earlier this year, O'Rourke told me it was President Donald Trump's win in 2016 that first inspired him to run.
"On election night, I was concerned about my kids," he said. "I thought, How am I going to answer for this? I decided I needed to put everything on the line and stand up for what I believed in. There has been this rise in paranoia and anxiety dominating the national conversation. I know we can do better than that."
While we wait for results to creep in, catch up on the race with my profile of O'Rourke.
8:10 p.m.
Mike Pence's brother, Greg, is coming to Congress. The elder Pence won his election in Indiana's 6th Congressional District, the same seat his little bro once occupied.
8:00 p.m.
Democratic Senators Chris Murphy, Tom Carper, Ben Cardin, Elizabeth Warren, Sherrod Brown and Sheldon Whitehouse will keep their seats in Connecticut, Delaware, Maryland, Massachusetts, Ohio and Rhode Island. No surprises here.
7:45 p.m.
NBC called that Democratic State Senator Jennifer Wexton has unseated Republican Representative Barbara Comstock in Virginia's 10th Congressional District. The close race took place in an affluent suburb that has been represented by Republicans in Congress for 60 of the past 66 years. The win means that Democrats now need 22 Republican seats, down from 23 to gain a majority in the House.
Hillary Clinton won the 10th district in 2016.
7:20 p.m.
An AP Votecast survey found that women voted Democrat by a 56%-38% margin and men voted Republican by a 49%-46% margin.
7:00 p.m.
We've got two Senatorial wins for Democrats. Independent Senator Bernie Sanders in Vermont and Democratic Senator Tim Kaine in Virginia are keeping their seats. Both were expected to easily win re-election.
6:50 p.m.
Republican analyst Evan Siegfried told Newsweek that Democrats have significantly outpaced Republicans in new voter registration this election cycle and that "the voter registration data is really bad for Republicans."
If Democrats don't take back the House, he said "they don't deserve to exist as a party. That's how bad it is for us."
6:35 p.m.
We've got our first result of the evening! Republican incumbent Hal Rogers has retained control of his seat in Kentucky's 5th Congressional District. No surprise here, Trump won the district by 62 points in 2016.
6:25 p.m.
Georgia Secretary of State and Republican gubernatorial hopeful Brian Kemp currently oversees elections in his state: A point of controversy. Kemp has expelled a record-number of voters from Georgia's rolls and has been accused of delaying the voter registrations of more than 50,000 Georgians. (Read more here)
Today, Kemp was foiled by his voter ID rules as he went to vote and found his registration card was invalid. He was able to sort the issue out and successfully cast his ballot.
6:10 p.m.
Democrats are also hedging tonight's results.
"I've said from day one in the Senate races that this is a very difficult road for Senate Democrats, certainly to get a majority," said Democratic Senator Chris Van Hollen on CNN this evening. "This is a very difficult path. This is the toughest political map that Democrats have faced in 60 years. So that's just a sort of realistic view. Now, fact of the matter is turnout has been good in the early vote, and turnout is good around the country. Let's wait and see, but this is a very tough road for Democrats to get to a majority. In fact, I think the real story is the fact we're fighting it out at the point we are."
Both parties are going to try to spin the election results to their advantage no matter what the outcome.
5:50 p.m.
Queen Bey just added to the growing number of celebrity endorsements Texas Senate hopeful Beto O'Rourke has received. She joins Willie Nelson and LeBron James in her support for the El Paso Congressman.
A number of celebrities have voiced their political opinions this election cycle. Rihanna endorsed Florida gubernatorial candidate Andrew Gillum on Instagram Monday and Taylor Swift has been vocal in her support of Tennessee's Democratic Senate candidate, Phil Bredesen.
5:40 p.m.
We expect to receive our first round of election results in a few minutes as polls in a House race in Kentucky's sixth congressional district close at 6 p.m. We'll also see some polls close in Indiana, where a tight Senate race between Republican Mike Braun and Democrat Joe Donnelly is unfolding.
Looking forward, polls in Florida close at 7 p.m. and in West Virginia at 7:30 p.m.
5:30 p.m.
NBC's early exit polls find that these are the most important issues to voters tonight:
Healthcare: 41%
Immigration: 23%
Economy: 21%
Guns: 11%
Interested in who Senator Bernie Sanders is supporting tonight and what he's doing to bolster the left's chances? Read Jessica Kwong's story here: https://www.newsweek.com/who-bernie-sanders-backing-2018-midterms-1202438
5:20 p.m.
Key Republican officials are hedging their chances of winning the House.
Republican National Committee spokeswoman Kayleigh McEnany predicted on Fox News that her party would win the Senate but said that, "should we lose the House narrowly, a few seats, it's a victory."
5:00 p.m.
To win control of the House, Democrats must pick up 23 new seats while holding on to what they have now. In order to win the Senate, they'll need to gain two seats while holding on to 10 seats in states that President Trump won.
CNN's first exit polls show that 55 percent of voters disapprove of President Donald, and 39 percent of voters said they were voting to oppose the president. More than half of voters, 56 percent, believe the country is currently on the wrong track. This is all preliminary information, but it doesn't bode well for the right.
Good evening! I'm Nicole Goodkind, a politics reporter at Newsweek. I will be right here providing live election updates throughout the night (and into the wee hours of the morning). Feel free to leave comments below or to reach out on Twitter, @nicolegoodkind. I'm looking forward to hearing from you as we watch this historic evening unfold together.
Some context before we begin:
Midterm elections typically elicit a yawn and not much turnout from American voters, as they don't have the big-name allure of a presidential election cycle. This year, however, things are different. We've got angry, motivated bases on the left and the right and early voting numbers have already blown 2014 totals out of the water. On the right, President Donald Trump has been hosting rallies all over the country, looking to remain in control of the House and Senate. On the left, former President Barack Obama, Vice President Joe Biden, Oprah Winfrey and more have been rallying support for the Democrats
Most projections show that Democrats will regain control of the House and Republicans will hold on to the Senate. A split like that, by the way, is incredibly rare and has only happened on three occasions during midterm years, once in 1962 (John F. Kennedy's presidency), 1972 (Richard Nixon's) and 1982 (Ronald Reagan's).
Still, both Republican and Democratic leadership are projecting that the polls might not be correct. On the left, candidates claim that they're attracting young and first-time voters who don't usually show up during polling. On the right, Trump is calling polling "fake news" and tools of "voter suppression."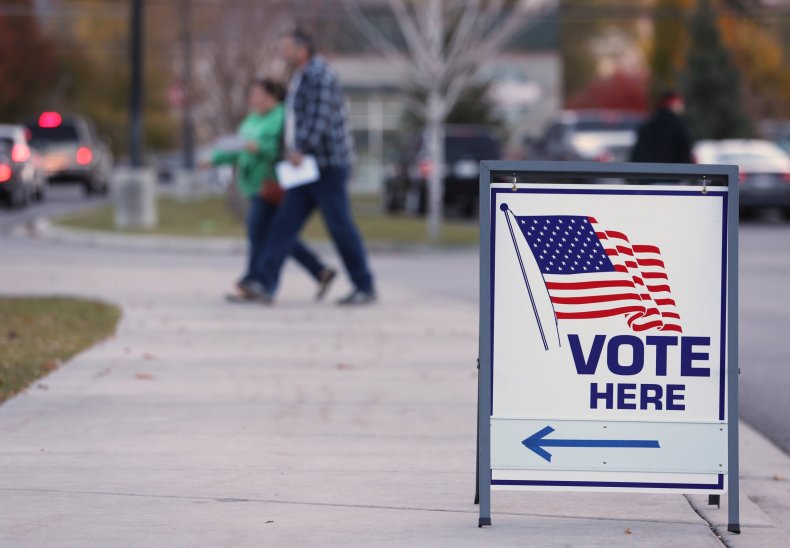 House minority leader Nancy Pelosi has suggested that if she takes control of the House, she would consider using the majority's ability to subpoena Trump administration officials as a negotiation tactic. If Democrats gain control of both the House, there's also the possibility of a Trump impeachment. The stakes are high for the president.
There are a lot of tight and historic races to watch for tonight. El Paso Congressman Beto O'Rourke hopes to break a 25-year dry spell for Democrats in Texas by beating Ted Cruz and taking his Senate Seat. In Florida, Andrew Gillum hopes to become the state's first black governor and in Georgia, Stacey Abrams is looking to become the first female black governor in the United States.