Bernie Sanders Warns Democrats Against Abortion Focus as Dobbs Effect Fades
Democrats are focusing too much of their efforts on abortion in the closing weeks of the 2022 midterm elections, Senator Bernie Sanders said, leaving room for Republicans to dominate the airwaves on other issues that could prove key to their bid to regain control of Congress.
In an op-ed for The Guardian on Monday morning, the progressive Vermont independent wrote he was "alarmed to hear" from colleagues and candidates that establishment consultants and directors of well-funded super PACs are advising candidates to focus solely on the issue of abortion access in the closing weeks of their campaigns—an issue some see as the primary contributor to the revival of Democrats' chances to retain control of the House and Senate in polling conducted over the summer.
"There is no question but that Democrats must continue to focus on the right of women to control their own bodies," he wrote. "This is a fight that most Americans want us to wage and, given the Republicans' extremist position on the issue, makes them genuinely vulnerable."
But, he added, "it would be political malpractice for Democrats to ignore the state of the economy and allow Republican lies and distortions" about inflation and the impacts of Democrats' domestic policies "to go unanswered" in the final weeks of the campaign, citing the persistently high levels of financial strife experienced by most Americans and Republicans' high polling on their ability to run the economy.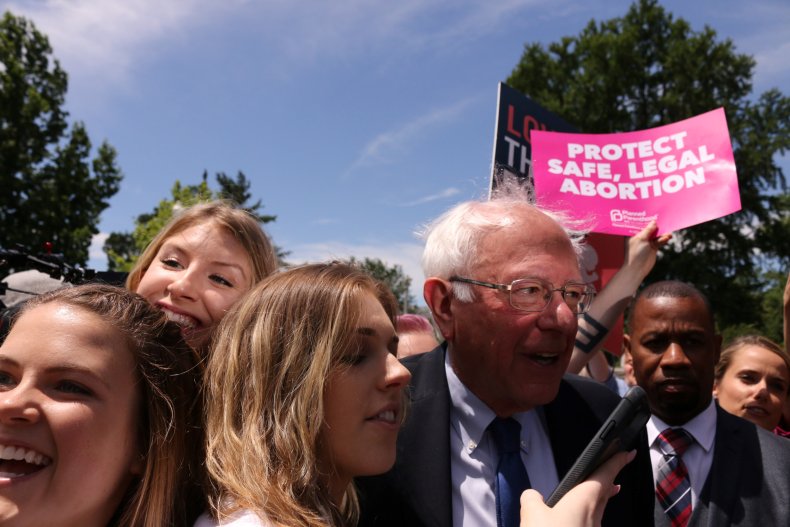 According to an Associated Press analysis of midterm ad spending in September, Democrats have invested more than $124 million this year in TV ads referencing abortion, double what they've spent on their next leading issue in the race—"character." But polling shows abortion is nowhere near the most important issue for voters.
In a September New York Times/Siena College poll, more than half of voters said they trusted Republicans' ability to run the economy, compared to just 38 percent of Democrats. Polling also showed national concerns over the economy to be top issue for about 49 percent of voters—compared to just 31 percent who said "societal issues" like abortion were most important.
Others, like the Kaiser Family Foundation, have found abortion to be a critical issue for a majority of voters but well behind concerns like the state of the economy.
Battleground states like Nevada and Pennsylvania have yielded similar results. Marist College polling in Pennsylvania late last month found inflation to be the top concern of 40 percent of voters compared to 16 percent for abortion—percentages that were almost perfectly echoed in a Nevada Independent poll from early August.
Republicans have leaned into Americans' anxieties about the state of the economy with Democratic-focused attacks on policies like their post-COVID spending packages and a drumbeat of attacks centered around issues like high gas prices.
The key to Democratic victories, Sanders wrote, was not necessarily focusing on what Republicans have done for the economy, but what widely popular measures they'd failed to support, including raising taxes on billionaires, cutting costs for prescription drugs and raising the minimum wage to $15 an hour, a threshold the Pew Research Center found last year to be favored by about six in 10 Americans.
"If we close this critical midterm campaign with a clear, unified vision to meet the needs of working families, to take on corporate greed, and protect a woman's right to choose, we will begin to rebuild the trust between Democrats in Washington and the working families of this country," Sanders wrote. "And we'll win the election."
But abortion's impact on the ballot is hard to ignore. While not as high a priority as the economy, it polls highly among Democrats, and fairly high among independents. And it's a fairly high motivator. When Kaiser asked pollsters about the impact the U.S. Supreme Court's decision to overturn Roe v. Wade had on their motivation to vote, 43 percent said it made them "more motivated," a 6 percent increase since the beginning of the summer.
Of that number, nearly two-thirds were Democrats, compared to 41 percent of independents and just one-fifth of Republicans. Other data has shown women to be at the forefront of new voter registrations since the overturn of Roe this year.
A successful coalition, experts said, needs to include abortion as part of a more sweeping platform that captures a plurality of voters while still energizing the base they need to win.
"It is imperative to acknowledge the economic concerns that many Americans have, and the surprisingly strong campaign that Tim Ryan is waging in Ohio is a good model," Carole Joffe, a leading reproductive rights advocate and a professor at the University of California-San Francisco, told Newsweek.
"I also believe that the Democratic messaging about abortion should address the other issues brought to the fore by the Dobbs decision, e.g. the threats to same sex marriage, some forms of contraception, and assisted reproduction.
"These three issues are supported by millions of Americans, especially contraception. I think the Democratic campaigns must acknowledge economic anxieties and broaden the defense of abortion to include related issues that Americans care deeply about."