Bethenny Frankel Slams Megan Fox, MGK Relationship Drama—No 'Sympathy'
Bethenny Frankel has criticized the drama surrounding Megan Fox and Machine Gun Kelly's relationship amid rumors that their romance has hit turbulence.
Fox, 36, recently sparked breakup speculation when she shared cryptic social media posts. The screen star also scrubbed all traces of her musician fiancé, 32, from her Instagram account before deleting all of her content.
MGK's guitarist, Sophie Lloyd later defended herself from "disrespectful" allegations that she was involved in the pair's purported issues as the couple fell silent and the rumor mill went into overdrive.
On Sunday, Transformers star Fox returned to Instagram, where she shot down suggestions that there was "third party interference in this relationship of any kind."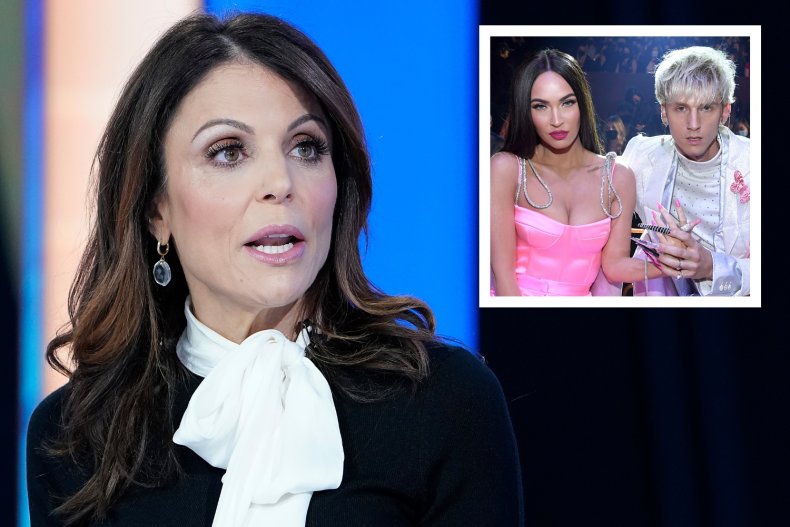 Frankel weighed in on the drama on the latest installment of her Just B Rant podcast, where she slammed celebrity couples who court publicity while their relationship is going well, before demanding privacy once things go badly.
"These couples deserve all the scrutiny that they get when they break up," said The Real Housewives of New York City alum. "No, we do not respect your privacy during this difficult time. Respect our privacy during our difficult time. We were having a s*** day, we might be saying we don't want to be flogged and waterboarded [with information about celebrity relationships]."
She then slammed Fox for unfollowing MGK on Instagram and following his nemesis Eminem, saying: "Aren't you embarrassed in front of [ex-husband] Brian Austin Green and your kid? You're acting like a high school child."
Frankel went on to criticize the couple for "living a very public emoting relationship and doing everything publicly. So we can watch it like f****** pay per view."
Frankel suggested that the couple join the Real Housewives franchise so they can "blow [their relationship] up right there, live direct...We do not respect any of your privacy during this challenging time because you shoved it up our a**."
Citing George and Amal Clooney as an example, Frankel said that if famous couples wanted to keep their relationships out of the press, it would be possible. She added that Prince William and Kate Middleton "are photographed less than f****** celebrities that want us to respect your privacy during this time."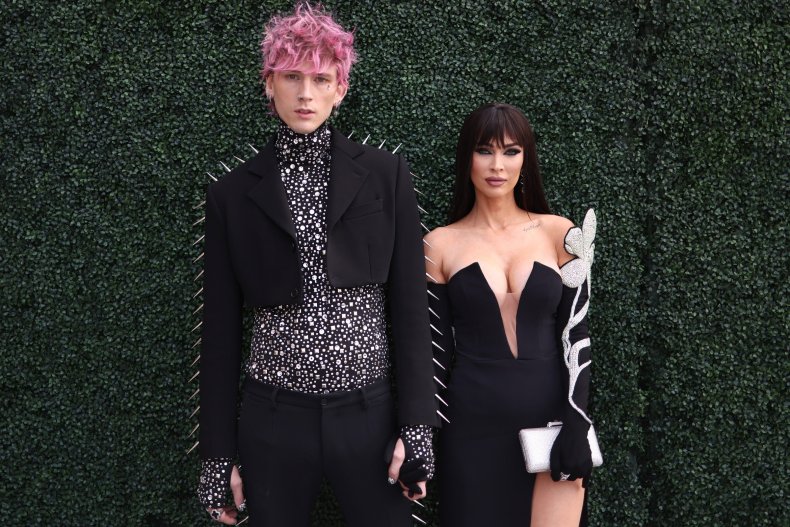 "[I] never knew who Machine Gun Kelly or Megan Fox were. And I know everything about [them]. They're sucking each other's blood and vampiring each other." Frankel said, referencing their 2022 engagement announcement, in which they said they drank each other's blood.
"I don't know, I just know that don't have a ton of sympathy," she said of the couple. "You asked for it."
When Fox and MGK attended Drake's Super Bowl party together on February 10, it appeared that things were going well for the glamorous couple.
The following night, MGK, whose real name is Colson Baker, performed at the Sports Illustrated Super Bowl party. Fox was not photographed at the event.
Two days later, Fox shared an Instagram post that included a photo of an envelope in flames, adding lyrics from Beyoncé's 2016 album Lemonade in a caption that read: "You can taste the dishonesty / It's all over your breath."
Amid split rumors, People reported that Transformers star Fox removed the engagement ring she had received in January 2022. The couple revealed that the thorned Colombian emerald ring was designed to hurt Fox if she ever took it off.
The Daily Mail later published photos of them outside a marriage counseling office, where Fox was seen looking emotional as she exited the building. Though the couple spoke while walking to the parking lot, they left in separate cars.
But last Tuesday—which also happened to be Valentine's Day—TMZ published photos of the stars together in Machine Gun Kelly's vehicle, sparking hope among fans that the romance is not over.
The couple met on the set of the movie Midnight in the Switchgrass, which began filming in March 2020. They went Instagram official in July 2020.
Fox's split from Brian Austin Green was confirmed in May 2020 after 10 years of marriage. The exes have three sons together—Noah Shannon, 10, Bodhi Ransom, 9, and Journey River, 6.
Machine Gun Kelly is the father of a 13-year-old daughter, Casie, with Emma Cannon.
Newsweek has reached out to representatives of Fox and Machine Gun Kelly for comment.