Biden Denounces MAGA Threat While Democrats Spend Millions Helping Them Win
President Joe Biden's recent warnings that Donald Trump and his loyalist MAGA Republicans are a "threat to American democracy" came after the Democrats pursued a risky strategy of promoting their election campaigns.
During his recent primetime address at the Independence National Historical Park in Philadelphia, Biden made some of his most direct attacks on the MAGA movement, describing the agenda as being "extremism that threatens the very foundations of our republic."
The president also told Americans that MAGA Republicans will attempt to "take this country backwards" if elected in the midterms by bringing in policies such as restricting abortion access across the country.
While Biden people to vote against MAGA Republicans for the sake of the "soul of the nation," the Democrat Party chose a different path during the primary season, spending tens of millions of dollars promoting more extreme candidates to get them on the midterm ballot come November.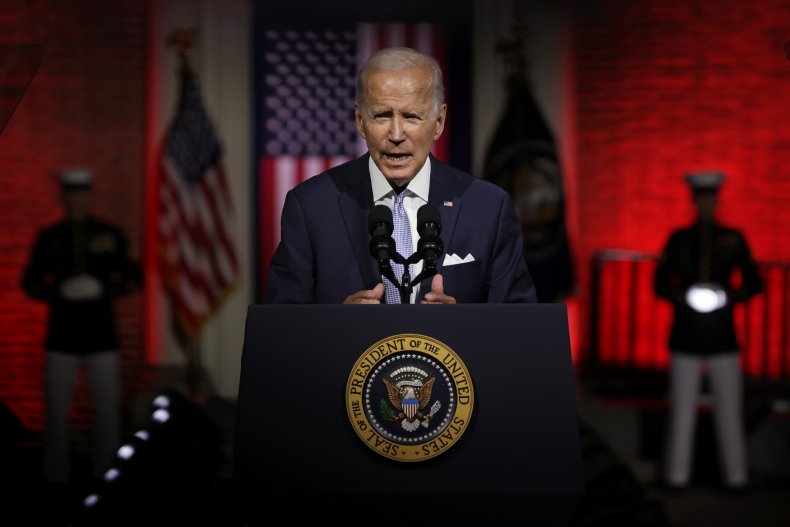 Over the past few months, a number of Democrat groups have promoted sometimes far-right candidates in GOP primary elections in California, Colorado, Pennsylvania, Illinois, Michigan and Maryland.
The idea behind the potentially risky strategy is that the GOP will end putting forward more extreme—and therefore less desirable—candidates for key demographics such as moderates and independents, paving the way for a Democratic victory.
According to Open Secrets, the Democrats spent at least $43 million promoting potentially weaker candidates in the hope they win their GOP primary.
There are some indications that the move is paying off. In August 2, Michigan Rep. Peter Meijer—one of 10 House Republicans who voted to impeach Trump for inciting the January 6 attack—lost his primary to John Gibbs, a 2020 Election denier who has also promoted a number of extreme conspiracy theories. The Democrats had paid more than $400,000 in advertising campaigns promoting Cox.
In July, a polling group noted that the Democrat's move of promoting far-right State Senator Doug Mastriano, who is running for governor in Pennsylvania, with a reported $800,000 advertising campaign, may be "paying off."
Mastriano, another 2020 Election denier who attended the January 6 protests in Washington D.C., is behind his rival Josh Shapiro in several polls ahead of November's midterms, including some which give the Democrat a double digit leads.
In Illinois, Democratic incumbent Gov. J.B. Pritzker and the Democratic Governors Association spent $35 million attacking the moderate Aurora Mayor Richard Irvin while drawing attention to Darren Bailey, the pro-Trump, far-right candidate who rose to prominence after proposing separating Chicago from the rest of the state.
Bailey ended up winning the Republican primary with 57 percent of the vote.
In Maryland, the Democratic Governors Association also spent nearly $1.2 million pushing Republican state Representative Dan Cox, who called former vice president Mike Pence a "traitor" for not stopping the 2020 results from being certified in Congress.
Cox went on to win the primary after getting 52 percent of the vote, and will face Democrat Wes More for the position left vacant by incumbent Larry Hogan's upcoming departure from office.
However, it is unclear how much influence the Democrats' campaign push had on GOP voters, especially given the Republican candidates received the much sought-after endorsement from Trump.
The strategy also failed in Colorado, where all three election-denying candidates promoted by the Democrats went to lose their primary, and in California where Chris Mathys lost his primary to David Valadao, who also voted to impeach Trump over the Capitol riot.
The move has also been met with scrutiny from both sides.
David Niven, a political science professor at the University of Cincinnati, told Newsweek that the Democratic Party is trying to "fight fire with fire" with the risky strategy.
"In the past, Democrats would have blanched at the hypocrisy required to nudge forward radical Republicans in primaries while at the same time decrying the threat these candidates represent.
"But logical consistency is a luxury Democrats now realize they cannot afford, and something Republicans gave up decades ago."
In an essay published on the eve of his election defeat, Rep. Meijer said that while Republican voters "will be blamed" if any extremist candidate get elected into congress, "there is no doubt Democrats' fingerprints will be on the weapon."
California Democrat congressman Jason Crow also described the plan as a "terrible idea."
"Of course, it could backfire. And that's part of the reason why I don't think it's a good idea," he told Politico. "Not only do I think it sends the wrong message, but it's substantively risky."
However, Cornell Belcher, a strategist who worked on both of Barack Obama's winning presidential campaigns, said the move was "crazy like a fox," while discussing Bailey's GOP primary win in Maryland.
"If I have the ability to run against someone who I know is going to be the weaker opponent, I shouldn't do that?" Belcher told Vanity Fair. "The likelihood that Maryland will go Republican in November is a lot less today than it would have been if the Hogan-like candidate had prevailed in that primary."
The White House has been contacted for comment.
Update 06/09/2022: This article has been updated with comment from David Niven.