Joe Biden-Inspired 'Will You Shut Up, Man' Website Domain Is on Sale for $175,000
Joe Biden's "will you shut up, man?" line from the first presidential debate on Tuesday night could prove very profitable, with someone trying to earn $175,000 by selling the standout quote as a domain.
Biden's retort came as he became agitated by President Donald Trump's interruptions. While discussing the Supreme Court, Biden was struggling to be heard over Trump's interruptions. Biden snapped and told Trump "will you shut up, man?", before calling his Republican rival a clown.
The "shut up" remark was popular with supporters of Biden and critics of Trump, with some viewers frustrated at the disordered nature of the debate which led moderator Chris Wallace to face heavy criticism for struggling to keep the debate on track.
Aside from sparking fresh meme content for use for the rest of the campaign, the Biden team was quick to capitalize on the success of the line, creating and selling t-shirts for $30 within hours of the debate ending. The black t-shirt features an image of Trump with the quote layered on top and the Biden Harris logo beneath.
However, the Biden team are not the only ones hoping to profit off the quote. The Biden-inspired domain name willyoushutupman.com is for sale with the current asking price of $175,000 or $14,583 a month.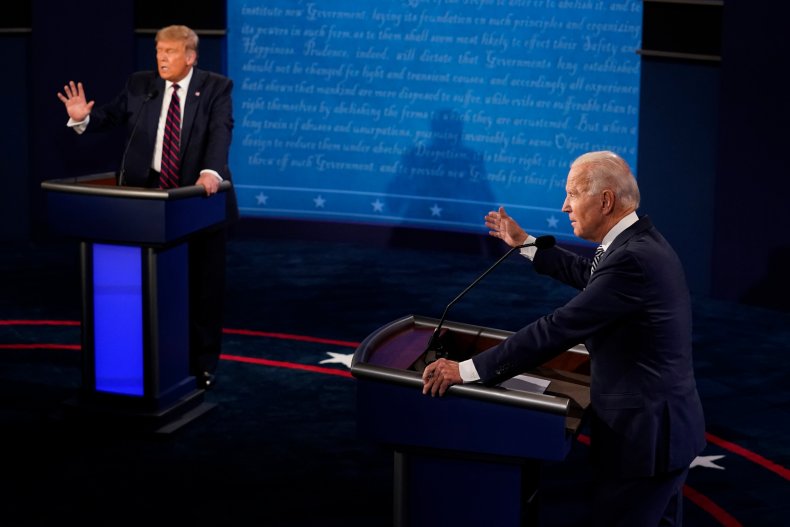 The domain is being sold by a private seller, who describes the domain name as "the catchphrase that will be remembered for years" on Dan.com. A spokesperson from Dan.com told Newsweek that the domain has been registered for sale on the website overnight and had been viewed thousands of times.
Another seller is trying their luck with the popular phrase and is trying to sell willyoushutupman-2020.com, though they have not received any bids at the time of writing.
Other entrepreneurs have seen the opportunity to cash in on the popularity of the Biden quote, with numerous Etsy sellers advertising t-shirts printed with "will you shut up, man?", as well as mugs and stickers.
One Etsy seller offering the quote as a sticker described the product as "not meant to be offensive, just some political humor to help encourage everyone to go out and vote," while another simply advertised their t-shirt with "best quote ever!"
However, Democrats are not the only group to be capitalizing on the debate last night. Newsweek has also reported how Trump's "stand back and stand by" message for Proud Boys—a far-right extremist white nationalist group—has already been used by the group.
T-shirts with the phrase "Proud Boys, stand back and stand by" and another that read "proud boys, standing by" have gone on sale online since the debate.
This graphic, from Statista, illustrates the share of debate watchers who thought that Trump/Biden won the first presidential debate, according to a YouGov poll for CBS News.