President Joe Biden took aim at Senate Republicans for the "verbal abuse" he said Judge Ketanji Brown Jackson suffered during her confirmation hearings last month, accusing them of subjecting his Supreme Court nominee to the "most vile, baseless assertions and accusations."
Biden criticized the Senate Judiciary Committee's Republican members in his Friday speech celebrating the historic confirmation of Jackson, who will take her place as the first Black woman on the Supreme Court upon Justice Stephen Breyer's retirement.
Speaking from the White House South Lawn, the president said he knew Jackson would be up against a "painful and difficult confirmation process," but that even he did not expect the line of questioning she would face during the Senate hearings.
"What Judge Jackson was put through was well beyond that," Biden said. "There was verbal abuse—the anger, the constant interruptions, the most vile, baseless assertions and accusations."
He applauded Jackson for her testimony, saying "in the face of it all, Judge Jackson showed the incredible character and integrity she possesses."
"Poise and composure, patience and restraint, and yes, perseverance and even joy," he added.
Jackson faced a tough confirmation hearing, during which Republicans accused her of being soft on child pornography offenders and controversially asked the judge to define the word "woman."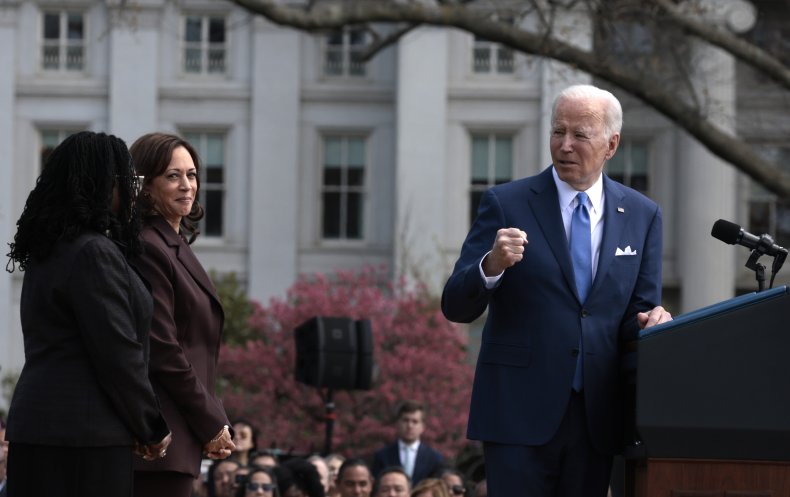 While Biden was critical of the Republican senators who attacked Jackson's record and history as a public defender, he thanked the three senators who broke with their party and voted to confirm Jackson on Thursday.
He said Senators Susan Collins, Lisa Murkowski and Mitt Romney, who voted with all 50 Senate Democrats, "deserve enormous credit for setting aside partisanship and making a carefully, considered judgment, based on the judge's character, qualifications [and] independence."
"I truly admire the respect, diligence and hard work they've demonstrated in the course of the process," Biden said on Friday. "As someone who has overseen, they tell me more Supreme Court nominations than anyone who's alive today, I believe that respect for the process is important. And that's why it was so important to me to meet the constitutional requirement to seek the advice and the consent of the Senate."
In his speech, Biden also thanked Senator Dick Durbin, the chair of the Senate Judiciary Committee, for leading the "very divided committee" throughout the hearing.
The president said he had thought about nominating the first Black woman to the Supreme Court for "a long, long time," describing it as one of the first decisions he made when he decided to run for the Oval Office.
"This is not only a sunny day—I mean this from the bottom my heart—this is gonna let so much sun shine on so many young women, so many young, Black women, so many minorities," Biden said. "We're gonna look back and see this as a moment of real change in American history."