Senator Roger Wicker predicted President Joe Biden's Supreme Court pick will be an affirmative action beneficiary who will "misinterpret the law" during a radio show interview on Friday.
After Justice Stephen Breyer announced his retirement last week, Biden doubled down on a previous pledge to nominate a Black woman to the Supreme Court, which would be a historic first. While many have lauded the promise as progress, some Republicans have criticized Biden for considering race and gender in his pick.
Wicker, a Mississippi Republican, told SuperTalk Mississippi radio host Paul Gallo he believes the Supreme Court seat will go from someone who is a "nice stately liberal" to someone "more in the style of Sonia Sotomayor."
Even though Biden has not announced who the nominee will be, Wicker predicted she will not receive a single Republican vote.
"I hope it's at least someone who will at least not misrepresent the facts," he said. "I think they will misinterpret the law."
He later added that he believes the nominee will be a "beneficiary" of affirmative action.
"The irony is that the Supreme Court is at the very time hearing cases about this sort of affirmative racial discrimination while adding someone who is the beneficiary of this sort of quota," he said.
The Supreme Court announced last Monday that it would hear a case challenging race being considered as a factor in college admissions.
The remarks sparked criticism from social media users.
"A leading Republican Senator said he does not expect a single Republican vote for Biden's Supreme Court nomination. No one has been picked. The only thing we know is it will be a Black woman. Yet they've already decided she's not qualified. It's a pure demonstration of racism," wrote Joe Lockhart, former White House press secretary for President Bill Clinton.
"How much has good ol' boy, Roger benefited from by being born a white man in South?" wrote commentator Ana Navarro-Cárdenas.
Among the names being considered by the White House are U.S. District Court Judge J. Michelle Childs, Judge Ketanji Brown Jackson of the U.S. Court of Appeals for the D.C. Circuit and Justice Leondra Kruger of the Supreme Court of California.
Other Republican senators have also offered comments on the nominee. Senate Minority Leader Mitch McConnell, of Kentucky, told reporters that he would give the nominee a "fair look" and declined to say how he would vote "when we don't even know who the nominee is."
Maine Senator Susan Collins—the only Republican to vote against Justice Amy Coney Barrett in 2020—said she believes "there is no need for any rush" as Democrats pledged to swiftly confirm the nominee.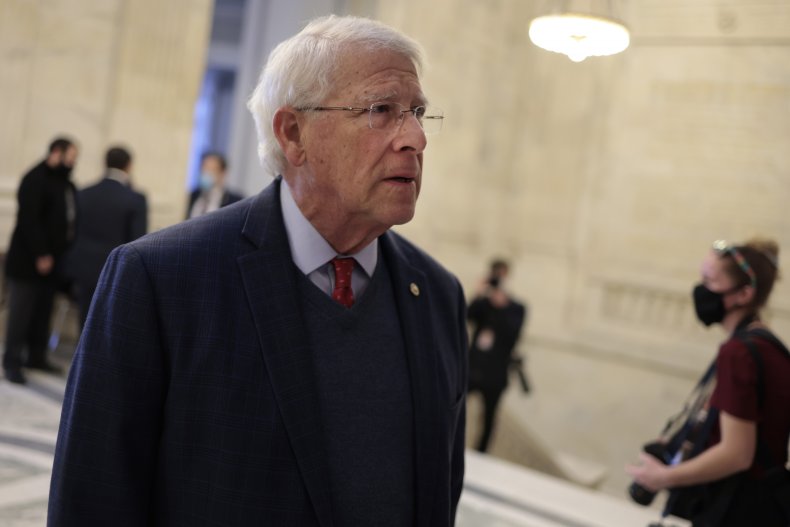 "We can take our time, have hearings, go through the process—which is a very important one. It is a lifetime appointment, after all," she said.
Newsweek reached out to Wicker's office and the White House for comment Saturday morning, but did not hear back by publication. This story will be updated with any response.